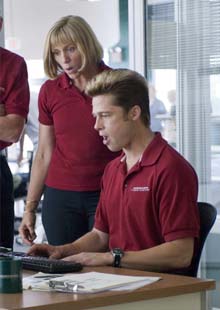 Burn After Reading

The Venice International Film Festival may be firmly under the spell of arthouse cinema, a direction that its present director, Marco Muller, decided on even before his current term was extended by an additional four years. But who is to stop Hollywood's mesmeric spell, which was apparent at the ongoing Festival's opening Press conference held minutes after the inaugural movie, "Burn After Reading" by the Coen Brothers was screened for the Press.
It was a mad rush to grab the best seats that would enable a vantage view of the stage. And this was perhaps more important than the film itself. For, George Clooney and Brad Pitt were to take to the stage along with directors Joel and Ethan Coen, and actresses Tilda Swinton and Frances McDormand. Nobody could tell why that brilliant performer, John Malkovich, was not around. Perhaps, he felt that George and Brad were too much to handle.
At the Press meet, most questions, especially from women journalists, were shot at these two dashing men, George divinely casual in a pair of jeans and a shirt with the top buttons off and Brad in a stylish hat that got the audiences into a rapturous state.
"Burn After Reading" is an unusual Coen work. Certainly, there are a couple of murders, which the brothers are famous or infamous for. But these are punctuated with whopping wit. There were times when the auditorium reverberated with laughter for what seemed like an eternity.
The movie follows the Coens' critically acclaimed work, "No country for Old Men," a canvas drawn on blood and gore. The characters in both films suffer dire consequences — a constant feature in the brother's oeuvre — but "Burn After Reading" is peppered with such humour that it makes the pain a little bearable.
Joel says the characters in their latest work are "knuckleheads, but not unlovable ones, and we wrote the parts with George, Brad and John in mind."
"Burn After Reading" talks about mid-life crisis, professional and sexual problems, which strangely touch on America's security concerns. The movie grapples with a medley of issues: the CIA in Washington, the obsession for physical perfection and the mysterious allure of internet dating, and when all these collide and intersect the outcome can well be explosive.
Although the Coens have done comedies before, this is the first time they were heading into a world of spies and intrigue. The plot opens in Washington's CIA headquarters, where analyst Osborne Cox (played with brilliant finesse by Malkovich) is being dismissed. Cox returns home to his cheating wife, Katie (Tilda Swinton), bouts of drinking and penning his tell-all-about-the CIA memoirs. Harry Pfarrer (Clooney), is her lover, perennially dating women but never daring to go beyond the bed
When the disc containing the memoirs falls into the hands of two fitness centre trainers — Linda Litzke (Frances McDormand), planning expensive body sculpting surgeries on herself, and Chad Feldheimer (Pitt) — we know it is time for blackmail and blundering. Of the latter, there is plenty.
Ethan has a classic quote here: As George gets older, our characters for George are getting older, and not wiser!" Pitt's Chad is dumbbell, a gum chewing Gatorade-swilling, iPod-addicted bubble brain, an idiot, but with a good heart. As Tilda's Katie, screams "Stop the foolishness," the Coens do not. For, this time, they have found bungling fools to bump off one another. It is this touch of scorn and wittiness that gets "Burn After Reading" spinning splendidly. A marvellous opening shot for the Festival by the Adriatic.