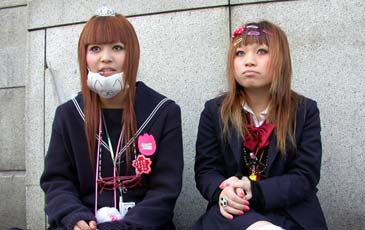 Hikikomori (ひきこもり or 引き籠もり), literally "pulling away, being confined" or "acute social withdrawal," is a Japanese term to refer to the phenomenon of reclusive individuals who have chosen to withdraw from social life, often seeking extreme degrees of isolation and confinement due to various personal and social factors in their lives.
The 1990`s were not kind to Japan and the early part of the 21st century also appears to be relatively negative. However, unlike the past, Japan is now blighted by political instability and both the ruling party and opposition appear to be short of ideas. Given this, Japan needs to find a new way in order to become more robust, however, at the moment this nation is divided by petty political point scoring. So can Japan find stability and vibrancy or will the next 10 years see more confusion and more inaction?
Currently, Japan must solve many problems and this applies to Japan`s strange economic system which allows virtual zero interest rates, the demographic issue, the pension crisis, the limited or stagnant wage structure, allow greater decentralization, rescue the collapsing health service, and a host of other issues. Also, social issues can not be ignored and this notably applies to hikikomori, suicide, and mental illness. Therefore, many problems are restricting Japan and this nation appears to be stuck in a negative time warp, whereby inaction or failed short-term policies rule the day.
Another major concern is political internal infighting within the two major political parties and major confrontation between both main parties. After all, it appears that disputes erupt even when no real dispute exists and the opposition leader of the Democratic Party of Japan, Ozawa, is a maverick within the body politic of this nation. Therefore, just when Japan needs a stable ship, the opposite is happening and this is not helping Japan at the moment.
So can Japan find her own way? At the moment you would have to say no because this nation appears to be a "mere shadow of America " and this is not helping matters. Also, within Northeast Asia it is clear that China is on the horizon and many Japanese people appear to have given up the ghost because they believe that China is the future power in Northeast Asia. Given this, it is hard to be overtly optimistic at the moment because a new way is not being found. This, therefore, does not bode well for Japan in the future.
Also, Tokyo dominates too much in Japan and you have a very unbalanced nation. This applies to the vitality of Tokyo and the recent strong showing of Nagoya. Yet at the opposite end you have dying places like Yubari in northern Japan and the economy of Okinawa is not so positive. Therefore, you already have a divided Japan and many parts of this nation are being neglected in order to boost the centre and this policy needs to be reversed. However, can Japan decentralize properly or will the centre still pull the strings from afar?
Overall, the future looks uncertain in Japan and new ideas are few on the ground and this is worrying. However, not all is lost because you still have a lot of vitality within the major companies of this nation. Yet demographics does loom large and the same applies to the moribund welfare system and the increasing elderly population will further burden Japan. So just when Japan needs new ideas, the opposite is happening and this is really negative because "the soul" of Japan appears to be tormented by the past. Given everything, it would appear that Japan will go from one crisis to another, therefore, stability will continue to be an issue and the future looks rather bleak for Japan at the moment.
Lee Jay Walker Dip BA MA
http://journals.aol.com/leejaywalker/uk/