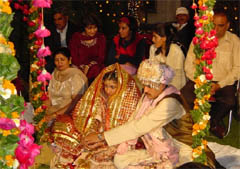 A wedding ceremony in India
Recently a mother strangled her newborn baby in a well-known hospital in the northern Indian city of Chandigarh. The infant was a girl. This happened even as India's police were trying to implement a ban on prenatal gender tests, which some parents use to learn the sex of their unborn baby — and then abort it if it turns out to be a female. Then there are the parents who choose to kill their daughters soon after they are born.The bodies of unwanted female babies have begun to be discovered with alarming regularity in many parts of India. Despite a concerted campaign by the government, media and film industry against this horrendous practice — which parents resort to in order to avoid paying expensive dowries — infanticide continues to stain Indian society. One result is a growing disparity in the nation's male-female ratio. The latest census figures indicate a return to the Middle Ages, a time when female infanticide was commonly practiced.In 1961, there were 976 girls for every 1,000 boys in India. The number of girls born per 1,000 boys has now fallen below the 900 mark, making India one of the very few countries in the world in which men outnumber women. The global average is 1,045 women to 1,000 men.As a nation develops economically, the male-female sex ratio is supposed to balance out. But India is experiencing regression in this respect.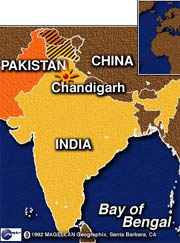 In an effort to counter this trend, the government is posting giant posters all over the country with messages aimed at ending this barbaric practice. "I am yours. Do not kill me," reads one. One hopes that every woman who is about to abort her female fetus or indulge in infanticide would read this plea and change her mind.A recently released Indian movie, "Mathrubhoomi," paints a futuristic scenario of a nation without women. It tells the story of several brothers and their widowed father, whose desperate attempts to find brides for his sons lead to tragedy and bloodshed. When they manage to find one woman, all of them decide to get married to her, and the relationship — apart from being perverted — results in sexual brutality.The movie certainly exaggerates the situation faced by India, but the country's movement in such a direction is nonetheless discomforting. It must be stopped.Steps are being taken. The United Nations has published a brochure with the following message: When girls go missing, a lack of compassion is revealed. And India's teenage junior Wimbledon champion, Sanya Mirza, has been appointed as the ambassador for the government's "Save the Girl Child" movement.These efforts alone, however, will not suffice. Doctors and parents must also resolve to rid society of this evil practice. In a nation where laws are flouted with impunity, doctors feel little regret or remorse when they abort a female fetus. They care little for the law that makes sex determination a crime.
An Indian bride
And some women, usually those who cannot afford a test to determine the sex of their child, kill their newborn girls to escape both the social stigma of having a daughter and the burden of having to pay a dowry in the future. India, despite of its maturity in many spheres and its impressive democratic tradition, continues to live in the dark ages when it comes to customs such as dowries. Families often find themselves facing financial ruin after they marry off their daughters.Crimes against women extend to other areas as well. They are sometimes raped while in police custody, and their attackers often escape punishment. A bill seeking to give women 33 percent of the seats in Parliament has been collecting dust for many years. The only attention it attracts is male derision. And although women can easily obtain a divorce, they seldom receive alimony or custody of their children.While there is a growing movement to empower Indian women, it will not succeed unless boys receive a proper education. Few efforts are being made to teach them to respect women or to ingrain in them the evils of accepting dowries. It is important that boys be made to understand the value of treating girls and women as equals and with compassion.