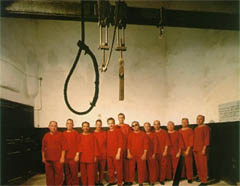 Madras, India, June 30, 2004 — India is once again hotly debating capital punishment. This time, the discussion has been provoked by the death sentence on Dhananjoy Chatterjee. He was convicted of raping and murdering a 14-year-old schoolgirl at Calcutta in 1990. The Indian President, A.P.J. Abdul Kalam, has stayed Chatterjee's hanging, and is examining a clemency petition from his family. In the meantime, there is an intense debate in the media over the relevance of this extreme penalty. While some influential members of the government and public argue that Chatterjee deserves no mercy, and his sentence should not be commuted to one of life, there are others who feel that this form of punishment negates the very idea of reforming a criminal. "Is not the justice system all about reformation?" they ask. The latter group's point of view is gaining ground. Not just in India. Amnesty International's latest information shows that: 80 countries have abolished capital punishment for all crimes, 15 nations have done away with it for all but exceptional crimes such as wartime atrocities, 23 countries can be considered abolitionist in practice because they retain the death penalty in law but have not carried out executions for the past 10 years or more. Seventy-eight other States and territories retain and use capital punishment, but the actual number of executions is getting smaller every year.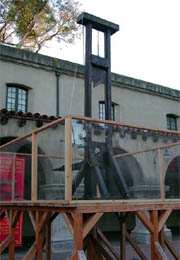 Guilotine for execution
However, this figure is still high. During 2003, at least 1,146 prisoners were sent to the gallows in 28 countries, and at least 2,756 people were sentenced to death in 63 nations. These statistics include only cases known to Amnesty International; the true numbers are certainly higher. In 2003, 84 percent of all known executions took place in China, Iran, the USA and Vietnam. In China, limited and incomplete records available to Amnesty International indicated that at least 726 people were executed, but the actual number is believed to be much higher. A senior Chinese legislator suggested in March 2004 that China hangs "nearly 10,000" people each year. Iran executed at least 108 people in 2003, the USA 65 and Vietnam 64. Yet, and sadly, scientific studies have consistently failed to find any evidence that death penalty acts as a deterrent in society. The most recent survey conducted in the USA in 2002, for the United Nations, concluded: "it is not prudent to accept the hypothesis that capital sentence deters murder to a marginally greater extent than does the threat and application of the supposedly lesser punishment of life imprisonment." Interestingly, recent crime statistics from those places which abolished this form of retribution fail to show a rise in homicide. For instance, in Canada, on the other hand, the murder rate per 100,000 of the population fell from a peak of 3.09 in 1975 — a year before the abolition — to 2.41 in 1980. The number has been declining since then.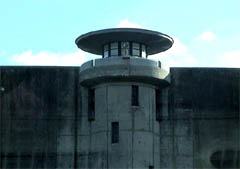 A reformative institute
In India, what can perhaps be looked into is a longer life term, rather than the 12 or 14 years (sometimes even less) that is now in vogue. In the U.S., the length of the stay in jail is coterminous with the life of the convicted person. It is for this reason that those who oppose the abolition of capital punishment in India fear that the convict once free could prove to be a menace to society. However, a good reformative justice system can allay this fear. Yet, death penalty is no answer to check murder. State sponsored killing cannot be condoned, and the idea of a "tooth for a tooth and an eye for an eye" is not only primitive but places India and others in sheer Dark Ages. Besides, you cannot prevent a crime of passion with any kind of law. Nor can you check a serial killer. You cannot hang a man twice. You cannot stop a terrorist committed to a cause, because he has no fear of losing his own life. The deterrent hypothesis thus stands quashed. Worse, as long as death penalty exists, the risk of sending the innocent to the gallows can never be totally eliminated. After all, no human system is infallible. A 1987 study revealed that 350 people convicted of capital crimes in the USA between 1900 and 1985 were innocent. Some of them escaped by minutes, but 23 were actually executed.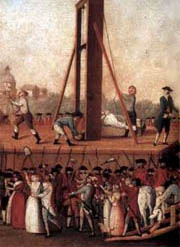 Artist's rendition of a guilotine execution in France
In India, it is quite likely that there has been such miscarriage of justice, given the state of the judiciary and the complexities of the society. The legal system is not only bogged down by archaic laws but also a terrible shortage of men. It takes years for a verdict to be given in a criminal case, and instances of a judge erring because of sheer pressure of work may not have been recorded, but cannot be entirely ruled out. In a country ridden with caste, communal and religious disparities, and a far-from-perfect method of policing, the chances of willful conviction may not be exactly rare. Ultimately, even the very thought of the State executing somebody is barbaric. Let me end on a positive note, though. Two recent cases of clemency have come from the relatives of victims. Sonia Gandhi, president of the Congress, now in power in India, secured clemency for Nalini, one of the four sentenced to death for the murder of Rajiv Gandhi, a former Prime Minister. Rajiv was Sonia's husband. Gladys Staines, widow of the Australian missionary, Graham Stewart Staines, who was burnt alive with his two sons, has recommended clemency for their murderers.