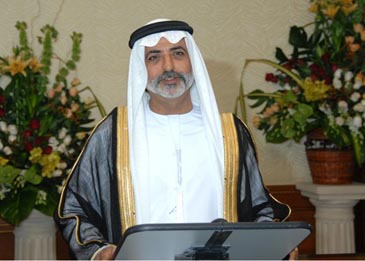 Sheikh Nahyan Mubarak Al Nahyan inaugurates on March 10 the third Women as Global Leaders Conference 2008.
DUBAI(WAM)-Sheikh Nahyan Mubarak Al Nahyan, Minister of Higher Education and Scientific Research and President of Zayed University of the United Arab Emirates inaugurated here on March 10 the third Women as Global Leaders Conference 2008.The event was held under the patronage of HH Sheikha Fatima bint Mubarak, Chairperson of Family Development Foundation.Addressing the conference, Sheikh Nahyan paid tribute to Sheikha Fatima, saying she was a role model in leadership.
He stressed the importance of the conference, noting it brought together eminent women personalities whose leadership role was crucial in shaping the modern world.Now in its third year, this international student conference is being organised by the University to build bridges that unite female students from around the world. It constitutes a forum to share ideas and engage in debate on 'Learning Leadership." More than 2000 students from 60 countries are participating in the conference.The Women as Global Leaders conference focuses on women's emergent and current leadership roles across the globe as well as the practice of educating students for and about leadership. Primarily a student leadership conference, Women as Global Leaders draws participants from over 85 countries and from all sectors including education, government, and nongovernmental organisations.Woman today is not just a mother, wife, daughter, sister and wife but also a minister and director, according to Minister of State Reem Al Hashemi."Recognising the potential skills and persistence of women, the UAE government is determined to grant women greater room to become leaders,"Al Hashemi said in an address to the 3rd conference of Women as Global Leaders.She affirmed that UAE women '"are always ready to take lead and shoulder their responsibilities."''"At the time when UAE men went for sea for pearl diving, it was their wives who ran the daily business of the family,"'she recalled.Actress and humanitarian Jane Fonda said, "Leadership and women can and should go together. There is a growing condition of independent woman leaders in Europe and other countries. Women leaders have to become the change we want to see. We have to become the change we want to see. We have to incubate and embody it in our bodies. The two-time award-winning American actress told the gathering of students from Zayed University and various universities across the world that it was important as young girls to choose the kind of leader one wants to become."There are visionaries who see beyond what others can see. There are also people with the gift to communicate, inspire and mobilise to achieve their vision. There are strategic leaders. Think about it as it is important to know what kind of leaders you are and want to become."Fonda, 70, known for her political activism and strong opposition to the Vietnam war, said young women needed empathy and compassion, and to be good leaders it was important to be able to listen to others.Comparing the volcanic activity in America's Yellowstone Park in Wyoming to young women and men, Fonda said, "I have witnessed the equivalent of that steam and hot mud wobbling up all over the world, in the form of women and men, who are rising up to become a volcano. I am here to challenge you to become volcanoes."Sarah Ferguson, the Duchess of York and a former member of the British Royal Family, said it was important for women to dare to dream. "You should dare to dream and if you go through a few knots in life, embrace them and get going,,"she said, adding, "communication, compromise and compassion is the key." Ferguson, who dons several hats, that of a philanthropist, CEO, advocate, author and a mother, told students that she was from the university of life, where it was necessary to fight and be motivated, besides being independent.She added that she had learned to "live and give" as a mother.