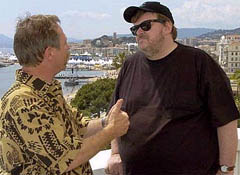 French anti-globalization activist Jose Bove, left, gestures as he speaks on a balcony overlooking Cannes with director Michael Moore, who is presenting his film, "Fahrenheit 911," in competition at the 57th International Film Festival.
CANNES, French Riviera, May 25, 2004 — The Cannes International Film Festival concluded on a very political note. Although a bastion of trade and commerce, the Festival seldom lost sight of the fact that its primary business was to promote art. And, at Cannes, one has been seeing some splendid cinema ever since its inception some six decades ago. However, this May, American director Quentin Tarantino (whose "Pulp Fiction" and "Reservoir Dogs" caused storms in the celluloid world) and his largely British and American team of jurors decided to convert the Festival platform into a political arena by giving the top Golden Palm Award to Michael Moore's scathing critique of George Bush, "Fahrenheit 9/11." Admittedly, Moore's work, a pure documentary, is a devastating look at the way the Bush administration has conducted its foreign policy since 2000: the director reveals how Washington helped 20- odd relatives of Osama bin Laden to flee the U.S. soon after September 9, 2001, and analyses the intimate links Bush's family has had with the Saudi Royals, some of whom were related to bin Laden.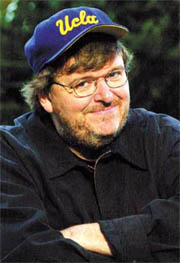 Director Michael Moore
Moore's movie also tells us how America whipped up a wave of fear in order to prepare the nation for the war in Iraq. Armed now with the right to update his documentary, Moore plans to incorporate footage of the latest atrocities by U.S. military in Iraq. Little wonder, then, that Miramax, which produced "Fahrenheit 9/11" refused to distribute the film, under pressure from its parent company, Walt Disney. There is now said to be some rethink on this. For Moore, these things are passe: he has always courted controversy. At the 2003 Oscars ceremony, Moore's, whose anti-gun lobby "Bowling for Columbine" won a prize, ridiculed President Bush by thanking him for "sending us to a fictitious war." This year at Cannes, Moore told a Press conference soon after his movie was screened that he considered Bush to be an immoral President, and the director held him responsible for the body-bags that were arriving back home. But, Moore's work did not go well with the cinema fraternity at Cannes: critics were further upset when Tarantino awarded the Festival's highest honor to an essentially political document. "Fahrenheit 9/11" is no work of art. It is certainly not cinema in the strict sense of the term.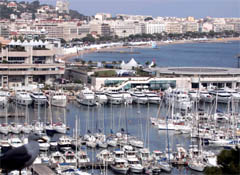 Cannes Harbor
Cannes' film critics saw in the award a daring political move by Tarantino and his men to try and spoil Bush's chance of a re- election this November. Though, this may be a good thing — with half the world waiting for Bush to go — Moore's effort, while documenting an important fact in contemporary American history, has little meaning in a festival, which has all along aimed at creating an artistic ambience and at promoting classic cinema. "Fahrenheit 9/11" was not only allowed to compete — the first time in about 50 years that a documentary was being given this opportunity — but was also pushed into the front ranks at Cannes. Moore's arrival at Cannes was followed by a media hype, which incidentally was confined to the American and British Press. The French Press was far more subdued here. Later, Tarantino tried to salvage something out of the mess he had heaped up. He told a Press meet a day after the Golden Palms were distributed — it was the first time in the Festival's history that the jury had agreed to meet journalists after the awards — that "Fahrenheit 9/11" was viewed by him and his team as a pure work of art. "After all, there was nothing new that Moore was telling us. Most Americans knew these facts all along...So, we looked it Moore's movie as pure cinema, and not as a political document."
Actresses at Cannes
Chinese actress Gong Li, left; Indian actress Ashwarya Rai, center, and French actress Laetitia Casta, right, arrive to attend the screening of the film "Bad Education" during the opening of the 57th International Film Festival in Cannes, May 12, 2004.
Courtesy Reuters
Going by this argument, one wonders why, at all, did Tarantino choose to give "Fahrenheit 9/11" the Golden Palm when there were at least half a dozen other films whose aesthetic value and content far outdid those in Moore's documentary. It is apparent that Tarantino let himself be clouded by a motive other than art. It was a political Palm. Undoubtedly so. Nonetheless, there is a good side to the Cannes' decision to give Moore a red-carpet welcome: "Fahrenheit 9/11" will now be seen by most of the world, and Bush's lies will be there out in the open. The President's chances at the coming re-election will be probably slim, reiterating in the process, the power of cinema to change world order. Moore has only reminded us how effective films can be as a vehicle of social change. Vive la cinema!