Characteristics of Korean Buddhism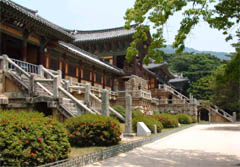 Bulguksa Temple
Korean Buddhism has developed unique characteristics found only in Korean Buddhism throughout its over 1,600 years of history.The foremost part of its characteristics is that Korean Buddhism is Seon (Zen: Japanese pronunciation of Chinese character àÉ) Buddhism. Seon Buddhism follows the tradition of Juaseon (ñ¦àÉ) or sitting meditation with Hwadu (Koan) practice.Juaseon or sitting meditation is a central Buddhist practice, and Bodhidharma was the founder of this practice in China. Seon is the modified form of Jigwan Seon which is one of the practices of original Buddhism. Jigwan Seon of original Buddhism was modified by the Chinese into Seon (Chan), a way to enlighten oneself through looking into one's own nature.It aims to discover his or her own Buddha nature without having to study complicated doctrines of Buddhism. The Seon School was divided into two major streams — Seon with Hwadu and the Seon practice of looking directly into the nature of self.This produced a large number of Seon masters. Korean Buddhism following the tradition of Seon with Hwadu was revived by the great master Kyunghu in the late Jeoseon (Chosun) Dynasty (1392-1910). This tradition died out in China a long time ago while it was kept alive all the way through Korean Buddhism.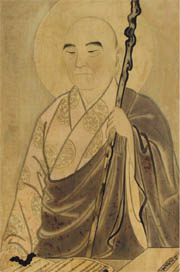 Great Master Wonjyo
Korean Buddhism has a tradition of harmony and unification. Korean Buddhism is not a simple imitation of Chinese Buddhism. Koreans accepted and developed Buddhism into its own unique national form. The originality of Korean Buddhism was established and developed by such great monks of the unified Shilla Dynasty as Wonhyo and Uisang Daesa. Its developments continued in the following Goryo Dynasty (918-1391). Wonhyo Daesa or Great Master Wonhyo dedicated himself to unifying the different sects (orders) and divided opinions in Shilla Buddhism. His efforts resulted in the harmonizing and unifying characteristics of Korean Buddhism.This tradition was passed down to National Master Jinul's of Goryo Dynasty and later to the great master Hyujung of Jeoseon (Chosun) Dynasty. Jinul was known for his thought of "practicing meditation and wisdom together" while Hyujung was famous for his philosophy of the unification of the Seon and doctrinal schools.The quest for harmony between Seon and doctrine, practice and theory is the tradition of Korean Buddhism. Through its 1,600-year history, Korean Buddhism has created numerous cultural assets both tangible and intangible.Thousands of time-honored Buddhist temples scattered throughout the country provide for the unique treasure islands of its architecture, sculpture, myth, literature, music, food, and tea. Korean Buddhism has long been served as the spiritual nutrient for its people.Today, in the face of rapid modernization and strong Western influences Korean Buddhism is trying to maintain its spirit and its traditions.
History of Korean Buddhism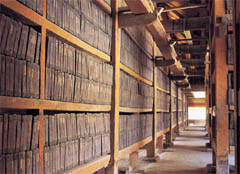 Tripitaka Koreana (ø¢Ø¿ÓÞíúÌè)
Buddhism was introduced to Korea from China in AD 372, during the reign of King Sosoorim of Goguryo Kingdom (37 BC-668 AD). Soon thereafter, Buddhism was introduced to the other two kingdoms of Baekje and Shilla.After accepting Buddhism, each kingdom developed their own unique form of Buddhism based on their cultural environments.Traditions and cultural artifacts of Korean Buddhism took its roots in Three King Period (57 BC-668 AD). Among the three kingdoms on Korean Peninsula, Baekje became the first to introduce Buddhism to Japan in AD 553.Baekje contributed greatly to the establishment and development of ancient Japanese culture as well as Buddhism. Nowadays, More relics of Baekje Buddhism remain in Japan than in Korea.So creative and unique was the Buddhism of the Three Kingdoms, it left strong effects on Mahayana Buddhism on East Asian countries overall. Mahayana Buddhism is the basic teachings in which all Buddhist schools have in common.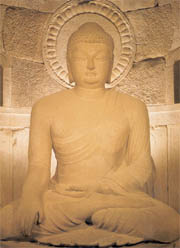 Sukgulam grotto in Gyeongju
After Shilla unified the other two kingdoms on the peninsula, Korean Buddhism was in full bloom on the stability of the unified Shilla Dynasty (668 AD-918 AD). Many of the greatest assets of Korean Buddhism were created in this period. On the lengthy list of the splendid Buddhist culture of this period were Bulguksa Temple, Sukgulam, countless number of stupas, bells, statues of Buddhas and bodhisattvas, art crafts, and Buddhist literature.A variety of Mahayana Buddhist philosophies were studied and refined in that period as well. They included the Avamtamsaka, the Dharma-characteristic School, and Tantra.The Seon (Zen) School was also developed at the same time. Late in the Shilla Dynasty, National Master Dousun (Ô³àÒ: 827¡­898) introduced Seon, and the Seon Gates of the Nine Mountains, the famous Seon temples in Korea, were established in the early Goryo Dynasty (918-1391) , which succeeded Shilla.Seon and Buddhist doctrine bloomed on the Korean Peninsula at this time. In the Goryo Dynasty, such Buddhist philosophies as the Avamtamsaka School, the Consciousness only School, and the Chuntae (T'ient'ai) School were further developed.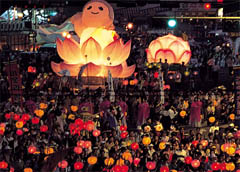 Lantern parade in Seoul
In this era, National Master Jinul (ò±Òí) of the Seon School formed the Junghye Society (ïÒû´Ì¿Þä) and the Baikryun Society (ÛÜ֥̿Þä) which became the motivating forces for these developments.Perhaps the greatest of all the Korean Buddhist works of art was produced in this period when Goryo Dynast was attacked under hooves of mighty Mongolian cavalries. Goryo court sought to save the nation with the help of Buddhism.Kept in Haeinsa Temple, Tripitaka Koreana (ø¢Ø¿ÓÞíúÌè) is the world's largest and most comprehensive woodblock Buddhist canon carved in Chinese characters. Over 80,000 wood blocks were used for printing Buddhist scriptures and laws. This canon is considered as the basis of the study of Korean Buddhism.Contrary to Goryo Dynasty when Buddhism flourished as national religion, the ensuing Jeoseon (Chosun) Dynasty (1392-1910) took Confucianism as the national religion.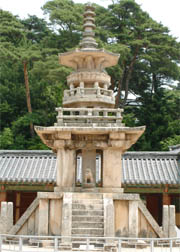 Dabotap in Bulguksa Temple
As Buddhism was suppressed harshly, most Buddhist temples retreated to remote areas deep in the mountains. Buddhist institutions and clergy were relegated to lower status by the ascendancy of neo-Confucian literati. Practicing Buddhism was not permitted in cities and monks and nuns were forced to labor. Yet, Korean Buddhism weathered through half a millennium of this persecution and hardships during Jeoseon Dynast. Buddhist tradition took its root deep in the lives of common people and practiced as their major religion.Under Japanese colonial rule (1910-1945) of the Korean Peninsula the tradition of Korean Buddhism was under threat again. Buddhist monks were obligated to marry to officiate at temples. They were encouraged to break their long tradition of celibacy.Only after liberation from Japan in 1945 and the following Korean War (1950-1953) did Buddhism begin to reestablish itself in Korean society. Public support grew again and celibate monks of the Jogye Order (sect) regained control of most of the major temples across the country.The Jogye Order is the largest and most influential denomination among Korea's major Buddhist orders including Jogye, Chontae, and Jingak today. It boasts about 7,000 temples and 10,000 Buddhists monks and more than 10 million lay members in Korea.