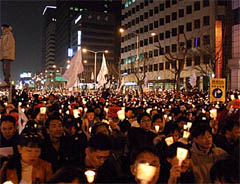 Tens of thousands of people with candle light in their hands gathered in downtown Seoul in protest against Roh's impeachment.
Courtesy Bluenote's viewfinder
President Roh's impeachment by conservative lawmakers turned the nation into turmoil. The newspapers and broadcast media alike were filled with stories on the impeachment which was the unprecedented in the history of South Korean parliament.A lot of people were shaken and confused by a flurry of pros and cons of Roh's impeachment. Fortunately, the impeachment motion was dropped by the Constitutional Court of Korea and the people's hot debate about Roh's impeachment appeared to be subsided.It was not far back that the nation was saved from the economic hardship locally dubbed "IMF crisis" a few years ago. We have a long way to go before we reach our dream life of 20,000-dollar per capita income.China, once derided by many Koreans as a backward country has been fastly catching up with Korea. The most populous nation on earth is now even surpassing us. What were we and are we doing now?It looked as if the whole country was sharply divided over the issue of Roh impeachment. Virtually, all the Korean people — between patents and children, amongst fellow workers, different social groups — were fighting each other over the political issue. Who were right or wrong?From time to time on my business travel abroad I got bewildered and distressed by questions from my acquaintances regarding how Korean economy was going on particularly in recent years.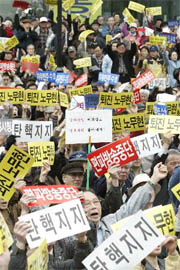 People are clamoring for step down of President Roh in downtown Seoul.
Courtesy Newsis
In the eyes of the foreigners Korea used to the Asia's leading nation with rapid economic development unrivaled on Earth. They used to praise all the positive points of Korea including world's most industrious people, and human resources made out of highly-educated work forces rarely found in the history of industrial world. A good friend of mine in Singapore, who is actually my customer, asked me the same questions about the present conditions of Korean economy. He, of course, is worried about the Korean economic indicators which are in very poor shape.As always, I gave him the same answers, albeit I felt humiliated personally. Korea rose into a modern nation from the ashes of Korean War (1950-53). Korea overcame the economic hardships of 1970 when most countries of the world were suffering from so-called "oil shocks" and aftershocks. Korea produces no single gallon of petroleum. Korea even survived the worst financial and economic crisis touched by foreign exchange crisis in late 1990s.I always explain to my foreign customers and friends that Korea has the enough capacity of tiding over any difficulties or hardships. Korean people know how to turn every crisis into an opportunity for even greater development and bigger achievements. The sharply divided nation over the issue of Roh's impeachment was also a hard process Koreans were going through for a great leap ahead.Luckily, my predictions turned out to be true. After the Constitutional Court overruled the impeachment both conservative and liberal sides conspicuously softened their stance, agreeing to make harmony not fight.
In case of America, the tragic Civil War (1861-65) actually served as a foundation for America's economic development. Americans used the national crisis as an occasion to transform the country into a great power and eventually a super power.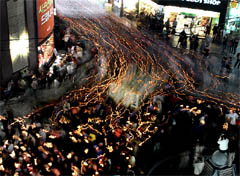 Tens of thousands of people with candle light in their hands gathered in downtown Daegu, North Gyeongbuk Province in protest against Roh's impeachment. Courtesy Karimi
It was by the Civil War that the human and material resources started to flow freely and efficiently from South to North or vice versa within the United States. Only after the American Civil War the loose form of federal government became stronger and powerful in the following years.Now that the grave issue of Roh's impeachment has been resolved lawfully and peacefully by the Constitutional Court. Yet, we are faced with more tough challenges for survival in competition with other nations in this global village.It looks like we are barely out of the long and deep tunnel of national division and chaos touched by impeachment issue. We have no time for useless arguments. We have to respect other's opinion to draw compromises.I believe that the spirit of compromise is the very source of competitive edge of our nation in the 21st century. Unfruitful rivalry and the ensuing national chaos will get our country into backwardness. We have a long way to go.