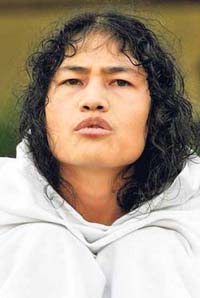 Irom Sharmila Chanu or Irom Chanu Sharmila (1970 - ) is an Indian woman activist of Manipuri's separatist movement from the Indian Union.
As a woman I feel privileged to be living in a state( U.P.) run by a woman and in a country whose highest office is adorned by a woman and where the reins of the ruling party are in the hands of yet another woman. A formidable trio indeed ,doing any feminist proud. Yet as a woman, I am deeply ashamed of not being aware till recently, about the laudable achievements of a fourth woman which surpass the 'tiranga power.'this woman is 34 years old Irom Sharmila Chanu from Imphal—a Superwoman in the real sense of the word. This woman has been on an indefinite hunger strike since November 2nd 2000, protesting peacefully against army atrocities on the peace loving people of Manipur and the entire North East region. She is requesting a repeal of the repressive Armed Forces Special Powers Act (AFPSA) which has been used with brazen brutality resulting in the killing of innocents and rape/molestation of countless hapless women in the conflict ridden areas of north east India.Now in the 7th year of her marathon fast,Sharmila has been in and out of police custody, arrested for 'attempt to commit suicide'; hospitalized, forcibly nosefed through tubes, but has not touched any solid or liquid food or even water. Her organs are now failing steadily. This unique protest of Sharmila is one of the longest solitary and peaceful struggles of our times — unique also because it has gone largely unnoticed by the press and public alike and totally ignored by the government. Why this inhuman indifference?Is it because Irom Sharmila represents a region which is so remote for us — geographically and socially — that what happens to the 38 million people residing there is none of our business? Is it because she is not affiliated to any political party or social organization and does not come under the protective banner of any outfit?Is it because the Mahatma's tool of non violent protest has become obsolete in this age of brutal violence and Gandhigiri is actually dead? Is it because the glowing Indian economy has deadened our senses towards all acts of human rights violation unless they occur in the 'mainland mainstream' India?It is high we at least start searching for the right answers as Sharmila's lone fight has stretched to 7 years, making her body a battle field. The people of Manipur are solidly behind her, but they are fighting a losing battle. Manipur has been a wasteland of fears and counter fears for decades. With the army on one side and rival insurgents on the other side, the present is dark and the future dismal for them.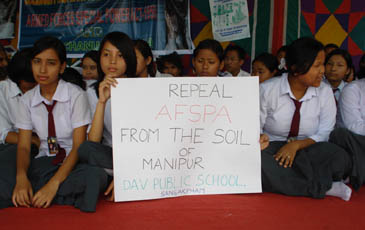 A Chinese factory
Sharmila began her historic fast unto death to protest the killing of 10 innocent people when the army opened fire at Malom bus stand in Imphal (in retaliation to the bombing of an army column by insurgents). This was the proverbial last straw for the likes of Sharmila. She protested against the excessive militarization of the north east region and the promulgation of the draconian AFSPA aiming to curb the civil rights and liberty of the common people. Are we going to remain silent, basking in the glory of our ignorance? Or will we support this gritty 'iron lady' in her peaceful protest against a callous state and an indifferent media/public of mainland India? A 100 T.V.channels and yet we are oblivious.It is a miracle indeed that Sharmila is still alive. And that is perhaps God's way of saying that she is on the right path and also giving us a chance to atone for our past apathies. For her satyagrah represents the best form of a peaceful struggle for truth, love peace to prevail upon violence and hatred. Some right-minded citizens from mainland India have decided to support her in her quest for justice. They are starting a solidarity fast from 13th September for a few days outside Jawaharlal Nehru Hospital, Imphal, where Sharmila is currently lodged. Let all of us become a part of this symbolic effort.I appeal to the women of India, nay of the whole world, to fast, not for a son or a husband, but for a sister who thinks that 'it is my bounden duty to restore freedom and dignity to my people.'Let this solidarity fast be an ongoing process. Once in a week or in a fortnight let us fast in moral support of this crusader who has put her life at stake in her quest of seeking justice by peaceful means. Let us make Irom's mission a MOVEMENT so that truth may prevail.