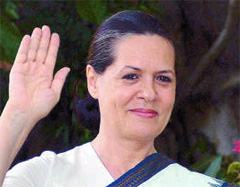 Sonia Gandhi, leader of Congress party
Italy is celebrating what could be its first woman prime minister... albeit, prime minister of India. For Sonia Gandhi, whose election victory could make her India's next leader, was born in northern Italy. The mayor of her home town of Orbassano, near Turin, offered "warm congratulations" to the woman who married into the Gandhi dynasty. "Finally — an Italian woman as prime minister," joked Margherita Boniver of the Italian foreign ministry. The Italian newspaper Corriere della Sera proclaimed on its front page: "Italian Sonia Gandhi triumphs." "Sonia Gandhi: an Italian triumphs in India," said La Repubblica.
Family silent
But the party in Orbassano itself was muted because Mrs Gandhi's family has never commented on her political career. Sonia married Rajiv Gandhi at the age of 21, after meeting him at Cambridge University.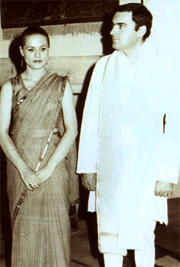 Sonia Gandhi with her late husband Rajiv Gandhi
Both Rajiv and his mother, Indira, became prime minister but were assassinated, leaving Sonia Gandhi as the inheritor of India's greatest modern political dynasty. As Mrs Gandhi prepared to put together a ruling coalition, the mayor of her home town, Carlo Marroni, said: "Orbassano and its entire administration express their warm congratulations for this victory by our fellow citizen." But there was still no word from her family. "Years ago her family asked that we respect their silence," said an aide to the mayor. "Her mother and two sisters were upset by the events that had shaken the (Gandhi) family, and they asked that they be left in peace." "Yes, we are proud, but we also respect the family's desire to be left alone," he added. Sonia was born Sonia Maino in December 1946.
Impressed
Her father, a building contractor, is now dead, but her mother and two sisters still live in or around Orbassano, a town of 25,000. Sonia Gandhi's heritage is not well known in Italy, but those who knew about it are impressed with her success in the Indian election.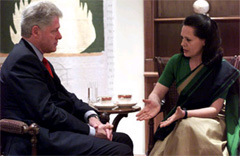 Sonia Gandhi meets with Bill Clinton
"It's good that an Italian can get elected in a country that's so far away, and that's culturally so different," said Gilberto Fulvi, a 30-year-old who works in a youth centre. "Imagine here in Italy, if a foreigner were elected premier," he added. Mrs Gandhi is an Indian citizen, and said before the election that she did not see her Italian birth as a problem for Indian voters. She said in a television interview: "I never felt they look at me as a foreigner. Because I'm not. I am Indian."
Who Is Sonia Gandhi?
Born into a family of modest means in an Italian village on the banks of a river 52 years ago, Sonia Maino, now Sonia Gandhi, has weaved a dramatic way to a place in history by becoming the President of India's century-old Congress party.Being the third woman of foreign origin to hold the prestigious post after Annie Beasant and Nelli Sengupta, Sonia Gandhi also became the fifth from the Nehru family to take over the Congress reins. The other four were Motilal Nehru, Jawaharlal Nehru, Indira Gandhi and Rajiv Gandhi. She also is the eighth person of the foreign origin to be the Congress president.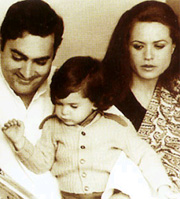 Sonia Gandhi with her family
In a short span since she plunged into active politics before the February mid-term Lok Sabha elections, Sonia in fact, had wrought a political miracle by becoming the dual chief of the 113-year-old Indian National Congress and its Parliamentary party. In the process, Sonia Gandhi also emulated her husband, mother-in-law and grandfather-in-law — Rajiv, Indira and Nehru — who all held the two posts during their career. Sonia Gandhi, nee Maino, was born in a place called Ovassanjo, 80 km away from Turin, on Dec. 9, 1946. Married into India's best known family of Nehru-Gandhi in 1968, the 52-year-old Sonia Gandhi became a primary member of the Congress less than a year ago before the Calcutta Congress Plenary Session in August 1997. Since Rajiv's death, Sonia had led a life of near recluse for six years but for her appearances at a few official functions. She touched many a heart when she poured out her 'vedna' (agony) at a public meeting a few years ago in Amethi about the delay in the probe of Rajiv assassination case.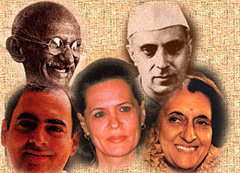 Sonia Gandhi and Gandhi Clan
Barring such vieled political statements, Sonia hid her emotions behind a thick veil of secrecy keeping observers guessing about whether she nursed political intentions at all. But fawning Congressmen, looking for a charismatic personality to lead the party to electoral success, kept sending their appeals to her to come and take over the party. After an excruciating spell of suspense, Sonia, who long remained something of an enigma to many, finally decided to campaign for the Congress in the just-concluded Lok Sabha electors and is credited by observers with preventing a doom for the party. Congress, which was forecast not to cross the double-digit mark managed a tally of 141 seats, largely due to her charismatic presence during the campaign. In fact, the top job of the Congress organisation was offered to her on a platter immediately after the death of her husband on May 21, 1991. But a grieving and reluctant Sonia declined the offer.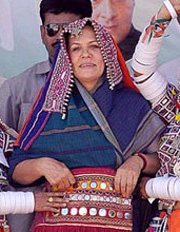 Courtesy AP
Travelling the length and breadth of the country in a hurricane election tour, Sonia caught the imagination of the masses, by her emotional speeches in Hindi prepared in advance. Observers commented that Sonia successfully adopted her mother-in-law's mannerism and style in warming her way to large crowds which had turned up at her election rallies. Sonia, whose Italian origin gave her opponents propaganda grist became a full-fledged Indian citizen in 1984 after the death of Indira Gandhi. Sonia met Rajiv Gandhi in Cambridge during 1960s when the former Prime Minister was studying at the famous British University. They were married in 1968 after three years of courtship which began in a Greek restaurant in the university town. The simple ceremony was held on Vasant Panchami day in February, the same day when Indira Gandhi married Feroze decades earlier. The wedding was a simple nondenominational ceremony in the garden of 1, Safdarjang Road. Sonia wore a pink sari made from cotton which Nehru had spun while in prison... It was the same sari which Indira had worn for her wedding, says biographer Nicholas Nugent in his book Rajiv Gandhi — son of a dynasty. The new addition to the family became an instant favourite. Sonia and Indira became extremely fond of each other. It was relationship that time would deepen still further, according to Nugent.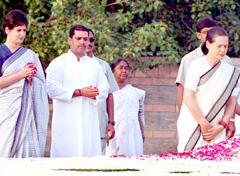 Sonia Gandhi (right), along with her daughter Priyanka and son-in-law Robert Vadra, paying tribute to ex-Premiere Rajiv Gandhi. Courtesy Ranjan Basu/Saab Press
Strange as it may sound now, Sonia had, in fact, shown aversion to politics for long. She detested politics and opposed her husband Rajiv entering it, according to Nugent. Sonia had even threatened to divorce Rajiv if he ever entered politics, according to Nugent quoting Indira Gandhi in the book. Rajiv commented to this later saying Sonia felt she would be losing me. Tariq Ali, author of the Nehru's and the Gandhi's, an "Indian dynasty," says at one point Sonia had told a friend that she would rather have her children beg in the streets than Rajiv going to politics. Eventually, Rajiv resigned from Indian Airlines to join politics after Sanjay's death in 1980. It was a joint decision arrived at after long talks with Sonia, Ali quotes Rajiv as saying. That was history. Now not only Sonia is in the thick of politics, but her children, Rahul and Priyanka, too are in great demand in the Congress circle for taking over the Youth Congress.
The above article is from BBC.