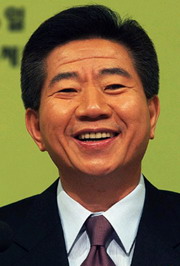 President Roh Moo-Hyun
South Korea's Constitutional Court has overturned a vote by parliament to impeach President Roh Moo-hyun. "There are no reasons which are grave enough to remove the president from office," the head of the court said. The court's widely expected decision means Mr Roh, whose term runs until 2008, is immediately reinstated. He was stripped of office in March by the opposition-dominated legislature but analysts point out that the charges against him were relatively minor.The court announced its verdict live on national television, dismissing the corruption and incompetence charges as "not serious or grave enough to justify the unseating of the president."But it ruled he had violated his neutrality as president by publicly supporting the Uri Party, which was formed last October, ahead of last month's elections.He was also dogged by allegations that his closest aides and family members took up to $10m in illegal election funds, although opposition aides are accused of having taken even more money.
Popular support
A large majority of South Koreans opposed the impeachment of President Roh.Outside the court, Mr Roh's supporters chanted "We got our president back" and "The court decision is a victory for the people."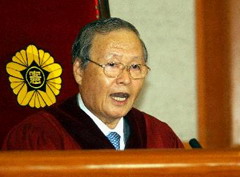 Chief Justice Yun Young-Chul, president of the Constitutional Court declares reinstatement of President Roh Moon-Hyun on May 14, 2004. Courtesy Newsis
Mr Roh's position had been bolstered by a victory for the liberal Uri Party in the parliamentary elections. The president is not a member of the Uri Party, but it is made up of reformist legislators loyal to him.The election result was seen as a ringing endorsement for the president and his policies.He now commands a majority in the national assembly for the first time.
Liberal platform
The BBC's Charles Scanlon in Seoul says the president will return to office in a much stronger position than before.Political analysts say the court's decision will allow the president to press ahead with reforms he was unable to implement in his first year because of resistance in the opposition-dominated parliament.Mr Roh came to power promising a foreign policy which is more independent of the US, including continuing the South's flexible approach to North Korea.During his first year in office he has agreed to co-operate with Washington's hard line on North Korea, and to send troops to Iraq.According to a presidential spokesman, Mr Roh will address the nation on Saturday and will then promise to pursue his reformist platform.
Profile: Roh Moo-hyun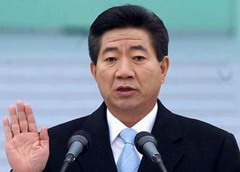 Mr. Roh Moo-Hyun sworn in as president on Feb. 17, 2003 Courtesy WebKorean
Roh Moo-hyun came to power promising to root out endemic political corruption and infighting in South Korea. But just over a year into his presidency, he could be facing political death.The South Korean opposition is planning to file an impeachment motion against Mr Roh, saying he violated election rules by openly supporting a new political party in the run-up to assembly elections next month.The move comes amid a scandal over illegal election funds. Prosecutors have said that both Mr Roh and his rivals took millions of dollars from the country's business conglomerates during the 2002 presidential race.At one point, Mr Roh vowed to call a national referendum on his leadership, saying he had lost the confidence to govern. Difficult relations with the US and political infighting have both made his job more difficult. His popularity ratings have plummeted.It is a very different picture than when Mr Roh began governing as president in February, when, with his relative youth and lowly beginnings, he appeared to be the new broom South Korea needed. His election win was regarded by many as almost revolutionary.A human rights lawyer by trade, President Roh made headlines when he first entered politics in 1988 by grilling top officials from the previous administration during a special parliamentary hearing on graft.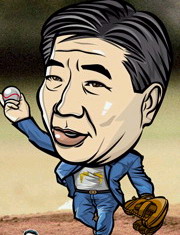 Courtesy Zzang
He became one of the leaders of the "June Struggle" in 1987 against the dictatorship of Chun Doo-hwan, and like former President Kim Dae-jung, was eventually jailed for his involvement in the pro-democracy movement. In September 1987 he was sentenced to three weeks in prison on charges of abetting striking workers.
Campaigning lawyer
He had become involved with the pro-democracy movement through his work as a human rights advocate.Born to poor peasant parents in the south-eastern region of Kimhae, Mr Roh initially studied law as a means of escaping poverty.But in 1981 his work brought him in contact with a case of human rights abuse which he says changed his aspirations for ever.Mr Roh was asked to defend one of two dozen students arrested for possessing banned literature, for which they were detained and tortured for almost two months."When I saw their horrified eyes and their missing toenails, my comfortable life as a lawyer came to an end," Mr Roh has said.Following nationwide protests in 1987 which pushed Mr Chun out of office, Mr Roh entered politics in 1988 — winning election to the National Assembly as a member of a pro-democracy party led by the activist Kim Young-sam, who later became president.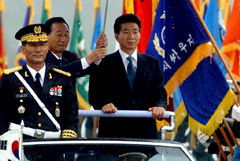 Roh reviewing South Korea's military
Courtesy Chosun
Mr Roh was helped to leadership by a public disillusioned with scandal and South Korea's relationship with the US, on which the country relies for security against the North. Ironically, it is scandal once again which is threatening Mr Roh's own rule.His handling of the growing threat from the North, and a beleaguered economy, have also attracted fierce opposition from a conservative-dominated parliament and media.He has admitted that he has lost all faith in his ability to govern in the current climate.Mr Roh is married to his childhood sweetheart and they have a son and a daughter. He says he enjoys mountain climbing and bowling.
The above article is from BBC.