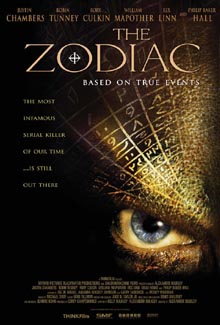 David Fincher's "Zodiac"
Sometimes, a Festival may throw up a theme or two without perhaps having consciously worked towards it. The 60th edition of the Cannes Film Festival (May 16 to 27 2007) revealed one such: killing.David Fincher's well crafted "Zodiac" digs into the never-solved San Francisco Bay Area serial killing that began with the bloody massacre of an amorous couple on July 4 1969 on a lonely lover's lane in Vallejo Calif. The murders continue, each getting more motiveless, but nonetheless malicious.What is more, the daily newspaper, San Francisco Chronicle, receives a letter from the killer claiming responsibility and brazenly taunting the editor with a portion of a cipher which holds the clue to the murderer's identity.The cipher — which the paper's cub editorial cartoonist, Robert Graysmith (Jake Gyllenhaal), tries deducing — and the psychopath become a lifelong obsession for the young artist. Graysmith uses all his spare time to crack the code, hovering over the desk of the newspaper's crime reporter, Paul
Avery (Robert Downey Jr), trying to pick up bits of information.Meanwhile, despite the dogged efforts of San Francisco Police, the killer continues to hunt down lovers and mercilessly murder them. Years pass, Avery leaves the daily and forgets the case. So too the police, who close the file. But Graysmith's fixation remains, despite his marriage going awry
because of his stubborn resolve to solve the mystery.Fincher, who grew up in the Bay area in the early 1970s, knew all about the bogeyman, nicknamed Zodiac, and the director succeeds in translating his childhood fears into screen horror, effectively filming the murders, the paper's newsroom dilemma and the police department's frustration. Fincher injects creepy chill into some of the sequences, but avoids, at least largely, showing blood and gore. Thus, his style often resembles Alfred Hitchcock's, who created terrifying fear in the audience, even panic, by cleverly orchestrating his shots towards the eerie. Hitchcock seldom used violence or blood to achieve such pulse-pounding suspense.At the end of "Zodiac" (in Competition) I came away with one question: why did the police fail to make use of the woman victim who actually saw the killer, having jumped out of the car he was kidnapping her in? She lived to tell the tale.Quentin Tarantino gives us different kind of cinema this time. His "Death Proof," which competed at Cannes 2007, is neatly divided into two parts. In the first, the bad man wins. In the second, he loses. Kurt Russel is Stuntman Mike, who loves to tease and kill women by running his scary looking huge black car over them. In the first, he follows three girls, out to have fun, to a bar, where he flirts and drinks with them. Later, he follows their car on a lonely highway for a deathly onfrontation. There are horrifying scenes of severed limbs flying about. Ugh.The second part is not so ugly, maybe because the women have an upper hand. Here again, Mike follows a group of girls, including a couple of stunt-artists. But in this girl-power action-packed reprise, the evil killer gets a taste of his own medicine. And what a lashing the gals give Mr. Stuntman.Tarantino, who gave us works such as "Pulp Fiction" and "Reservoir Dogs" disappoints us in "Death Proof." Often, it looks like a 1970s B-grade movie. Wonder why Cannes took this for Competition.Joel and Ethan Coen directed "No Country for Old Men," based on Cormac McCarthy's novel. Presented at Cannes Competition, this work has a familiar story: Set in the 1980s Texas (but actually filmed in New Mexico), it is all about drugs, deals, violence and ill-gotten wealth. The Coen Brothers inject marvellous Texas vernacular, dramatising a changing American West, whose new violence is spectacularly evil, the evil projected and played out by Javier
Barden.A series of shocking incidents introduces us to the picture: a crime suspect overpowers his arresting police officer, strangles him with his handcuffs. A hunter stumbles upon five trucks, bullet-ridden bodies and two million dollars in hard currency, which he takes. And trouble begins to chase him. Central to this chase is the local sheriff (Tommy Lee Jones), and "No Country for Old Men" takes us into carnage and killing as the three men play cat and mouse.The Coens, who have specialised in the crime genre beginning with "Blood Simple" and then "Miller's Crossing" and "Fargo," get a step deeper in their latest creation, building up a sense of forbidding that is often scary because it is so unpredictable. The Coens manage to keep us at the edge of our seats, offering excitement with pure horror and topping it with sheer evil.