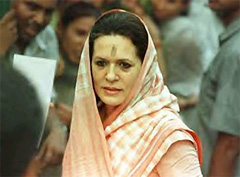 NEXT PRIME MINISTER?
Congress head Sonia Gandhi.
NEW DELHI — In a stunning turnaround, India's ruling Bharatiya Janata Party accepted defeat Thursday, opening the way for the Congress party to return to power for the first time in eight years.The announcement came as polling results were still being counted in India's first ever all-electronic election. Congress, with a projected 217 seats, appears to have the best chance of forming a stable coalition, relying on left-wing and secular parties to give it a 285-seat majority of Parliament's 543 elected seats. Italian-born Sonia Gandhi, the Congress party leader, is now the leading contender for India's next prime minister.The surprising result springs from growing discontent among Indian voters about a decade of economic reform and economic growth that left the common man untouched. Yet, while some analysts say a Congress-led government would soften the effects of economic reforms, few expect Congress to halt India's free-market embrace."This was a vote against economic disparities" between rich and poor, says Rajeev Bhargava, a political scientist at Jawaharlal Nehru University in New Delhi. "It's not a vote against economic reforms."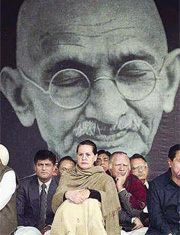 Courtesy The Hindu
The ruling BJP was "overconfident" after winning a series of state elections last fall, Mr. Bhargava says, and quickly called national elections six months earlier than required. But instead of applauding the BJP for economic reform, says Bhargava, the voters — and especially rural and poor voters — sent the BJP a stinging message."Ten years of reforms have created two different Indias," says Bhargava. "One looks abroad and links itself to the international world of business and politics. There is another India that was left completely behind. And the second India is the much larger one. This group doesn't express itself on TV or in magazines, and the only way that it can express itself is through the ballot."The international community greeted the election results with a mixture of caution and relief. Initial opinion polls predicted a hung Parliament, in which any ruling government would have been weak. Privately, US diplomats say that Indian-US relations would be largely unaffected by a Congress-led government. On the crucial issue of trade, Congress is likely to stay the course, since it was a Congress prime minister, the late Rajiv Gandhi, who started economic reforms back in 1989.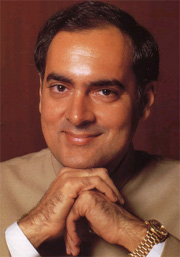 Rajiv Gandhi
Pakistan played down the significance of leadership change in its longtime rival. Observers here say that a Congress-led government would be likely to continue the peace initiatives of the harder-line BJP. Apparently caught off guard by the results, the BJP now will begin changing the guard. And the Congress will begin negotiations with a set of left-wing parties to set up a new ruling coalition. On Thursday evening, Prime Minister Atal Bihari Vajpayee tendered his resignation and delivered a national TV address.
A foreign-born prime minister?
The next question will be: Who wants to be prime minister? As leader of the Congress party, Sonia Gandhi would be the natural choice. While the Indian constitution does not forbid a foreign-born citizen from becoming prime minister, Mrs. Gandhi's Italian origin was an election issue. Sonia married Rajiv Gandhi, the son of the late Prime Minister Indira Gandhi, and grandson of India's first prime minister, Jawaharlal Nehru. Sonia is now a naturalized Indian citizen, and most of the Congress party's expected coalition partners say they would accept her as prime minister. Meanwhile, her son Rahul has won a first term in Parliament.Salman Khursheed, a senior Congress leader, crowed over his party's victory. "This is the end of the BJP," he wrote in an online editorial for the Indian website Rediff.com. "India definitely was not shining these last five years. We will continue with reforms but only those reforms which will benefit the people, the common man."
Indira Gandhi
The next question is what will happen to the BJPand the cause of Hindu nationalism. Founded as a militant defender of Hindu values in a secular state, the BJP eventually rose to power in the 1999 elections because of its promises of economic reform, such as opening up India to foreign investment and encouraging the growth of Indian businesses. The chief advocate of this economic focus was Mr. Vajpayee and his tech-savvy advisers.Now, some BJP insiders wonder whether Vajpayee will be asked to fall on his sword and accept responsibility for this defeat, giving more power to social conservatives in the party who complain that the party has drifted from its former Hindu values. But in a possible repudiation of religious politics, voters in Gujarat state — the scene of bloody Hindu-Muslim clashes in 2002 that many say were abetted by the BJP state government — dealt the party significant losses in Parliament.Vajpayee, a septuagenarian with more than 40 years in politics, has often hinted that this election would be his last. But party general secretary Pramod Mahajan said that Vajpayee would not be held responsible for his party's defeat."If ... anyone is responsible, it is me, since I was in charge of elections for the party," Mr. Mahajan told reporters Thursday afternoon. The results, he said, were "totally against our expectations."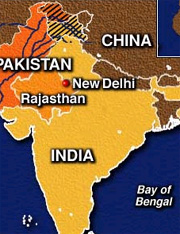 Courtesy CNN
Prem Shankar Jha, a senior political analyst in New Delhi, says the voter reaction was entirely predictable, given the BJP's primary focus on the urban middle class and rich Indians. "Five years of unemployment and a sharp increase in class differences are responsible for this vote," says Mr. Jha. "Politics has always divided along traditional lines of caste and ethnicity, but this time, there's been a strong divide between rich and poor."
Focus on job creation
But while Jha says the Congress will shift the government's policies to focus on the problems of poorer Indians, Congress is unlikely to abandon reform altogether. Instead it is likely to pump government money into needed infrastructure projects like electrical power plants and highways, all in an effort to create hundreds of thousands of new jobs. It will also slow down the pace of reform, delaying efforts to take away subsidies that benefit middle and lower income households, on items like cooking gas, electricity, or education.Bhargava says the results took people by surprise mostly because the urban Indian chattering class — including politicians, academics, and news reporters — are themselves cut off from rural India."It's very typical of people who rely on urban media for their information," he says. "They get taken in by their own hype, and start believing that it's true. The BJP completely lost touch with the people."
The above article is from The Christian Science Monitor.