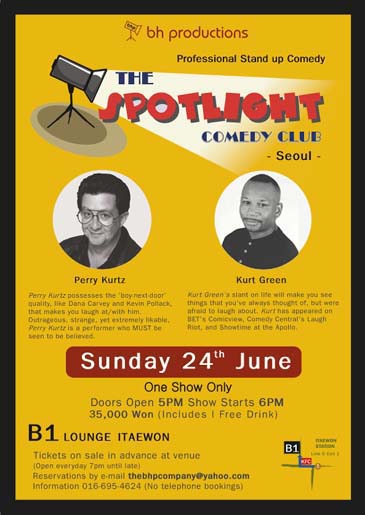 Stand Up Comedy Show flyer
Don't miss Perry Kurtz and Kurt Green for an outstanding night of comedy. Organized and hosted by BH Productions, Perry Kurtz and Kurt Green, two professional comedians in the United States, are being brought over to Korea for a one night only show in Itaewon.
Perry Kurtz possesses the "boy-next-door" quality that makes you laugh at/with him. Perry has opened for comedians such as Jerry Seinfeld, Rodney Dangerfield, and Milton Berle. Kurt Green's slant on life will make you see things that you've always thought of, but were afraid to laugh about. Kurt has appeared on BET's Comicview, Comedy Central's Laugh Riot, and Showtime at the Apollo.
Venue: the B1 Lounge, Itaewon, line 6, exit 1. Go out exit 1, turn right at KFC, walk up about 20 meters. The B1 Lounge is on your left.
Time: Doors open at 5pm. Show starts at 6pm. General seating.
Tickets: 35,000 won, includes one free drink. Tickets are on sale in advance at the venue (open everyday 7pm until late).
Reservations: by email only at thebhpcompany@yahoo.com.
Space is limited, please reserve/buy advance tickets early.
For more information, call Kirstie at 016-695-4624.BH Productions
Itaewon 1-dong, 101-2, #301
Yongsan-gu, Seoul
Korea 140-864
016-695-4624
019-802-2474
(02) 794-4624