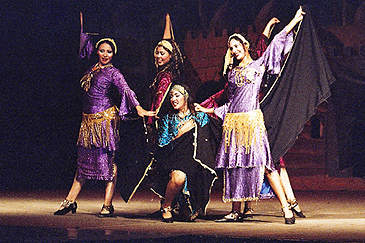 Egyptian National Folk Troupe
Traditional Egyptian dancers captivated both local Koreans and others gathered at the residence of Egyptian Ambassador to Seoul Reda El-Taify on April 28, 2007. The Egyptian envoy threw a reception for the visiting the Egyptian National Folk Troupe members on the day.On the following day, a group of 17 Egyptian National Folk Troupe members participated in the Hi-Seoul Festival and performed at Egyptian booth set up on Seoul Plaza in front of Seoul City Hall. The festival, which kicked off on April 27, 2007, runs until May 6, 2007.On the Seoul Plaza the Egyptian dancers performed a series of traditional Egyptian dances including the "fetewwat Kibly" (the strong men of the south of Egypt), the Melaya (traditional black shale for girls), and the tannourah (dance performed by a single male rotating around himself with a set of colorful traditional dresses.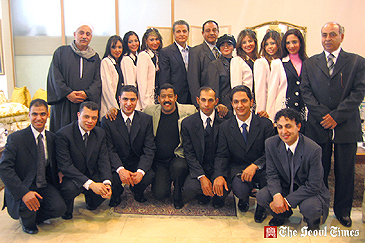 Egyptian Amb. Reda El-Taify (fifth from left in second row) poses with members of Egyptian dance troupe and other embassy staff.
According to First Secretary Nabil Mekky of Egyptian Embassy in Seoul, the Egyptian National Folk Troupe was established in 1960. The troupe is considered as the leading Egyptian folklore dance group. They specialize in performing a series of traditional dances, and show different aspects of daily Egyptian lives and tradition life.During their stay in South Korea they will also join Nami Island International Children's Book Festival 2007 being held in Chuncheon, Gangwon Privince. Many embassies of other countries also take part in the festival, which runs from May 1, to July 1, 2007.The Egyptian dance troupe will leave Seoul for Cairo on May 4, 2007.
For details or inquiries please contact Mr. Nabil Mekky, first secretary, Egyptian Embassy in Seoul at 749-0787 or leave Email at nmekky@gmail.com