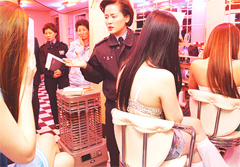 Police and human rights workers are inspecting working conditions of prostitutes in Yongjugol. Courtesy Munhwa
Around 7 p.m. of April 27, 2004, Yongjugol was quiet with most of the hookers disappeared from unusually darkened show windows of the nation's largest red light district. Pimps and "working ladies" alike had sensed the looming joint crackdown of police, human rights groups, and even officials from U.S. and other foreign embassies.Women from human rights groups, who were accompanied by police, doubted the effects of this crackdown. They claimed that all the "professional ladies" went into hiding or were taken to safer places by their "employers."Unlike previous police clampdown, this one was supposed to help prostitutes and protect not only their human rights, but their labor rights, as well. Newly revised laws regulating prostitution have recently come into effect. They also were going to offer medical services to the "ladies of the night." But, their good intentions were met with a cold response from the whores.While most closed their doors, only a handful of "meat shops" remained open. The employees were adamant in answering questions from police and human rights workers. "We visit hospital once a week for a medical checkup and we are free to leave the shops whenever we want."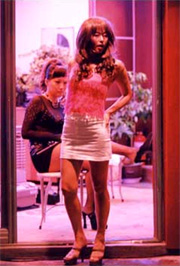 The working ladies said that they were not enslaved to their employers. They said they were not indebted by their owner. Normally, pimps lend the ladies large sums of money before they hire them as a way of enslaving them. Pressed for cash, these spendthrift young ladies were easily tempted to swallow the bait in the past.Asked to present ID cards of their employees one owner angrily handed them to police. Police were checking if they hired underage women. The shop was one of the only three shops operating that day, among the hundreds in Yongjugol.No results were produced from this unprecedented crackdown conducted jointly by nearly 70 officials including policemen, firemen, human rights experts, and medical doctors. Two officials were present from the U.S. and Philippine embassies there to document the human rights situation for Korean prostitutes.This crackdown was conducted as parts of government's plan to gradually close all red light districts in the nation by the year 2007. Meanwhile, whorehouse owners were protesting strongly against the government scheme.A group of about 70 owners from Seoul, Busan, Paju, and Pyongtaek gathered in Busan in early April, 2004, to discuss ways of dealing with the government's steps. Feeling their property rights infringed they were thinking about appealing their cases to the Constitutional Court."Although illegal, this business has been our life for decades." said one owner "It would be totally ineffective for government to merely clamp down on us without workable plans."He added that secret sex businesses in such places as room saloons, massage parlors, barber-shops, and singing room would spread like wild fire if whorehouses are closed by government.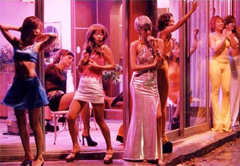 There are a total of 170 shops officially operating in Yongjugol in Pajueup, in Paju City, less than 40 km northwest of Seoul. If unofficial ones are included, the number almost triples, according to a source.Now, Yongjugol is emerging as the nation's most famous red light district with more than 410 registered hookers officially employed in this remote region.In fact, once a small rural hamlet, Yongjugol was turned into a brothel by large encampment of U.S. soldiers right after Korean War (1950-53). Thousands of U.S. soldiers including the Second Infantry Division are still stationed in or near Paju.It is somewhat ironic that American diplomats were trying to inspect human rights conditions for the prostitutes 50 years later.Yet, it was none other than Korean males that made Yongjugol what it is today. Barely one hour drive from Seoul, numerous late night bar hoppers head to the provincial town for a final round of entertainment.Yongjugol expanded rapidly in the last four to five years. As traditional red light districts in Chonho-dong in Gangdong-gu, and Miari in Songbuk-gu were threatened by a series of police crackdowns, pimps and prostitutes began massive movement toward more secluded areas of Yongjugol.Customers are mainly from the capital city but these days more people come from provincial cities including Daejon and Busan.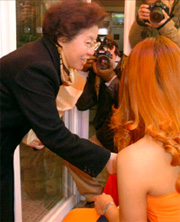 A women's group leader is talking with prostitutes.
Behind the huge frontal windows were ladies putting up make-up or doing their hair for business. Some were sitting on a stool behind the windows while others standing outside on high heeled shoes as high as half a meter. All waving their hands, trying to hook wealthy customers. On the wall of a room of a shop were prices on the menu, which read "20 minutes: 70,000 won (roughly 60 U.S. dollars), one hour: 150,000 won (almost 130 dollars). Between the shops could be seen males called "uncles," managing and watching their businesses.A 19-year-old girl said she wanted to go to Japan for study but she is not from a well-to-do family. She needed big budget for that. First job she took was working at a room saloon where she entertained male drinkers. Making money was not as easy as she expected.She moved to a red light district in Yongdungpo, ending up in Yongjugol. While moving she received several million won in advance, which was very enticing to an indebted young lady. Along the way two of her friends joined her in landing a job in the whorehouses.Why young ladies voluntarily choose to become prostitute deflowering their mind and body? The quick and easy money is the key, experts say.They say that one prostitute can earn as much as 360 million won (roughly 311,150 dollars) per year in Korean red light district. Like elsewhere in the nation, a short time costs 70,000 won and a long night between 600,000 won (roughly 500 dollars) and 700,000 won (roughly 600 dollars).Young ladies put their steps in this "women's oldest profession" in their hope of "strike it rich and get out." Highly indebted with virtually no solutions many were forced to opt for this business. But, the reality turns out to be quite opposite.In September, 2000, five prostitutes lost their lives in a terrible fire in Daemyong in Gunsan. All were living like slaves caged behind iron window bars under the watchful eyes of a pimp who was extorting money from them. It was revealed later that their debt snowballed instead of decreasing.A recent report from
the Korean Institute of Criminology
puts the number of women involved in sex business at 330,000 with its yearly sales amounting to 24 trillion won (roughly 20 billion dollars).
Other statistics from
the Korea Women's Associations United (KWAU)
shows that the number of women selling sex is estimated at as many as 1.2 million, if unofficial ones counted.