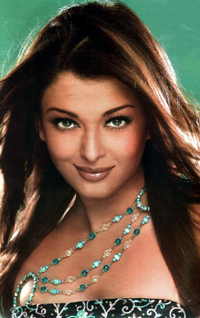 Aishwarya Rai
With two weeks left for Indian film icon Amitabh Bachchan's son - Abhishesk Bachchan's wedding with Miss World 1994 and leading film star Aishwarya Rai, Shobha Shukla reflects on how blinded we are with customs that rig deep in gender-based disparities. Read more ...
The colours of our Indian Flag were still floating in the air, albeit dusk had just settled on our 58th Republic Day (India became a republic on 26th January 1950). Next day being a Saturday, it was an extended weekend for many Indian homes, including mine. And welcome too after the frenzied and excited tiredness of watching the republic day parade. Having thus proved our nationalism and with nothing better to do, it was our faithful idiot box which came to our rescue. My seven year old devil was showing her prowess in flicking from one channel to another, when suddenly she screamed with delight. I could guess that it would one of her favourite film star stealing primetime television time. Yes indeed, she had spotted her favourite heroine and role model — the enviable Aishwarya Rai 9lovingly known as Ash by her fans) — doing the rounds of the Vindhya Hills and setting them ablaze by her presence. As my 'apple of the eyes' watched in rapt attention, I busied myself with my school corrections. Suddenly she shot a question at me — 'mummy, what is Mangali-mangala?' Without lifting my eyes up I replied — 'Come on sweetie pie. Don't tell me you have forgotten Mangala didi,Meeta auntie's daughter. Remember, she gave you that cute little teddy bear on your birthday.'
No mummy, this mangala is bad. Because of her Ash didi has to marry a tree.'
'What rubbish,' I replied in exasperation.
But her insistent queries dragged me to the television screen where, low and behold, Ash and her entourage were splashed over the screen. The focus quickly shifted to Big B (this is what my darling calls Amitabh Bachchan.) And my pet once again tried to impress me with her reading abilities — deciphering the 'Breaking News' type of downline which screamed something like — 'Amitabh says he is now ready for a grand son.'
My daughter now hit me with her next question bullet. 'Mummy, why doesn't he want a grand daughter?' (I have always tried to instil in her that daughters are more desirable than sons, just to level the skewed up chauvinistic notions)
'Will daddy also want a grandson when I grow up?'
'No way,' I quipped.
'Girls are always more intelligent and beautiful.'
'But so is Ash didi.' It was not easy to browbeat her.
'And she has even married a tree. Mummy did you also do that before marrying daddy?' she said with a twinkle in her eye.
I switched off the television inexasperation. My daughter's uncomfortable but very pertinent questions made me muse upon the social responsibilities (or irresponsibilities)of those those whom we venerate as icons. The bright blaze of Big B and adorable A must have kindled various thought processes, as it did mine.
He (that is Amitabh Bachchan) is the brand ambassador for, well, all that is worth branding in India today and is the heart throb of old and young, desi and videsi (including the fastidious French, who have honoured him recently).
To many, he epitomises all that is worth emulating in a modern day world citizen.
He leaves no stone, or mountain unturned in propitiating the gods and goddesses (from Benaras to Vindhyachal) to ward off the harmful Martian (read 'mangali') influences of his would-be daughter-in-law. (Obviously, it is men alone who can be from Mars, women need to be confined to Venus alone). For the uninitiated , women born under the influence of planet Mars spell potential harm for their husbands if the latter are not born under a similar sign.
After removing planetary obstacles from his son's path he gives the green to junior A to apply and see red in the bride-to-be's hair parting at some future auspicious date.
He is now ready to mouth his eager readiness to play a doting grandpa to a grand SON (are you talking of minds conditioned with ages of gender biases?)
Then he willingly and happily joins hands with the politician Amarsingh in performing the repressively repulsive ritual of KANYADAAN at the politically motivated mass wedding of 51 couples. For the uninitiated, once again Kanyadaan is an old Hindu marriage tradition which symbolises the giving away of the bride to the groom in charity. It is a custom which acknowledges women as mere commodities.
She (that is Aishwarya Rai) holds her head high with a beautiful face and svelte body that can launch, well anything that is worth launching and she doesn't need a beautiful mind to do that.To many (and that, once again, includes the French) she is the ultimate of modern Indian womanhood. So she demurely acquiesces to first get married to a peepal / banyan tree under the benevolent eyes of Maa Vindhyavasini Devi (before tying the knot with Bachchan junior) . This is her bid to save the Bachchan clan from the negativity of her being born a mangali and to let all ills befall the tree and not her man.
Later on, perhaps, she will further prove her worthiness as a woman of substance(?) by begetting a son in dutiful compliance of her future father-in-law's wish.
It is heartening to note that Big B is keen to establish a school for girls in his ancestral village whose foundation stone will be laid by Beautiful A. Will the basic tenets of the school's ideology be that — girls are second grade citizens as it is any day better to give birth to a son rather than a daughter; to be born a mangali girl is a double curse as it spells doom for the husband to whom she will be eventually gifted in charity when the time comes.
So much for women's liberation and a scientific temper of the mind.
This is just a message conveyed to all and sundry by leading icons of a Shining India which is poised to take on the world in the year 2007 .