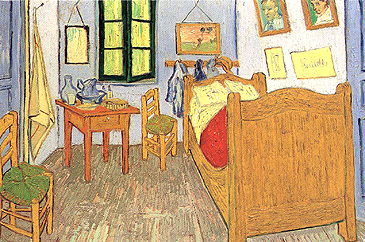 "Vincent's Bedroom in Arles" by Vincent van Gogh
The result of a series of French cultural events held in South Korea during the Franco-Korean Friendship Year of 2006 was quite successful and satisfying, according the top French envoy serving in Seoul.A total of 1.5 million paying visitors and spectators attended a variety of French cultural events held in South Korea in commemoration of the 120th anniversary of Franco-Korean diplomatic ties, said French Ambassador to Seoul Philipe Thiebaud in a press conference held at the French Embassy in Seoul on March 23, 2007.In the breakfast meeting with the local journalists the French envoy was rounding up the 80 French cultural events — various exhibitions, concerts, and festivals — held as parts of the Franco-Korean Friendship Year of 2006. The year marked the 120th anniversary of the diplomatic relations between Seoul and Paris."For the Louvre Museum exhibition alone, 530,000 local Koreans visited the exhibition," Amb. Thiebaud said. The French envoy was quite content when he was referring to the unprecedented exhibition "Masterpieces of Musee du Louvre: Landscape in Western Paintings from the 17th-19th Centuries" held at the National Museum of Korea in Seoul from Oct. 24, 2006 to March 18, 2007.Some 70 works of art by such masters as Delacroix, Goya, Ingres, Gericault, Turner, and Gerard came to Seoul for the exhibition from the world's largest art museum in Paris.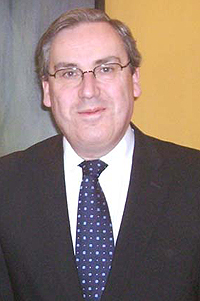 Mr. Philippe Thiebaud, French ambassador to Seoul
Thiebaud said that the number is the highest for any exhibition of foreign arts held in the nation, as Director Kim Hong-Nam of the National Museum of Korea put.The top-of-the-line cultural events and state-of-the-art science of both France and South Korea were shown to each other's people during the past one year, said Thiebaud. "All of them were accomplished on the bases of partnership between the two countries."He said that although the events and performances were hosted by the embassy of each country as many as 90 institutional partners — national museums, art centers, and foundations — of Korea and France cooperated with the embassies. Some 60 companies from each nation sponsored the various events.The press conference was also an occasion in which Amb. Thiebaud revealed his schedule for 2007's cultural events.He said that exhibitions, concerts, dances of France will be shown to the local Korean people for the year 2007 under the theme of "Selection and Concentration."One place was selected for all the French cultural events this year — "Seoul Arts Center." A fireworks opening, dance performances, music concerts, visual arts, new circus, and outdoor performances will take place at this venue.
For starters "Orsay Museum" exhibition will kick off at Seoul Arts Center's Hangaram Design Museum on April 21, 2007 for five-month run. About 40 mostly well-known Impressionists' works of arts will visit Seoul for the exhibition "De Millet a Bonnard: Exposition du Musee d'Orsay."Among the masterpieces were Vincent van Gogh (1853-1890)'s "Vincent's Bedroom in Arles," Jean-Francois Millet (1814-1875)'s "The Angelus," Paul Gauguin (1848-1903)'s "Self-Portrait with Yellow Christ," and works of art by Edouard Manet (1832-1883)."Orsay Museum" is one of the three major museums of arts in France along with Louvre Museum and Pompidou Center.The exhibition of "Claude Monet" will be held at Seoul Museum of Art in Seosomun-dong, central Seoul between June 6 and Sept. 23, 2007. Nearly 70 works of art of Monet, which are in Europe and Japan, will come to Seoul for the exhibition. Claude Monet (1840-1926) was the founder of French Impressionist painting.On May 2, 2007, the Radio France Philharmonic Orchestra led by Maestro Chung Myung-Whun will visit Seoul for a concert at Seoul Arts Center on the day. Chung, a renowned maestro born in South Korea, is musical director of the Radio France Philharmonic Orchestra.Also planned between April 27 and July 1, 2007 is internationally acclaimed French sculptor Bernar Venet's Exhibition at National Museum of Contemporary Art in a small city of Gwacheon, just south of Seoul.Also scheduled is the French modern dance by Josef Nadj, Yugoslavia-born French artist. His performance "Poussiere de soleils" will take place at Arko Art Center in Dongsung-dong, Jongno-gu on June 1-2, 2007. Nadj will attend 26th International Modern Dance Festival (MODAFE) to be held in Seoul in late May.As a gesture of respect for cultural diversity French government decided to support modern dance groups of Africa, according to Amb. Thiebaud. A joint team of French and African dancers will take part in the 10th SIDance (Seoul International Dance Festival) in October this year. SIDance Festival is led by Mr. Lee Jong-Ho, its founder and artistic director.The French envoy said the highlight of 2007 events will be the performance by the Lyon National Opera Ballet. It will perform Maguy Marin's highly original and magical version of the "Cinderella" story. The performance is part of the yearly French cultural festival scheduled between Oct. 10 and Oct. 15, 2007 at Seoul Arts Center.During the festival "France Express" such French cultural events as fireworks opening, dance performances, music concerts, visual arts, new circus and outdoor performances will be presented as a showcase of France's supreme artistic heritage.Orchestre National de Paris will also come to Seoul for performance at Seoul Arts Center on Nov. 12, 2007 under the baton of Christoph Eschenbach, its general director.