Faced with a hard life and prejudice from local people, foreign workers, mostly economic migrants from the South East Asiancountries are seeking relief and comfort at Korean churches.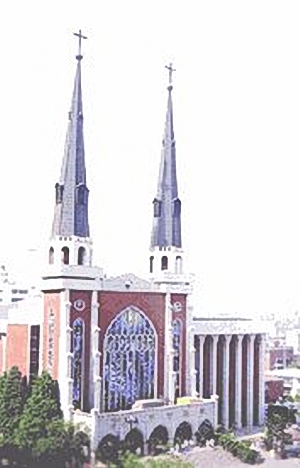 Hyehwa Catholic Church(Tel: 764-0221/Fax: 3672- 1197) is crowded with hundreds of Filipino workers around 1:30 p.m. every Sunday. After the mass, they normally get along with their fellow countrymen, enjoying conversation. Prayers are conducted in Tagalog and English. Hyehwa church even has a Philippine Catholic father for Filipino workers.Around the Church are Filipino street venders selling Filipino food and newspapers. Some of them come from as far away as Kyonggido province.The Hyehwa church is right next to Daehakro or College sRoad where a lot of culture-hungry young people flock. Cafes and restaurants are abundant in Daehakro street where live performances occur daily. Blue line (#4 line) Hyehwa subway is close by.According to The Seoul Migrant Mission Center(Tel: 569-0716/Fax : 557-2088/
smmc.peacenet.or.kr
), there are about 20 churches catering to foreign workers in Seoul alone.Saemoonan Presbyterian Church(Tel: 723-496/Fax: 723-5030/
www.saemoonan.org
) in Shinmunro near Kwanghwamun is the gathering point particularly for the Vietnamese workers. Around 10 a.m. every Sunday about 200 Vietnamese workers come to the church .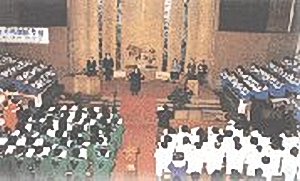 Mongol workers gather at MonHan Yang Presbyterian Church(Tel:2292-0194/
www.hanyang.net
) in Majangdong.Seoul Migrant Mission Center(Tel: 458-2981-2/Fax: 456-4023) in Kuidong boasts of over 20,000 foreign worker registered with the church.Galilee Presbyterian Church(Tel: 866-3884/Fax: 868- 2856) in Kurodpng and Myung Sung Presbyterian Church (Tel: 440- 9000/Fax:440-9099/
myhome.elim.net/ms/
) in Myongildong each attract hundreds of foreign workers from China, Mongolia, the Philippines, and Pakistan.The foreign workers get food, medicine and job-related information as well as religious needs from the churches. Most of them are low-wage workers earning between 500,000 won and 600,000 won monthly. They live in a small one-room rental place paying some 100,000 won per month.Some of the worker ends up being illegal aliens as they overstay their visa. Many of them were invited to Korea as industrial trainees. For them, the Korean churches serve
as a place of relief and comfort, away from the cold response of the Korean people and the danger of being expelled from Korea, which they consider as a land of opportunity.Tensions and frictions are being formed between the workers and Korean neighbors. Neighboring residents near Hyehwadong church filed complaints to the local police, saying that Filipino people are ruining the good image of their village.
firstads@hanmail.net