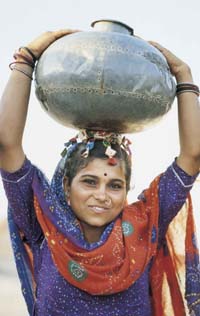 Indian woman carrying a large bowl of water
The answer would be an emphatic YES for a large majority and may be a whispering no for a miniscule few. In most homes she would continue to eat last and least; continue to work longer hours doing more arduous, but largely unrecognised, work than her male counterpart and continue to be paid less. She would continue to be a victim of rape, domestic violence and continue being denied basic human rights envisaging gender equality — rights which were officially endorsed by the UN way back in 1945 as part of an international agreement in Sanfrancisco.
A large percentage of them would not even know that the 8th of March, which is the IWD, commemorates her own survival against crushing odds and is an official recognition of several decades of her struggle for peace, justice and equality. This day was officially born in 1917, signifying a landmark victory for the striking Russian women in the form of acquiring voting rights despite stiff political opposition. They were actually campaigning for 'bread and peace' during World War I in response to the death of 2 million Russian soldiers. Their strike began on the last Sunday of February 1917 according to Julian Calendar followed in Russia. On the Gregorian calendar the date was 8th March. Since then IWD is held annually by governments and women organisations in the form of large scale events that not only honour women's contribution to society but also remind them that sustained action is needed to ensure gender equality in all spheres.
Purple, Green and Gold are the present official colours of IWD. Purple stands for justice, dignity and self respect; green for hope and new life; gold for a new dawn. Laudable words indeed. But for the average Indian woman these are dreams which she dare not dream, let alone realize. The patriarchal Indian society has always being characterised by its indifference towards the sufferings of the oppressed — whether it be a Harijan, a tonga pony or a woman. Even the official statistics is scary, to say the least (the real scenario is far worse). Of the 15 million girls born every year in India,about 25% percent before their 15th birthday. Every 6th infant death is due to gender discrimination and it is estimated that the death of young girls exceeds that of boys by about 300,000 annually. This has led to a really skewed up female-male sex ratio of 93:100 where as in most other countries it is 105:100.
Women are subject to various forms of domestic violence throughout their lives and this largely goes unnoticed. Even the legal provisions created specifically to protect them have failed as democratic instruments to help in their empowerment. In most cases women are not even aware due to lack of education that such laws exist or they do not have the financial security/ social backing of their family members .
Woman suppression is rooted in Indian society — in tradition, in religious practice and in social norms, all of which favour the dominance of the male. The new millennium may have arguably seen a sea change in thoughts about women equality but the ingrained complexity of patriarchy in India is well known. And so though middle class elite fathers may show off their daughter's education and income with pride, they prefer to maintain the status quo in matters of social norms and expect her to do likewise. Even for the glamorous woman achiever from a metro city, (what to talk about the illiterate village damsel) her choice and manner should be in deference to the male — be it her father, brother, husband or any other man in her life. Female rebellion is uncouth and bad mannered and hence a big NO-NO for women of decent (?)upbringing. So despite her professional degrees and her well groomed looks she continues to be brainwashed into accepting male dominance. She gives up her property/ inheritance rights in favour of her brothers.
She demurely agrees to be treated as a commodity, to be gifted away to the bridegroom through the demeaning but much venerated ritual of Kanya-daan — giving away of the bride in charity — in addition to carrying with her a lavish dowry. She even sacrifices her life for the sake of family honour. Honour killings of the females are still prevalent even in affluent families where the woman is killed by her own father/ brother if she dares to choose her own partner , or by her in laws if she fails to bring sufficient dowry. (Many such cases are reported almost daily in the newspapers and many more go unnoticed.)
She becomes a willing tool in abetting female infanticide by selectively and repeatedly aborting the female foetus.(despite a law banning them, such practices go unabated in private hospitals in the city) till she begets at least one son. This may seem a little less brutal (but is it?)than the cheaper option of suffocating/ trampling/poisoning the new born girl to death in the poor rural areas.
She professes her undying devotion for her spoilt and insensitive husband by fasting and praying for his long life and well being on 'Karva-Chauth' and 'Teej' in great style after being thrashed by him just the previous day or days. (I say this on the basis of first hand personal information). Wife beating in India seems to be on the rise, especially among the working professionals in metro cities.
I am, in no way trying to be pessimistic. I am being realistic, though the reality is frightening. Yes , there are some success stories too , which we need to celebrate on this day and every day. There are more professionally qualified women in the board rooms (where there were none earlier), in the judiciary and police services (which were thought to be male preserves). They are more visible in the political spectrum and they are even making their presence felt in international sports meets. They are driving trucks, taxis, trains, working at petrol pump stations, thus storming male bastions.
Yet , with the exception of a miniscule few,they are still not empowered to speak out their mind or exercise their choice, especially if it involves declining a man's proposal. And if they dare to do so like a Priyadarshini Mattoo (raped and murdered by her fellow law student because she spurned his advances) or a Jessica Lal (shot dead because she refused to serve drinks to a spoilt rich brat after the bar's closing hours) or a Meher Bhargava (shot dead for objecting to lurid advances towards her daughter in law by political goondas), they are made to pay for their sin of not obeying the male command with their lives.
These incidents involved affluent middle class women whose cause was taken up by the media and corporate big wigs.There are innumerable women from the other not-so-visible part of India, away from the media highlights, who become victims of such and other atrocities everyday and die unsung and unwept for. So as the glossy magazines, TV hosts and drawing room smokers usher yet another IWD, idolising the new Indian woman as a super-mom, efficient manager, glamorous multi tasker, let HER celebrate these well deserved accolades but not get swept away by them. Let her achievements not merely start at her streaked hair and end at her strutting pencil heels. It is time again for her to reflect and renew her fight against gender biases and inequalities. Let her not fritter away her precious time in (as Germaine Greer had aptly said) acquiring things that are no longer worth having. She needs to be proud of her womanhood and not apologetic about it. She needs to be aware of her rights and gather the courage to truthfully exercise her conscious choices. And she needs to spread this pride, this awareness and this courage amongst her not so privileged sisters.
It is said that'well behaved women seldom make history.' And rightly so. So all ye women of India please come out of your cocoons of golden cages, shed your martyr image and unite in this common cause. We need Angry Young Women to once again burn the bra and bust the silicon bust and usher the golden dawn from behind the dark and ominous eastern sky.
Long live the women of India and of the world.