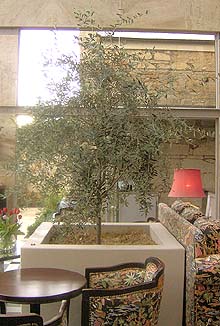 The Atruim at the Hotel.
Charles Revson, the genius who founded Revlon, lived by the mantra, "In the factory, we make cosmetics; in the store we sell hope." Marketing guru, Theodore Levitt put it another way, "Agents do not buy quarter-inch drills, they buy quarter-inch holes." In other words, we don't purchase goods or services for what they are, but for what they can do for us and/or how they make us feel. According to super salesman, Elmer Wheeler, service providers should "sell the sizzle — not the steak." Such concepts are well understood, and brilliantly executed, by Nicholas and Amy Parkinson-Bates, managers of Hobart's newest and grandest heritage accommodation — The Islington Hotel. "We have created an intangible environment that reflects relaxation, home and comfort," says Nicholas. Amy adds, "We want guests to be totally at ease, feel free to take their shoes off, lounge on the couch and treat the place like home." Despite being surrounded by works of art, period furniture, marble floors, Persian rugs, chandeliers and the finer things of life, 'home' is just exactly how Islington feels. Although they have been involved with the development for eighteen months before it opened, Nicholas is quick to point out that he and Amy are not solely responsible for the hotel's redecoration and the creation of its unique ambiance. Formerly a small bed and breakfast operation, Islington was purchased in 2004 by advertising executive David Meredith, and lawyer John Goodyear, with the intention of developing a small exclusive, luxury, curated hotel. "All that you see now was envisioned by John and David," reveals Nicholas. With the assistance of a local architect, two years of renovations and refurbishment followed, transforming the original 1847 Regency house into one of Australia's upmarket, boutique, hotels. Only the best furnishings and furniture have been chosen. Rich coloured curtains of Thai silk, custom made king size Islington Angel beds, Japanese woodcuts, Chinoiserie porcelain, Cambodian statuary all adorn the property, as do the artworks of Picassao, Hockney, and one of Australia's most famous artists, Brett Whitley. In the library amidst leather bound copies of the works of early colonial botanist Louisa Anne Meredith, who described and illustrated Tasmania's flora and fauna, hangs a delicate and detailed 1840 hand sewn quilt, believed to be one of the oldest of its kind in Australia. "We encourage guests to use the library," enthuses Nicholas. "To sit by the fire in winter, enjoy a glass of port, and perhaps a cigar."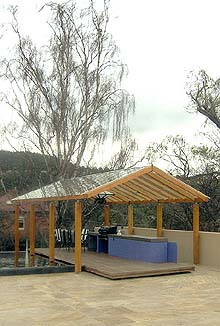 The BBQ area at the Hotel.
Only opened in January 2006, the Islington has already bagged a swag of awards, plus worldwide recognition amongst travelers and the travel industry. It is the only hotel in Australia to be included in the 2006 'Conde Nast Traveler' hot list, and has been similarly recognized by 'Gourmet Traveler Australia.' "Recently we were approached by American Express and invited to be a part of their exclusive Centurion Membership Program, which is just great, "states Nicholas modestly. Four of Islington's eleven spacious bedrooms are located in the original 1847 property, one is in the courtyard, while in a modern extension are six new 'garden rooms', each with wall size window and stunning views across the rhododendron gardens to Mount Wellington — Hobart's iconic backdrop. All rooms, individually furnished and decorated with antique pieces of furniture, are equipped with flat screen televisions, DVD and CD players, cable TV, individually controlled air-conditioning, tea and coffee making facilities, have broadband access, a safe and complimentary mini-bar. "We want the bedrooms to be fun," says Amy. Adjoining bathrooms boast heated granite floors, elliptical Kalewei baths, walk-in showers, fine marble and Tasmanian oak fittings and Pozzi-Ginori loos. But it is the conservatory which is at the very hub of the hotel. With its soaring glass cathedral roof, it is scattered with tables, sumptuous sofas and chairs, and a large log- burning fireplace. At its centre is an olive tree which has just offered up its first crop. "These must be the most expensive olives in the world," says Nicholas, enthusiastically waving a jar of marinating fruit. In due course olives, along with nuts from the almond and hazel trees, will become part of the fare served at Islington. Two huge conservatory doors open out to the terrace, the reflecting pool beyond, and Nicholas' herb garden with its bounteous crops of thyme, parsley, lavender, sage, rosemary, mint and borage. To Amy, as well as inspirations for the chef, these aromatics serve another function. "When a guest wants a bath we can make up a bag of different herbs to infuse in the water." It is in the conservatory where guests are served a hearty breakfast, and are invited each evening to mingle for complimentary drinks and canapés, adorned with the finest Tasmanian salmon, prosciutto and cheeses. Set amidst landscaped gardens in the city's 'dress circle' district, Islington is a mere thirty minute drive from the airport and a convenient five minutes from central Hobart. "We think this is the most beautiful small hotel in Australia," says Amy. Given its inherent attractions, understated opulence and discreet quality service, who could argue. The Islington is truly 'sizzling.'
The Islington, 321 Davey Street, Hobart, Tasmania. Rooms from 370,000 won room/night, including breakfast, evening drinks, canapés and mini-bar. Website: www.islingtonhotel.com