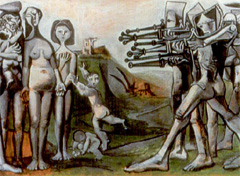 "The Massacre in Korea in 1951"
Pablo Ruiz Picasso (1881-1973)'s "Massacre in Korea" is coming to Korea for the first time in more than half a century after the late master painted it in 1951 in his protest against indiscriminate killing of hundreds of South Korean civilian refugees by U.S. soldiers at the height of the Korean War (1950-53).Mr. Kim Yoon-Sou, director of National Museum of Contemporary Arts recently told ST that the war painting by the greatest Spanish artist will be shown to local people in a special exhibition dubbed "International Exhibition for Peace" planned around the end of June or in early July, 2004."The Massacre in Korea in 1951" depicting "Korean women and children being butchered by white men" is currently hung at the National Picasso Museum (Musee Picasso) situated in the heart of Paris. Musee Picasso boasts of largest collection of the Genius of the Century's several thousand works of arts.Also to be introduced to Korean art lovers is Picasso's "Joy of Life (Joie de Vivre)," which shows the delightful faces of French children liberated from the yokes of World War II in Europe. The 1946 oil on canvas (120 x 250cm) is also housed in Musee Picasso.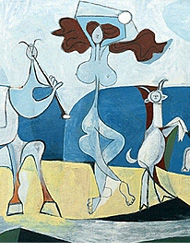 "Joy of Life (Joie de Vivre)"
The "Peace Exhibition" is likely to draw a number of other masterpieces related to peace and anti-war themes from around the world as the museum invites up to 130 works of art from about 100 local and international artists. The 40-plus world's noted artists include Roberto Mata of Chile, Pierre Soulages and Paul Rebeyrolle of France, Zao Wouki of China, Antoni Tapies of Spain, Gunther Uecker of Germany, and Robert Raushenberg of America.Korean-born American video artist Paik Nam-June is on the list of 60 local artists to be invited as well."We are holding this kind of exhibition now that the political situations have changed on Korean Peninsula," said Kim, "I had to meet with French Home Minister Dominique De Villeping in Paris to bring Picasso's highly politicized works of art to Korea in 50 years."Picasso painted the "Massacre in Korea," one of his most political works of art, in 1951 one year after North Korean Communist forces crossed the 38th Parallel and occupied the capital city of Seoul. Being a member of the French Communist Party (FCP) he was inspired by the American intervention in Korean Peninsula.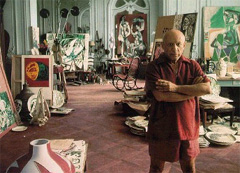 Picasso in his Paris atelier
His anti-war masterpiece was used by people in the streets of Warsaw to show their support for the victims of the Soviet tanks at the time of Soviet invasion of Hungary in 1956, infuriating the French Communist Party. But Picasso was pleased.The painting is actually based on slaughtering of hundreds of South Korean civilians by U.S. forces in Nogun-Ri, Yongdong-Gun, North Chungchong Province from July 26 to 29, 1950. Survivors claim that they were bombed by the U.S. air force on July 26. And U.S. soldiers fired on the unarmed villagers and refugees when they fled into a tunnel. Finally, over 300 died in the ruthless shooting.The horrible incident was revealed by strenuous efforts by Associated Press (AP) reporters nearly half a century later in 1999. Even broaching up the incident could get the individual arrested by "authoritarian" South Korean government in the past.U.S. Army was finally forced to confront the allegations and established an official investigation into the tragedy when the AP investigative journalists located American veterans who confirmed the heinous story in the end.Initially, Picasso's painting was more controversial back then. It not only endorsed claims of mass killings that were denied by the U.S. It was also criticized within the French Communist Party (PCF) to which Picasso belonged.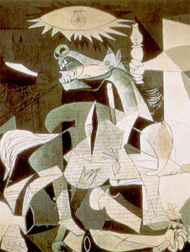 Mural Guernica
"Massacre in Korea" has never achieved the iconic status of the earlier Guernica (1937), which is perhaps modern art's most powerful antiwar statement created by the most well-known artist in the 20th century. Yet, it has remained one of Picasso's most important political works of art in his quest for social involvement.Now recognized as global icon for peace, the mural Guernica vividly testifies the shocking, massive air raid perpetrated on April 26, 1939 by the German Luftwaffe on the Basque town of Guernica in Northern Spain. Hundreds of innocent civilians were massacred in the raid, making Guernica Picasso's greatest masterpiece of all.Aside from "Massacre in Korea" Picasso, anti-American Communist, painted several other masterpieces to portray images of pain and brutality of the Korean War which broke on June 25, 1950, and lasted until July 27, 1953. "War and Peace 1951," "War and Peace 1952," and "Detail of War 1952 — Left and Right" all came out as "Studies of War and Peace" series.In 1951 Picasso did two pieces titled "War and Peace 1951." They are War of "War and Peace 1951," and Peace of "War and Peace 1951." Both works shows a man with a dove in one hand and a sword in another, confronting a monster tank.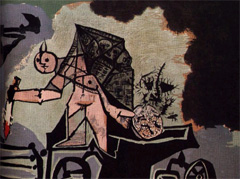 Right of "Detail of War 1952"
In 1952 Picasso again produced two works equally dubbed "War and Peace 1952" in his efforts to testify horrors of war and happiness of peace in both War of "War and Peace 1952" and Peace of "War and Peace 1952," respectively.In the same year came out two pieces of color work under the title of "Detail of War 1952." Both evil and good are described through the eyes of arguably the greatest artist of the 20th century in Left of "Detail of War 1952" and Right of "Detail of War 1952."
Picasso's Works of Art on Korean War
1)
"Massacre in Korea 1951"
2)
War of "War and Peace 1951"
3)
Peace of "War and Peace 1951"
4)
War of "War and Peace 1952"
5)
Peace of War and Peace 1952"
6)
Left of "Detail of War 1952"
7)
Right of "Detail of War 1952"
Picasso had been decidedly apolitical for much of his life. But ensuing wars — the Two World Wars, the Spanish Civil War, and Korean War — forced the passionate, Spain's most eminent artist to draw his attention to society and act eventually.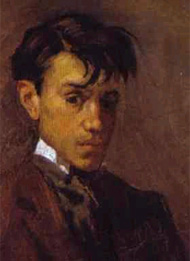 Self portrait of young Picasso
The other works of art Picasso produced as social activist includes the 1944-45
"The Charnel House"
which attacked war by depicting a pile of bodies after an execution. The oil and charcoal on canvas is kept in New York's Museum of Modern Arts. Although the great cubist and sculptor often disagreed with the Communist's politics, he had a firm belief in its ideals, so attended their rallies dutifully, and joined their party to express his anger at the fascists.Picasso's active involvement in social reality continued with a series of Korean War pieces as aforementioned, and with 1958 "The Fall of Icarus," a mural decorated the UNESCO lobby in Paris.Once adopted as a symbol at the Paris Peace Conference. Picasso's "Dove of Peace" posters and flags are still used on May Day and World Peace Day throughout the world.