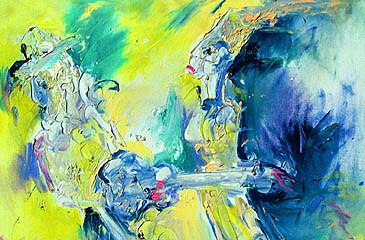 Music of Marriage
Before committing matrimony, HE was known in the social circles for his very unsocial eccentricities and confirmed bachelorhood. His idiosyncrasies were widely known and hence criticised. This is precisely what attracted HER attention and endeared HER to his "could'nt — care — less" attitude towards life. HE ate sparingly and lived abundantly. HE would lecture avidly on the outrageous food habits of the Indians in general and men in particular. The preparation of a conventional Indian meal was, according to him, so disgustingly time consuming that it became a wretched full time occupation for the poor wife who had nothing else but food on her mind always. So, HE had wisely chosen to live on bread, butter, eggs, rice and the like which seemed a much more civilized meal.
This was good news to HER parched ears and in complete harmony with her views on the subject. SHE had all along dreamt of a house sans a kitchen cell where the head would be held high and the mind be without fear and the thoughts rise high to the poetry of Milton. Here at last was a house where the spice smelling web of scrubbed vegetables would not entangle the myriad colours of the rainbow of love. Coming to the house, it consisted of three large rooms (HE apologised humbly for this modest accommodation) and was a veritable treat to HER eyes. There was barely any furniture and whatever there was, it was scattered around in the most comfortable manner. It made one feel that the furniture was for the comfort of its users and not vice versa as is the case in most Indian households. SHE had always detested an immaculate house where everything (and that would be lots) is in its place (where ever that may be) with not a speck of dust to be found anywhere. One feels scared to enter such houses lest their eerie calm be disturbed, causing discomfort to the chairs and tables around. Such houses always reminded HER of a hospital or a museum.
So, here was a man who possessed two great qualities — ownership of a disorderly house and insipid tastebuds — besides respecting a woman's brains. Thus SHE thought HIM capable of leading her round the fire seven times. By God's grace and HIS willingness SHE had escaped that drudgery of housekeeping which is the inevitable destiny of the married Indian woman.Marriage was indeed a miracle which happened to both of THEM but in different ways. It developed his taste buds overnight blossomed out his latent home décor senses. Once the first few days of that heavenly bliss called MATRIMONY were over he could smell dust in the house and feel the almost palpable disorderliness which, according to him, she had brought to every nook of the house. The doctor advised him to replace rice with freshly baked "chappatis" as the former was bad for health. And as for bread and butter, how could any civilized society thrive on it — day in and day out?
And so every evening she was confronted with that characteristic chauvinistic question — What do you do the whole day long when you can't cook even a decent meal and give some semblance of neatness to the house. Oh! how can anyone survive in such filthy and starving conditions?
She would try to mutter something about Keats and Tagore but her protestations would inevitably get lost in the noise of the pressure cooker whistle.
Marriage had struck different chords in their hearts. Its nuances for him were reflected in listening to a lively debate from the B.B.C. in the cosy comforts of an ever expanding sitting room, after a satisfying meal. The symphonies of Beethoven and Mozart still brought a twinkle to his eyes but not without a mouthful of butter chicken. Ravishanker's sitar and Browning's poetry sounded better over a plate of fruit cream. As for Turgnev, who is he without baked fish? And when a person hobnobs with such personalities , the least amount of respect that he can offer is by way of a disinfected house with not even a speck of dust out of place.
As for her, she has wrapped up her postgraduate degree in English literature in the kitchen aluminium foil and tucked it away in the farthest corner of the kitchen cabinet. The only dreams she dreams are of conjouring up new recipes which will help her find the way to his heart through his stomach ( and not through a path lying somewhere below it as he had exuberantly explained in the first flush of matrimony). The only thoughts she harbours are of food and the only books she reads are cookery books and those on interior decoration. Marriage indeed has transformed HER and HIM.