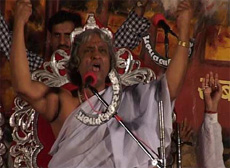 "Final Solution" by Rakesh Sharma
Madras, India, April 9, 2004 — India's ruling Bharatiya Janata Party (BJP), though in many ways a hardcore Hindu organization has, of late, been projecting a secular image, which conforms with the nation's Constitution based on the principle of religious equality.With the country ready to face the general elections in April, the BJP has been at pains to tell voters that it stands for the rights and harmony of all religious groups.But the 160-odd million Muslims in India, a number second only to that of Indonesia, find it hard to believe that the BJP has changed its stripes. And not without reason.The other day, a Hindu girl eloped with a Muslim boy in the central Indian city of Indore. The girl's father is an activist of the Bajrang Dal, a semi-political organization whose links with the BJP are well known and strongly established.The father's friends, all hardcore Bajrang Dal members, traced the couple, had the boy arrested and his motorcar showroom razed to the ground by a bulldozer. All this took place despite the girl being a major.Her pleas to the police that she had gone with the boy on her own free will and with the intention of marrying him failed to move the police in the state of Madhya Pradesh (where Indore is), now ruled by a hardcore BJP Chief Minister, (Miss) Uma Bharati.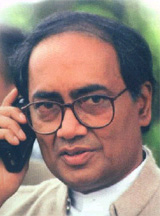 Chief Minister Digvijay Singh
Interestingly, Madhya Pradesh was under a Congress government for many years — till four months ago — that was headed by Chief Minister Digvijay Singh. He was hailed as modern and liberal. In fact, he was often considered a socially sensitive politician who introduced path-breaking reforms in the field of education and community development.Madhya Pradesh was to be a true barometer of "India Shining," a state which is part of poverty-ridden and socially backward Central India. Digvijay Singh and the Congress literally pulled the region out of social mess and dark illiteracy.In just months, Uma Bharati is pushing Madhya Pradesh back into the dark ages.Unfortunately, what happened to the young couple in Indore fits into a pattern long suspected by many: the BJP is determined to convert India into a Hindu Rashtra (or State), where minorities such as Muslims, Christians, Buddhists, and Jews will find it hard to live with dignity.The case of the internationally renowned artist, M.F. Husain (incidentally a Muslim) makes a classic example of bigotry here.In January, Husain's three-decade-old painting of "Woman With Bird" was destroyed by a mob of Bajrang Dal in Surat, a city in the state of Gujarat, which borders Madhya Pradesh.Husain, whose artistic creations have included both Hindu and Islamic icons among others, was angry but philosophic, when he remarked: "This is the age of mediocrity and prejudice where art is viewed in the narrow and partisan confines of biased human
mind and emotion."Incidentally, Gujarat's chief minister, a BJP hawk himself, Narendra Modi, has often been compared to Hitler. Two years ago, Gujarat saw the worst-ever communal carnage in which hundreds of Muslims butchered. The picture, captured live by television cameras, of a pregnant Muslim woman's belly being ripped open and the fetus being pulled out and burnt will go down history as one of most gruesome and shameful crimes against humanity.And, what will remain as an equally dark blot on India's image is the fact, though not proved in a court of law, that the entire massacre was sponsored by Modi's BJP administration.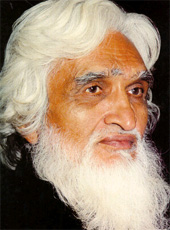 M.F. Husain
A four-hour film "Final Solution," which was made on this by Rakesh Sharma, won top awards at the 54th Berlin International Film Festival in February. It is an invaluable document in India's contemporary history of what people did, said, and thought of the horrific Gujarat episode. However, "Final Solution" was kept out of "The Bombay International Film Festival for Documentaries and Shorts" in February. The Festival is run by the Government of India.With India's Parliamentary elections coming up soon, the ruling BJP at the center is at pains to show its electorate and the world at large that it is secular, liberal and committed to economic progress and reforms.But, young Muslim lovers of witch-hunting ravaged famed works of art only because they have been created by Muslims. Censoring truth on celluloid indicate intolerance and bigotry which can merely alienate India's especially Islamic minority, and, who knows, push it towards violence and extreme fanaticism.Except for Kashmir, India has been largely free from the kind of Islamic terrorism that the world is witnessing today. But the BJP seems inclined to change this order.