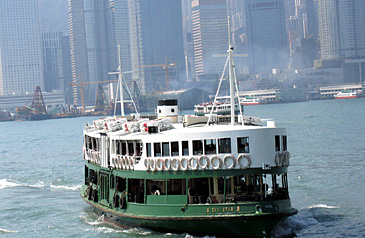 The small distinctive green and white ferries of the Star Ferry Service are transportation means on sea which have linked the Central District on Hong Kong Island with Tsim Sha Tsui (Kowloon peninsula district) for over 100 years.Photo Courtesy Sylvie Fondacci
While I may browse newspaper 'Travel Sections' to see where, and what, is in vogue, I have to admit I don't often read the travelogues of other journalists – but in this case there were extenuating circumstances. Grounded by those 'technical reasons' always cited by airlines for aircraft delays, I was forced to spend longer than anticipated in the departure lounge. Usually, I carry 'War and Peace' to help cope with these prolonged periods of enforced idleness, but unfortunately on this occasion, my trusty Tolstoy tome was not to hand. Out of desperation I sought solace amongst the travel articles of a national newspaper, and, having just returned from Hong Kong, it was commentary on the former British Colony which immediately attracted my attention. " ... and you will marvel that you can go for days without hearing a car horn blown in anger ..." Surely not! Was I really reading about Hong Kong? I checked again just to make certain. Indeed I was! This was not the Hong Kong I had visited during the previous week. My own experience was absolutely at odds with this depiction. Perhaps I had been unfortunate enough to schedule my sojourn during a 'horn blowing festival,' something which might account for the incessant tooting of the cars and buses clogging the downtown streets. It appeared to me that all of Hong Kong's 6.8 million people seemed to have access to a vehicle and conspired to be on the road at the same time! Of course that's nonsense. One explanation might be that as HK is a mere 1100 square kilometers, with much of the land uninhabited (islands and mountains), those 6.8 million, and their associated vehicles, are really compressed onto the bitumen of the remaining 220 square kilometers.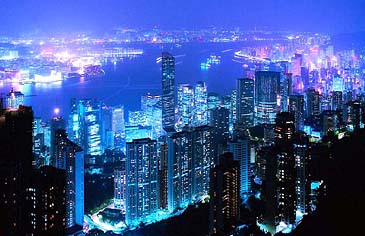 The night view from the top of Victoria Peak
Generally speaking I find it much more convenient, if possible, to shun the road system and use the fast, efficient, high speed Mass Transit Railway (MTR) underground or just slog along on foot. Pavement rage, despite the press of people, has to an extent been alleviated by a well-developed network of covered walkways, wide footpaths and escalators. There's even a travelator to assist. Just step on, and let the mechanics do the walking! In 2004, 21.8 million tourists visited Hong Kong, a marked recovery from 2003, when the SARS epidemic depressed visitor numbers and devastated the economy. During this pandemic, many hotels stood virtually empty and the territory was a veritable bargain destination. With SARS a distant memory, HK set out to attract 27.14 million tourists in 2006. New temptations include a 5.7 km cable car ride, not to mention the arrival of a large mouse, and its entourage, on Lantau Island where another 'Disneyland' is on offer. But how much this joyland-ride fun park will assist Hong Kong meet its long-term tourist goals is debatable as once again the city is again struggling to combat the threat from another hazard. This time the menace is not SARS or avian influenza, but smog and general air pollution issuing principally from the adjacent Chinese industrial area of Guangzhou, not to mention the emissions from all those car and bus exhausts. Because this contamination is considered such a health threat, some of the leading financial institutions have closed their operations in HK and have moved staff 'off-shore' to other locations in south-east Asia, principally Singapore.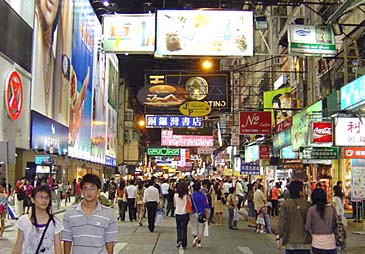 A typical street in Hong Kong at about 2 a.m.
Despite this new peril, the cheap deals available in 2003 are a generally a thing of the past and it's sometimes difficult to find a hotel – at least one that's reasonably affordable. While the holiday brochures might specify room rates, the reality is that these are likely to be hiked. In my own case the increase was 30%. When I queried the escalation, I was informed, 'We've increased the price because rooms are back in demand." China's recently acquired Special Administrative Region is now arguably one of Asia's most expensive accommodation locations. However, given the state of air pollution it is debatable as to whether these steep hotel prices will last, and just how much longer HK remains a principal stopping off place for those travelers plying the 'kangaroo route' between Australia and the United Kingdom. But it's not just hotel costs which have rocketed. Hong Kong is not the bargain basement it used to be. Electronic goods, clothing and footwear are no longer attractively priced in the emporia along the famous Nathan Road, or in night markets of Temple Street. Even here, where haggling is de rigueur, the dodgy designer rip-offs, 'genuine fake Rolex watches,' bootleg CDs and DVDs stacking the market stalls don't even seem 'good value.' While alcohol is expensive, eating out in Hong Kong remains cheap and cheerful. Local restaurants (and there are plenty) are full of bargains. Dim sums from HK$5 (526 won) a basket, a huge bowl of noodles for about HK$20 (2675 won) and in the food courts, a set meal of rice, meat and vegetables can be had for a mere HK$25 (3345 won). Arguably, the best bargain on offer is the Star Ferry. Visiting Hong Kong and not taking a trip on a Star Ferry is like leaving London without catching a double-decker bus, or shunning a spin on a San Francisco cable car. For about a 130 won, these distinctive green-and-white wooden boats ply their trade between Hong Kong Island and the Kowloon peninsula, making the trip one of the cheapest urban transport opportunities anywhere in the world. The seven minute 'sea voyage' affords views of the stunning skyline on both shores, especially at night with the skyscrapers and the neon signs illuminated. The Harbour is my own particular Hong Kong favourite. Boat cruises are available, as are regular ferry services to the largest of HK's some 260 outlying islands including Cheung Chau. Here, about a 50 minute ferry ride from the metropolis, decent beaches, interesting walks, a traditional village, and plenty of cheap sea-food restaurants are all on offer. More importantly, because no cars are allowed on the island, it's a chance to escape the city's incessant din and that intrusive horn-rage.For further information on Hong Kong, visit the website www.DiscoverHongKong.comJohn Hagan received some assistance from the Hong Kong Tourism Board.