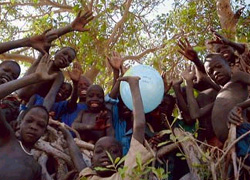 Children rejoicing after having been set free
Warawar, Sudan, April 1, 2004 — Today, 374 slaves safely reached the market town of Warawar in SPLA-controlled Southern Sudan after a long and sometimes harrowing exodus from bondage in Northern Sudan.After crossing the Bahr-Al-Arab river they had been received by the local Dinka community and representatives of Christian Solidarity International (CSI), a human rights organization fighting world slavery.Over the past three weeks 503 slaves — mainly women and children — were gathered from government-run camps in Northern Sudan. Most of the slaves had been held in these camps for between one and three years. The 374 slaves were tightly packed in open trucks, approximately 55 on each truck. The remaining 129 of the 503 slaves have not yet arrived.The 374 slaves had been detained for more than one week in Meiram, near the border with Southern Sudan on account of threats from government-sponsored militias.Following an intervention by the World Union of Progressive Judaism at the UN Commission on Human Rights on March 28, the Government of Sudan provided a guarantee of security to enable the slave convoy to cross the border into Southern Sudan. However, at least one boy was reportedly re-abducted by his knife-wielding master as the convoy crossed the Bahr-Al-Arab River.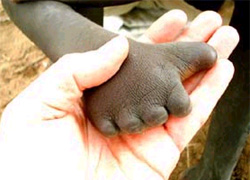 Right hand of a 13-year-old boy whose all fingers cut off by his master
The arrival of the liberated slaves in Warawar was greeted with great rejoicing. The slave exodus was organized and led by James Aguer and other members of the Committee for the Eradication of the Abduction of Women and Children (CEAWAC) and members of the Warawar Arab-Dinka Peace Committee. CSI is providing humanitarian assistance to the now liberated slaves.The Government of Sudan appears to be divided about the future repatriation of freed slaves. On the one hand the First Vice President Ali Osman Taha has reportedly made a commitment to fund CEAWAC for another 12 months. However, according to witnesses the presidential advisor Mubarak al-Fadil al-Madhi declared at a mass rally in Meiram on 31 March that funding for CEAWAC would be terminated by the end of May. Moreover, he was reported to have declared his opposition to the repatriation of child slaves who were fathered by their masters.
The above article was contributed to The Seoul Times by Mr. Stephen A. Crawford of Christian Solidarity International (CSI), 870 Hampshire Road, Suite T, Westlake Village, CA 91361, USA, Tel: 011 (805) 777-7107, Fax: 011 (805) 777-7508, Email: csi@csi-usa.org