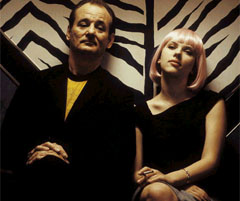 Movie "Lost in Translation"
So the Oscars are over and "The Lord of the Rings" swept the board in predictable fashion. While the fantasy nerds will no doubt be delighted, many will be disappointed that "Lost in Translation" missed out on the best picture. Some however are delighted that Sophia Coppollas movie didn't get the big prize.
Asian Media Watch
launched a smear campaign on the film, claiming it was mocking the Japanese people. Many observers believe the campaign prevented the film from picking up any major awards and certainly influenced the hardly-adventurous Academy voters. The campaign and the movie itself raise some pertinent questions about Westerners living in Asia and their attitudes towards their host countries. One critical piece about the movie accused it of treating the local Japanese as one-dimensional and dehumanised. Yet, the movie is about the feelings of two new comers to Japan. Fresh off the plane, they are disorientated and jet-lagged. For any newcomer to an alien culture, it's the weird things that stick out. Did the critics expect the characters to understand and empathize with the host culture in a matter of days?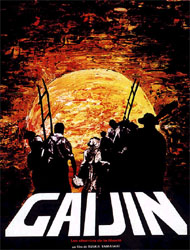 Some spend years in North East Asia and never fully get to grips with the local ways. In countries as closed as Japan and Korea, it is almost impossible to be accepted as anything more than a gaijin(外人) or waygookin (外國人: foreigner). This lack of acceptance can make many outsiders bitter and hence they retreat into a comfort zone of belittling and dehumanizing the local cultures and customs. While the two main characters were not anti-Japanese, they were certainly bemused by what they saw, and that is understandable. What is more eye-catching? A thousand year old temple or break-dancing teenagers in a kitsch arcade center? While it may be more pc (politically correct) to say that the temple was the most fascinating, it's certainly more human to focus on the break-dancers. And that's the point about "Lost in Translation." Like it or not, it's a human film about real reactions to being transported to a completely different culture. The questions that the movie raised do have relevance in Korea. How legitimate is it to question Korean society as a Westerner. Do we have the right to question our host country's culture? Or as we are not citizens, does our right to an opinion vanish?
Should every critic be rebutted with the if-you-don't-like-it-leave" argument?Does everything we witness in Korea fall under the banner of cultural differences? What many Westerners here focus on depends on their own native cultures. Someone from San Diego might be shocked to see a Korean urinating on the street while I, hailing from Dublin, do not see that as anything out of the ordinary.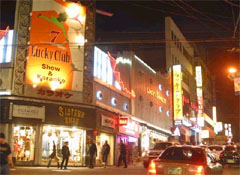 Itaewon in Seoul
I personally find Seoul the safest city I have ever been to in terms of street crime yet others from rural parts of Canada find Itaewon dangerous. Every Westerner finds different things strange. Do these differences in culture translate to racism? If someone bangs into you in the street is it racist to think he is an asshole? Or should we remember the cultural and historical reasons that Koreans treat strangers as non-people and (we) shrug our shoulders? The human reaction is to consider him an asshole. Rightly or wrongly, that is what "Lost in Translation" portrays. For all its perceived flaws, it is one of the most realistic celluloid portrayals of Asia seen through a Western eye.