Abu Simbel
Egypt has always been known for its famous historical sites: The Pyramids, the Sphinx and Luxor temple are the most well known icons of tourism in Egypt. However, Egypt developed during the last two decades various types of tourism services in the fields of culture, entertainment, golf, diving, aqua sport, desert safari, convention, eco and therapeutic tourism. Egypt is becoming now a golfing destination that competes with the world's best. Its courses meet international standards. It enjoys good weather. And it offers a variety of tourist attractions. Hurghada, Sharm Al Sheikh and the surrounding areas on the red sea, contain just about everything a tourist would like to have. They make up for that with every variety of water sports, several golf courses, casinos and luxurious hotels and resorts. As for the cultural tourism, Luxor is a living museum with vast numbers of ancient Egyptian monuments that represents one third of the whole world monuments. It is also highly targeted to tourists, and might be thought of in the same regard as a theme park, where the attractions just happen to be real monuments. Aswan, not far from Luxor, is famous for the beautiful sceneries and the magnificent temple "Abou Simbel" south of the city. Now tourists can check the official website of the Egyptian tourist Authority www.egypt.travel to get detailed information about touristic destinations in Egypt, sights and activities, events and even to organize their own trip.
Encouraged by the rapid growth of the tourism sector in Egypt, the government is trying not only to attract more tourists but also to encourage international tourism giants to increase their business in Egypt and to attract more foreign investment in this field based on the following facts: —Egypt saw rapid growth in tourism of 18.4% in 2004, the fastest in the Middle East, and was the destination for 19.1% of all Middle East international tourist arrivals.—Tourism provides a significant contribution to Egypt's economy. The hotels and restaurants segment of the industry accounted for 2.8% of Egypt's GDP in 2004, and the total direct and indirect impact of tourism on the economy is about 11.3% of GDP. The sector employs around 12.6% of all Egyptian labor.— Investment in the industry increased by 18.4% in 2004, reaching 0.5 billion US$.—Tourism is the second largest source of foreign earning with 23.4% of total receipts.—Receipts from tourism reached US$ 5.5 billion in 2004, increase of 44.2% from a year earlier.— International tourist arrivals increased to 8.1 million in 2004, 34.1% higher than in 2003.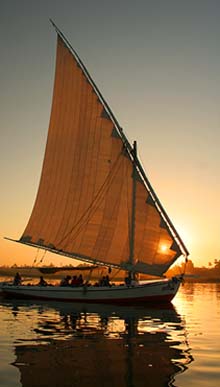 Sailing feluca on Nile
Investing in Tourism will give the investor the privilege of low infrastructure cost, Income and sales Tax exemption (in free zones areas) and only 5% custom duties on imported machinery, the use of 14 commercial seaports efficiently managed and 232000 university graduates annually .There are 10 airports offered to the private sector; Marsa Alam and Borg El-Arab airports, Ras Sedr airport, Bahareya Oasis airport, Ain Sokhna and Assiut airports, Sharm El –Sheikh and Aswan expansion projects, and the new Hurghada terminal. In this regard it is worth mentioning that about 98% of total hotel capacity is owned by the private sector, while the majority of the four and five-star hotels are managed by foreign firms. Here in Korea, the Egyptian Embassy is doing its part in the government's comprehensive plan to increase tourist's flow to Egypt and to encourage more Korean investors into this field. Just in less than one year, we received two of the most prestigious dancing groups from Egypt, who participated in several festivals in three different cities in Korea. We have also screened two Egyptian movies for the first time to the Korean audience , as well as participated in three tourism fairs in Seoul , Busan and Daegu , and started the process of translating "sound & light" shows to Korean language .Also the rapid growth of Korean tourists visiting Egypt from 27 000 in 2003 to 50 000 in 2005, encouraged a lot of Egyptians to start studying the Korean language in the newly opened Korean language department in "Ain Shams" University which will give Korean tourists a more comfortable stay in Egypt. Last but not least, the Embassy is also working on different promotion programmes with the different airlines that have flights to Egypt like Korean Air, Emirates and Qatar airways; a move that should encourage Korean tourists to visit different cities like Luxor and Alexandria and not only Cairo, which holds the major touristic sites such as the Pyramid, Sphinx and the Egyptian Museum that exhibits over 120000 objects.