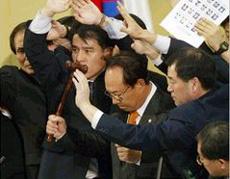 National Assembly Speaker Park Kwan Yong (center) declares the passage of impeachment bill on March 12, 2004.
The grotesque scenes in the National Assembly last week were beamed around the world for all to see. Scenes of sweaty politicians grappling and spitting while hurling missiles and breaking down into tears made the supposed leaders of South Korea look more like spoilt children than leaders. Of course the Korean media are far too insular to worry about the effect of these kindergarten antics on the rest of the world. "Koreans are emotional," one local pointed out to me with a shrug, as if their lack of emotional maturity was something to be dismissed as a genetic quirk. Those who propose to make Korea the "hub of Asia" should surely be aware that pictures of grown men crying and fighting only makes this country a laughing stock. The worldwide media coverage basically portrayed Korea as that. Many newscasters played the scenes in the "and finally" section of broadcasts, introducing the footage with a wry smile. In a few years the scenes will be replayed only on gutter TV such as "The worlds craziest videos."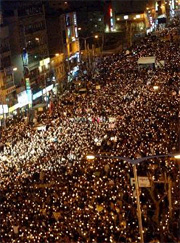 Tens of thousands of people gathered in downtown Seoul in
protest against impeachment on March 14, 2004.
Pathetic. And yet, on arrival in Korea I was told that to lose one's temper was a big no-no. That the concept of face-saving was all important and biting ones tongue was the preferred way of dealing with a perceived sleight. Well, there wasn't much tongue biting going on in the National Assembly last week. Of course the real story of the impeachment lies not in the anarchic scenes we all witnessed, but in the behind the scenes politicking that constantly goes on in this country. But, the foreign media could not care less who the players are or why they acted the way they did. Television news is all about imagery, so do not expect any foreign viewers to be any wiser about the players in Korean politics after last week's events. The only thing that they will be sure of is that Korea is run by idiots. And for a country that is proposing to lead Asia in the 21st Century, that's a pretty bleak state of affairs.