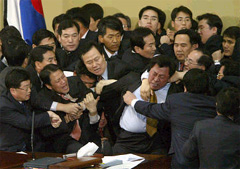 Lawmakers of pro-Ron Uri Party are resisting GNP members from voting for impeachment. Courtesy Yonhap News
With just a month to go before crucial National Assembly elections, South Korea entered uncharted political waters on Saturday after President Roh Moo Hyun was impeached and stripped of power by the National Assembly, unleashing protests in the capital. The country's prime minister, Goh Kun, sought to calm the public after he assumed interim leadership. He said in a statement Friday that he would seek to maintain Mr. Roh's policies on relations with North Korea and the United States, and he emphasized that the government would try to shield the country's economy from the turmoil."In order to overcome this difficult time for the country, individual branches of the government must execute state affairs in a steady manner," Mr. Goh said.The public protest culminated Friday afternoon, when about a thousand supporters of the president, including members of the pro-Roh Nosamo organization, rallied in front of the National Assembly, many wearing their trademark yellow jackets or scarves as hundreds of riot police officers surrounded them. The crowd soon grew as large groups of protesters filed in, bringing the total to more than 10,000 people."If a million of us gather here, then we will be able to create a human wave that represents the will of the public!" shouted Lee Sang Ho, who led Nosamo in the 2002 election.Leaders of Nosamo said Saturday that they planned to hold a larger candlelight rally in downtown Seoul, and many civic and labor groups said they would also protest.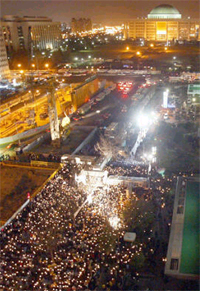 Tens of thousands of Roh supporters clamoring for "nullification" of the impeachment on March 12, in front of the National Assembly building.
Courtesy Yonhap News
The vote on Friday to impeach Mr. Roh on charges of illegal campaigning was the first such action in the country's history. A total of 193 lawmakers in the 273-seat National Assembly voted to impeach. Last month, Mr. Roh said he would do everything within the law to encourage votes for the upstart Uri Party in the elections scheduled for April 15. The remark outraged the two main opposition parties, who accused him of breaking laws that ban campaigning more than 17 days before an election. They submitted a motion on Tuesday to impeach. In Washington, the State Department responded cautiously, saying the impeachment was an internal matter. "We will continue to work together on issues of mutual concern, including things like the six-party talks and the Korean forces that are going to Iraq," said the department spokesman, Richard A. Boucher, referring to talks on North Korea's nuclear weapons program.Prime Minister Goh, a career government bureaucrat who had also served as prime minister from 1997 to 1998, will serve as interim leader until the constitutional court rules on the impeachment vote. The court has 180 days to reach a decision, but most officials predicted that it would rule before then.Political analysts said Mr. Goh's ample experience in government administration and his stable style of leadership were calming factors during a time of turmoil. But they said they were concerned about possibly violent outbursts in public between conservatives and supporters of Mr. Roh, especially during an emotionally charged election season."I'm worried that the unexpected actions of a few could trigger emotions and possibly lead to an uncontrollable situation," said Baek Seung Hyun, a political science professor at Kyung Hee University.In a survey by the Yonhap news agency of 1,018 South Koreans on Friday, 7 out of 10 said they felt the vote to impeach was improper.In the National Assembly, supporters of Mr. Roh likened the impeachment vote to an act of mutiny. "What happened today was a coup d'?at carried out without guns and swords," said Chung Dong Young, a lawmaker with the Uri Party.
The above story is from The New York Times.