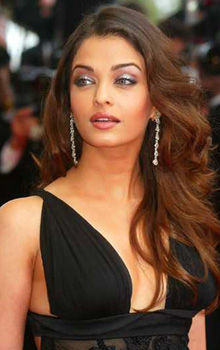 Top Indian actress Aishwarya Rai is invited to Cannes Film Festival more often than other world's top celebrities.
Cannes Film Festival 2006: Great DelightsThis year, the Cannes Film Festival produced some delights. Here are three of them which are connected by far-reaching political developments.Ken Loach's "The Wind that Shakes the Barley," underlines political extremism as an alternative to political dialogue, and in the movie, two brothers carry each of these crosses to the mountain of despair and death.Young Damien (Cillian Murphy) gives up a promising career in medicine to join the Irish Republican Army to fight what Loach portrays as vile British occupation forces.But when a truce is declared in 1921, followed by the Anglo-Irish Treaty of 1922 that created the Free Irish State, Damien's brother, Teddy, is wiling to accept this accord. He tries convincing Damien that this is the best of the bargain they could have hoped for then. Damien refuses to lay down arms, an act which leads to a tragic confrontation between the two siblings.Loach allows for plenty of discussions and debates, and these tend to slow down the film. Nevertheless, "The Wind that Shakes the Barley" is scripted and shot well enough to retain attention till the end. A certain poetic quality enriches most scenes, and the visual appeal in Loach's work is strong and an effective vehicle to carry forward the story.Lou Ye's "Summer Palace" mixes the intimate with the not-so intimate to present the dramatic political developments in China between 1987 and 2001.At the heart of this is beautiful Hong Yu, (Hao Lei), who like thousands of other Chinese students comes to grips with the political turmoil of the Tiananmen, where the soldiers tried crushing young spirit.Yu leaves her village and her boyfriend to join the Beijing University, where she meets another student Zhou Wei (Guo Xiaodong), who becomes the passion of her life.The movie has explicit sex scenes, and is yet to be passed in China. But running along these extremely bold sexual romps (with even full frontal nudity) is a tender love story that transcends time and turmoil. Indeed, a great Chinese work.Nanni Moretti was back in Competition with "The Caiman." A satirical look at Italy's former Prime Minister Berlusconi, this film is less powerful than Moretti's 2001 Golden Palm winner, "The Son's Room." This could be because Moretti mixes comedy, politics and personal drama in a way that none gives us a sense of fulfillment. We are, in the end, thirsting for more of each one of them.Although widely touted as a takeoff on Berlusconi, with first reports suggesting that this could be another Michael Moore saga, given Moretti's Leftist leanings, "The Caiman" is anything but this. It is quite frankly a study of a movie producer. His failing marriage with a former film actress and his wonderful rapport with his two young kids, whom he hopes can possibly help bridge his relationship with the wife, are what provides the movie with its meaty strength.Bruno, (Silvio Orlando is excellent here) makes lousy cinema, but there comes a point when he partners with an attractive screenwriter to produce an anti-Berlusconi picture. Obstacled by skepticism, unwillingness for financiers to loan money and his own dilemma about whether he hates the former politician so much as to make a film of this kind, Bruno travels
along a roller coaster journey. And, mind you, this journey is thrilling with all the trials and tribulations of movie-making.To me, "The Caiman" came out as a subtle comedy (forget the Italian noise and din), with some exceptional performances by Orlando and Moretti himself, who plays Berlusconi.