Korea's various kinds of kimchi
Kimchi, fermented hot and spicy cabbage, once derided as a smelly and dirty dish for "inferior" Koreans by Japanese colonial rulers during its occupation of the Korean Peninsula (1910-1945), has emerged as one of the most favored dishes by Japanese themselves.As the Korean national dish's popularity rises around the world an American magazine Health picked kimchi as one of the five most healthy dishes of the world, along with olive oil from Spain, the soy of Japan, yoghurt from Greece, and lentils from India. The following is the full article from Health magazine on the five healthiest foods of the world.
World's Healthiest Foods: Kimchi (Korea)
Loaded with key vitamins, kimchi contains healthy bacteria that aids digestion.
Koreans eat so much of this super-spicy condiment (40 pounds of it per person each year) that natives say "kimchi" instead of "cheese" when getting their pictures taken. The reddish fermented cabbage (and sometimes radish) dish — made from a mix of garlic, salt, vinegar, chili peppers, and other spices — is served at every meal, either alone or mixed with rice or noodles. And it's part of a high-fiber, low-fat diet that has kept obesity at bay in Korea. Kimchi is also used in everything from soups to pancakes, and as a topping on pizza and burgers.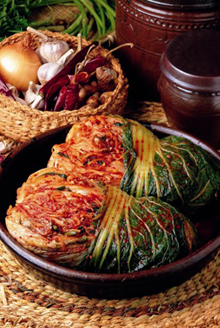 Cabbage kimchi
Why to try it: Kimchi (or kimchee) is loaded with vitamins A, B, and C, but its biggest benefit may be in its "healthy bacteria" called lactobacilli, found in fermented foods like kimchi and yogurt. This good bacteria helps with digestion, plus it seems to help stop and even prevent yeast infections, according to a recent study. And more good news: Some studies show fermented cabbage has compounds that may prevent the growth of cancer.What to do with it: There's no need to make your own, just pick it up in the refrigerated section of your grocery store or at an Asian market for around $4 per 32-ounce jar (Sunja's is one popular brand). You can pick up your morning meal by scrambling eggs with kimchi, diced tomatoes, and mushrooms. Use it as a wrap filling or to top a baked potato. Alternatively you can try spicy beef and kimchi stew, which won our test kitchen's top rating.
World's Healthiest Foods: Olive Oil (Spain)
Antioxidant-rich olive oil protects against heart disease.
"We start with olive oil as babies," says Antonio Diaz, a native of Spain and owner of tapas restaurant Costa del Sol in New York. Olive oil is mandatory at every meal in a typical Spanish home, and for good reason: The country makes more than 40 percent of the world's supply, although until recently the majority was sold and packaged outside its borders (the Italian olive oil you're using might actually be from Spain).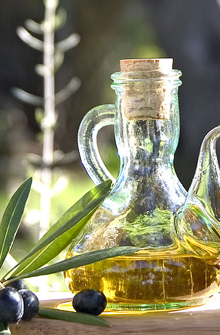 Spanish olive oil
Spanish olive oil producers are now labeling their own brands, and making a name for themselves as the source for top-quality oil. And with more than 262 different olive varieties (24 of which are used for oil), Spanish oils are more diverse than those from other countries.Why to try it: Antioxidant-rich olive oil protects against heart disease by controlling LDL, or bad, cholesterol levels while raising HDL, or good, cholesterol. In fact, it's such a health boon that the U.S. Food and Drug Administration (FDA) lets olive oil producers put a heart-health claim on their labels. (It's one of a handful of foods to get that blessing.)But new research shows olive oil may be more than just good for your ticker. Scientists from Philadelphia's Monell Chemical Senses Center discovered that olive oil has a compound with the same structure as ibuprofen, the widely used anti-inflammatory painkiller in Advil and Motrin. That means olive oil may offer the same benefits as low doses of the drug, including reduced risk of heart attack, stroke, some cancers, and even Alzheimer's disease. It also may help fight breast and colon cancers.What to do with it: Light and aromatic, Spanish olive oil is easy to find at your local grocery store or online at Tienda.com for about $10 to $20 per 17-ounce bottle. Dunk whole-grain bread in olive oil, or drizzle over grilled vegetables. Or try a shrimp with garlic in olive oil recipe.
World's Healthiest Foods: Soy (Japan)
Protein-packed soy is linked to the prevention of cancer and osteoporosis.
Tofu, invented in China, is widely enjoyed in Japan and Korea.
A typical Japanese person eats soy for breakfast, lunch, and dinner. "We eat tofu every day," says Mamie Nishide, a cooking instructor and recipe developer who's a native of Nara, Japan. Soybeans, first grown in tropical Asia thousands of years ago, are used in everything in Japan from soy sauce (as ubiquitous as ketchup) to vegetable oil, tofu, and the fermented soybean paste called miso. Japanese eat more soybeans than anyone else, and the long-living Okinawans top the list at about 60 to 120 grams per person each day, compared with practically zero grams for the average American.Why to try it: Protein-packed soy is high in isoflavones, estrogen-like substances linked to the prevention of cancer and osteoporosis. But its biggest draw may be the dozens of studies showing soy is good for your heart; the FDA even allows certain soy products (with at least 6.25 grams of soy protein per serving) to have a heart-healthy claim on their labels. Plus, some studies have shown that a diet rich in soy can reduce the risk of breast-cancer. Asian women, for example, have a much lower incidence of the disease compared with their Western counterparts. But other studies suggest that high levels of soy might actually increase breast-cancer risk in women who live in the United States, especially among those with a family history of the disease. (If you have a history of breast cancer or a high incidence in your family, talk to your doctor about how much soy is safe.)What to do with it: Use cooked soybeans instead of garbanzo beans in your next batch of hummus, and add frozen edamame (whole soybeans) to stir-fries. Tofu typically comes in 1-pound blocks for about $1.99 at grocery and health-food stores.
World's Healthiest Foods: Yogurt (Greece)
Among yogurt's benefits: enhanced immunity, improved lactose intolerance, and stronger bones.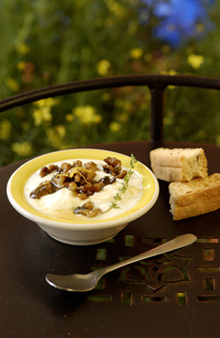 Greek yogurt
Many think of yogurt as just a sweet snack. But the thick, creamy, rich kind that's traditional in Greece has been integral to Grecians' healthy diet for thousands of years. "We have a custom that before a couple goes on their honey-moon, they eat yogurt with honey and walnuts for prosperity and energy," says Antonios Maridakis, president of Fage USA, importer of Greece's biggest yogurt brand. "A lot of us believe that yogurt is an aphrodisiac."Why to try it: Yogurt promotes intestinal and vaginal health, improves lactose intolerance, builds stronger bones, enhances immunity, lowers blood pressure, and may even have anticancer and weight-loss effects. In a recent study in the International Journal of Obesity, researchers found that obese adults who ate 3 servings of fat-free yogurt a day as part of a reduced-calorie diet lost 22 percent more weight and 61 percent more body fat than those who just cut calories. A plus for Greek yogurt, in particular, is that it doesn't give you the sugar overload that you usually find in U.S. grocery stores. To save on fat and calories, reach for a low-fat version.What to do with it: Look for Fage Total yogurt at specialty food stores, Whole Foods Market, Wild Oats, and Trader Joe's. A 5-ounce container costs $1.89. Try it with a drizzle of honey and a handful of walnuts or almonds. Or use Greek yogurt in a delicious grilled eggplant and yogurt dip.
World's Healthiest Foods: Lentils (India)
Lentils give you protein, cholesterol-lowering soluble fiber, and lots of iron.
Lentils of India

Lentils are to India what meatloaf is to America: the quintessential comfort food. Ranging from yellow and red to deep black, these tiny disc-shaped members of the legume family are eaten in some form at least twice a day in "any self-respecting Indian household," says Kavita Mehta, founder of the Web-based Indian Foods Co. In fact, India is the world's biggest producer and consumer of lentils. Known as dal, lentils typically are served at every meal with steamed rice or bread.Why to try them: This "superfood" gives you protein and cholesterol-lowering soluble fiber, as well as about twice as much iron as other legumes. And lentils are higher in most B vitamins and folate, which is especially important for women of childbearing age because folate reduces the risk of birth defects. Plus, U.S. Department of Agriculture researchers discovered that the pigment in Beluga black lentils acts as an antioxidant and helps protect against heart disease, cancer, and the aging process in general. Not too shabby for something the size of a pencil eraser.What to do with them: Lentils can be stored a long time, are easy to make, and are one of the cheapest protein sources going, at just 75 cents per pound at grocery stores. And unlike other legumes, you don't have to soak them before cooking. Just rinse them in cold water and simmer in water or broth. Enjoy them plain or spiced with herbs, onions, or garlic.
The above article is from Health.