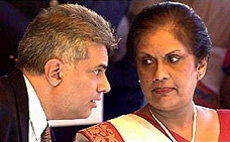 Wickremesinghe (left), Kumaratunga
Courtesy AP
There are growing fears now that the recent political turmoil in Sri Lanka will seriously hamper the internationally-supported effort to end the island's two-decade-old ethnic strife between the majority Buddhist Sinhalas and the minority largely Hindu Tamils.
Some days ago, President Chandrika Kumaratunga sacked many ministers in Prime Minister Ranil Wickremesinghe's caretaker Cabinet, in a system of government where the two belong to different rival political parties.
This climate of uncertainty has provoked the Liberation Tigers of Tamil Eelam (LTTE), the rebel group fighting for the minority group, to appeal for direct foreign aid, which is now being routed to the war-ravaged Tamil areas through the government machinery.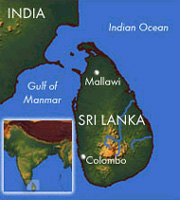 Leader of the political wing of the LTTE S. P. Thamilselvan, recently told Swedish officials that, "the political crisis in Colombo, which brought about a no-go situation in meeting urgent humanitarian needs of the war-affected Tamil people, had forced the LTTE to put forth this plea."
However, the World Bank said that donors had refused to entertain this appeal.
Also a source of worry has been Wickremesinghe's statement that he can no longer fully implement the cease-fire pact with the Tigers. For the first time in the history of Sri Lanka's conflict, a cease-fire between government forces and rebels has held on for about two years now.
The Prime Minister's pronouncement has substance to it. Kumaratunga has effectively abolished the Rehabilitation Ministry and another ministry responsible for the Hindu affairs when she dismissed the Ministers holding these portfolios. Both were trying to restore normality in the war-torn northern and eastern regions largely inhabited by Tamils.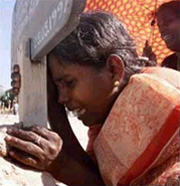 Two Tamil women weep for victims killed in Sri Lanka's civil war. Courtesy Reuters
The President took over the Defence Ministry by sacking this Minister as well and dissolving Parliament (where her party is in opposition), almost four years before its term was to end. She has called for elections on April 2. Kumaratunga has had a long rivalry with Wickremesinghe, and opposes his handling of the peace process, which aims at ending the Tamil separatist movement that has claimed more than 60,000 lives.
The Tigers are clearly uncomfortable with what they perceive as Kumaratunga's rising authority. The President has never known to be a supporter of the LTTE cause, though it will be naive to the buy the rebel view that she is anti-Tamil. An assassination attempt on her by the Tigers some years ago left her practically blinded in one eye.
However, both Wickremesinghe and Kumaratunga strongly oppose any move for secession, and the LTTE itself, given the changed world order since September 11, has now begun to soften its demand for a separate Tamil homeland. It says that it is now willing to settle for greater autonomy for Tamils.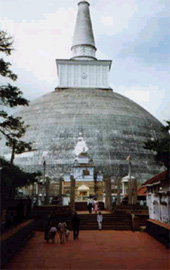 Kiri Vihara in Polonnaruwa
Wickremesinghe is inclined to believe that the Tigers are now more reasonable than ever, but Kumaratunga still harbours a deep-rooted, though not entirely unjustified, suspicion of the rebels. They have, on many occasions in the past, merely bought time by seemingly agreeing to stop fighting; invariably, they have regrouped after fresh recruitments of often teenage soldiers and gone on deadly offensives.
The question now is the April 2 polls. Will it give Wickremesinghe's party a clear mandate to push his peace plan?
There are some analysts who feel that peace may not, after all, be the major factor. One is tempted to take a good look at this view, because Kumaratunga's Sri Lanka Freedom Party has formalized an alliance with the Marxist People's Liberation Front, and the two are offering the island's 18 million people a new economic model and a form of cultural nationalism known as "Jatika Chintanaya" (national consciousness). This is based on Sri Lanka's 2500-year-old Buddhist heritage.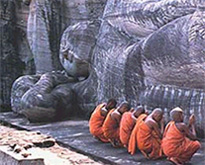 A lying Buddha in Polonnaruwa
Certainly, the LTTE is not going to welcome a doctrine of this sort that draws its strength from uni-culturalism. The nation's Hindus, Christians and Muslims could feel terribly alienated if the new political alliance were to come to power. The other part of the alliance's election manifesto, new economic model, can become meaningless without peace. Kumaratunga knows this, but, then, why did she create the alliance on this kind of manifesto?
Obviously, there is more than what the document chooses to reveal.