A Red Light District in Korea
2 a.m. Hooker Hill in Itaewon. The steep hill is all but deserted with only a few squatting whores chain-smoking despondently. Bars like Tiger Tavern, Rous and Madrid are empty, their grimy interiors sparse and kitsch. A few Western businessmen stumble down the steep incline, laughing at the women who call out at them. They head straight for Venus bar, identical to the others, but these men have obviously been here before; they know what they want and where to get it. Hooker Hill is a different place from a few years ago, where the upper reaches of the hill were one of the busiest places in the 'ville.' GI's would throng the main drag, drinking soju kettles and bar hopping between Stompers and the Grand Ole Opry. Stompers is gone now, to Hongdae, and the hill has lost much of its anarchic charm. Some of the juicy bars have closed down and the sex trade is no longer as profitable here as it once was. And with Yongsan Garrison's imminent downsizing, that trend looks set to continue. Debut club, half way up the hill is one of the few 'regular' bars on the strip. Frequented by off duty prostitutes, johns and alcoholics, it has an air of desperation about it. Most of the punters are here every weekend often drinking into mid morning. Mainly middle aged English teachers and businessmen, the regulars are kept in line by the three bar girls, all of them previously juicy bar workers. Sitting at one of the couches is Mi Joo, a haggard looking 32 year old dressed in a skin-tight black dress.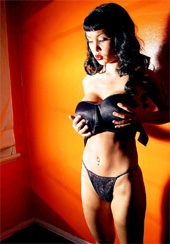 A Prostitute in Seoul
She is waiting for her friend to finish work. She has been frequenting the hill for various reasons for over 10 years. "Yes, it's very sad now, it's not busy anymore," she says, sipping a jack coke. "Before all the girls were busy, now, the prices have come down and it's getting worse." Just then her 'friend' arrives, an overweight bespectacled Canadian looking none too pleased at my presence. I make my excuses and leave ...Koreans like sex. In fact they love it. Consensual, under age, extra marital, kinky; you name it, they do it. But most of all Koreans like paid for sex. Korean men that is. They live for it. They spend millions on it every month. They have countless ways of getting their rocks off for cash. Juicy bars. Barber shops. Turkish baths. Room salons. Hostess bars. Strip clubs. Massage parlours. Brothels. About 358,000 men buy sex each day. That's a lot of money. And a hell of a lot of sex. So why? Korea is not the first place you think of when the words 'sex' and 'Asia' are bandied around. Thailand, Philippines, Cambodia, Japan. These are all places that have a reputation for pay for play horizontal dancing. But Korea is better known for its cell phones and fermented cabbage. However, the fact is that prostitution is everywhere in Korea. From the ubiquitous barber pole to the basement coffee shops, prostitution is a higher chunk of the GDP than agriculture. According to a report released by the Korean Institute of Criminology (KIC), the nation's sex trade was estimated at 24 trillion won (US$ 20.4 billion) last year, accounting for 4.1 percent of 578 trillion won, the total GDP.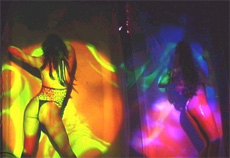 Dancers in a Seoul Nightclub
Nearly 20 percent of men aged between 20 and 64 visit prostitutes on average 4.5 times every month, spending a sum that breaks down to 154,000 won (US$ 130) each time. The main reason for the predilection of sex for sale is as always, economics. The average female salary worker can expect to earn substantially less then their male equivalent. Handbags and nose jobs don't just pay for themselves. This 'invisible hand' as Adam Smith describes it can be considered one of the main reasons for the booming sex trade here. There is always going to be a demand everywhere in the world, but the supply here more than meets it. There is also a culture of acceptance. Business dealings are often conducted in room salons, upscale drinking clubs where girls are on offer. The Korean need to feel comfortable socially with your business partners has had a knock on effect on the skin trade. Countless students, secretaries and housewives work as 'entertainers' in these venues, singing, pouring drinks and sucking cock. Miari. Northern Seoul. The banners were only up for a short time, but they illustrated the hypocrisy of the sex scene here. They banned foreigners from frequenting the warren like lanes that house the brothels in one of Seoul's biggest red light districts. The reasons? Ignorance, racism, but as always when sex is for sale, economics took precedence. Pimps feared that the influx of foreign men on a nightly basis was scaring off the Korean regulars, who were worried about contracting SARS or AIDS.The Bangladeshi and Pakistani factory workers were bad for business and simply had to go. Miari and places like it are the real underbelly of the sex scene here. The girls are often underage and held against their will, forced to service grunting adjussis for 30 minutes at a time.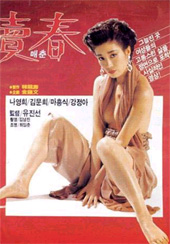 Poster about Prostitute Movie
The areas are somewhat eerie, with a red glow in the sky and they make a mockery of the Korean perception of prostitution as a foreign evil. Sporadic crackdowns by the local police do nothing to stop the trade and the 'illegal' nature of prostitution here is exposed as the lie it is. The occasional crackdowns are often driven by international pressure. Various governments and international organizations have criticized Koreas lack of action on prostitution and human trafficking. Recently the Philippino government launched a suit against the Korean government on behalf of Filipinas forced into prostitution in Korea. Only then did the Korean government take action. It's Saturday night near Seoul National University. Rows of garish, glowing motels line the streets as blackened out cars cruise up and down the alley ways. The hiss of neon is drowned out by shouts and the smashing of glass. Couples, young and old walk purposefully towards their motel of choice. Some are 20 and 30 some things who live at home and simply want to fuck in peace. Others are older, married men and women who are having affairs, a by-product of the Korean rush to marry. Korea has one of the highest divorce rates in the world. Without the love motels, it would probably be even higher. Only about 1 percent of Korean couples live together before marriage, a particularly Korean trait, and one which propagates the promiscuity so prevalent here. Women also walk the streets, entering the motels on their own. These are the women you see on the calling cards that are jammed in windshields and scattered on the ground. Not the actual women on the cards, most of who are Japanese porn stars. Chong is 32 and started working for one of the call out operations three years ago. She previously worked in the sex trade in Thailand, and looks and acts like a Pattaya bargirl. Small, cute, but worn, she was intending to retire from the 'game' on arrival from Thailand, but economics as ever scuppered that. "My mom got sick and we could not afford the hospital bills. I was too old to work in a room salon so I came here instead." She works 13-hour days six days a week. She wouldn't tell me how much she earns, only saying "more than in the hospital."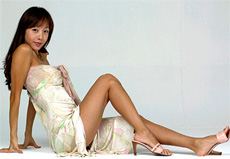 A Prostitute Image from a Seoul Website
Her sister is a nurse. Most of her clients are older men, lonely businessmen and husbands and fathers who don't have the looks or the balls to have an affair. She visits on average of five to six motels a night, some visits lasting longer than others. "The quicker they finish the better. Some guys finish almost immediately. I still get the same money." The huge sex industry in this country will not disappear anytime soon. If anything it continues to grow. The ham fisted approach to dealing with prostitution is just one of the many reasons why. Police crackdowns are sporadic and lack the political backing to succeed. Byeon Hae-Jeong a director of the Korea Sex Violence Research Institute recently stated, "The sex industry will continue to expand if there is a demand for prostitution." Byeon like many Korea commentators, missed the point. There will always be a demand for prostitution; a war on the demand side of prostitution is like a war on drugs. Unwinnable. Where the government are failing is their lack of action on the supply side. This will not be easy. The social and economic factors are deep rooted and it will take a seismic change in Korean culture for this to change. Until it does, the victims of the sex industry will continue to suffer. And as usual in Korea, the victims are women.