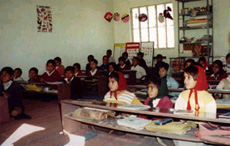 School Children in India
Madras (Chennai), India — I cannot understand school-teachers any longer. They are either beating up children or raping them. I do not mind sounding so alarming, but the fact is that those who are in charge of moulding our society appear the least prepared for the task. Let us take a look at India and Japan, one is a spectacularly growing economy, the other is the second most important economic power in the world. Yet, both seem to care little about how they treat their future citizens, literally a nation's wealth, I would say. In India, corporal punishment seems to be a will-not-go-away menace. Certainly, this form of retribution, awfully archaic and distressingly Dickensian, has no place in any civil society. Yet, schools resort to it with sickening regularity. Here are a few examples of teachers' vindictive viciousness. In New Delhi, India's capital city, a 13-year-old boy in a well known school was stripped of his clothes and paraded naked. In a small municipal town, a five year old was physically tortured by
his master to such a horrifying extent that he had to undergo psychiatric care. In Bombay, a teenager was boxed on his ears by a principal that landed the victim on an operating table. In Lucknow, a northern Indian city, a girl who was made to stand under the sun on a terribly hot day died that evening of a heat stroke. In Madras, the wrath of a teacher drove a girl to kill herself. Such bodily abuse, which is resorted to in order to instill a sense of discipline in a child often affects it for life. Studies conducted the world over have revealed that beating is highly ineffective. On the contrary, it makes a little one defiant, rebellious and hostile. It can develop into a warped personality, a spouse beater, a molester, a rapist ...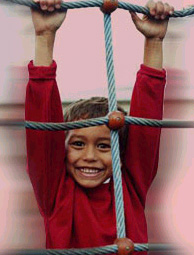 Children thus crushed tend to suffer from a severely distorted psyche. They begin to believe that right is after all might, and that violence is the answer to most problems. The larger effect, therefore, is the virtual "manufacturing of an inconsiderate, intemperate and cruel society in a lab called school" says a teacher in Madras, who thinks that striving to extract unquestionable obedience from a student is absolutely inimical to the blossoming of a young soul. Decried by psychologists and social scientists, the abuse of the young comes at a time when the Indian school system is under severe strain. The syllabus is dominated by a textbook culture, which forces children to cram for examination grades, rather than
help them develop as rounded humans with a finer sense of common intelligence and a mind perceptive to the suffering of a fellow being. In Japan, male teachers are being caught molesting schoolgirls with sickening regularity. "It was just a massage, nothing more!" protested a 33-year-old teacher in Tokyo, right after he had been accused of trying to rape a girl in the fifth grade of an elementary school. The girl, however, had a very different story to say. "True, her teacher had at first offered to give her a massage, because we had been playing some sports together, and I had pulled a muscle in my leg." The teacher invited the girl to an empty meeting room in the school. There, he told her to take off her clothes. When she hesitated, he tried to pull off her panty. The girl screamed and ran out of the school building.
When the news spread, the parents of two others girls stepped forward and said that the same teacher had misbehaved with their daughters as well. This was no isolated case.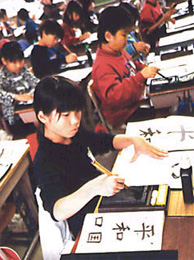 Calligraphy Class in Japan
The Japanese Education Ministry says that male teachers are showing an increasing tendency to "act fresh" with little girls. In 2002-3, 139 teachers were punished for such indecent acts: 98 of them were dismissed. The ministry fears that this number will rise in 2003-4. Unfortunately, even this figure can be just the tip of a terrible iceberg. Often, schools tend to hush up such misdemeanors, because it will spoil the institution's reputation. A retired teacher in Hiroshima once told me that male teachers took up this job largely because they had the "Lolita complex." Even if we were to take this with a pinch of salt, I am certainly appalled by teacher's attitude these days. My father who studied in a small South India town in the 1920s used to tell me that his teachers were extraordinarily friendly with students outside the classroom. But once inside, they commanded the utmost respect, and they did not have to use the stick to enforce discipline. Yes, the love and affection which teachers had for their wards never veered towards anything even remotely undesirable. I wonder whether we have lost that era of great teachers.