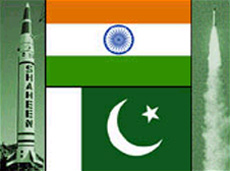 Madras, India, Jan. 30, 2004 — The world has always been worried that some mad man will press the nuclear button to blow up civilization. This is why there has always been immense concern about dictators having nukes. For years, most of us — who have fought against such weapons of mass destruction — have been trying to ensure that nuclear arms do not fall into the hands of autocratic regimes. We have also been uneasy with the idea of even mildly dictatorial administrations possessing these weapons for fear of these being passed on to criminals.
Pakistan appears to be a classic case on both counts. Global leaders have often wondered whether Pervez Musharraf's government had full control over its nuclear arsenal, and whether he would pass on bomb-making expertise to markedly rogue states. Here are the answers. When American officials recently linked Libya's uranium-enrichment technology — which the country admitted — to Pakistan, Islamabad denied it, well, furiously.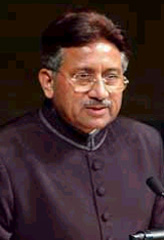 Pervez Musharraf
But, even a layman could sense that there was something missing in that denial. What was it? Confidence. This lack of certainty was followed by a new line of thought and assertions: that if such nuclear-technology had indeed been transferred, it could have been the work of a few individuals. Do these not at once cast grave doubts about the security of Pakistan's bomb-manufacturing program? Of course. The question now is, what has Mr. Bush and the others been doing about it for such a long time, especially, when this pattern of clandestine transfer was well known?
In 2002, South Korea said that North Korea had got its know-how to produce highly enriched uranium (which like plutonium is used to make the bomb) from Pakistan. In October 2003, Iran told the International Atomic Energy Agency the names of individuals and companies that had helped Teheran's own secret nuclear arms program. Some of them were based in Pakistan. Shiite Iran's acquisition made Sunni Saudi Arabia nervous. Riyadh, according to media reports— which in turn quoted an American analyst and Pakistan watcher, Arnaud de Borchgrave (editor at large with Washington Times) — then concluded a secret deal with Islamabad. You give me nuclear knowledge, I give you oil. Washington's two pet allies, Saudi Arabia and Pakistan, seem to have taken advantage of America's policy of appeasement. For long, the U.S. had relied on Saudi Arabia to keep Islamic fundamentalism in check in the Gulf. September 11 forced Bush to rely on Pakistan to chase and hunt for Osama-bin-Laden. Bush is still not ready to pin these two countries.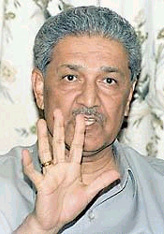 Abdul Qadeer Khan
In the meantime, Musharraf has found a way out of this web. He is now blaming scientist Abdul Qadeer Khan for leaking secrets to North Korea and Libya. Khan is a national hero in Pakistan. Described as the father of the nation's "Islamic Bomb", Khan's beginnings have been murky all right. In the 1970s, he stole centrifuge designs from a Netherlands company, where he was then working, and later helped Pakistan build its uranium enrichment program from them.
The Netherlands convicted Khan in absentia for the crime, but he was later acquitted on some vague technicality. Since those days, Khan has been involved in nuclear trafficking, official or otherwise. Admittedly, Musharraf, under Washington's pressure, removed him from the "eponymous lab" a few years ago. However, Khan remains an adviser to the Pakistani Prime Minister. Those who have been tracking Pakistan's proliferation activities believe that Khan was the man who helped North Korea, Iran and Libya develop the bomb or its know-how. This he did through collaborators, who operated "front companies." Finally, one question remains. Who funded Pakistan's nuclear program? Analysts think that it was Saudi Arabia which did it. It may not be easy to find solid proof of all this, but Bush and the rest of the world must understand the gravity of such roguish transfers of nuclear technology. And, they must act now.