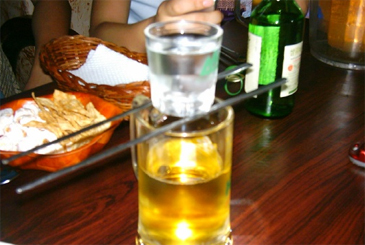 px;>"Poktanju," or Korean version of American boiler maker literally means "bomb drink," wich is still very popular among Koreans.
SEOUL, Sept. 30, 2005 — "Poktanju," or "bomb drink," has been the most prevailing drinking style in South Korea in recent years, which also aroused concern over local drinkers' health condition and other issues caused by such drinking style. Poktanju, a very strong alcohol beverage made from a small glass of whisky mixed into a glass of beer and commonly consumed in "bottom's up" style. Poktanju is a South Korean style of "boilermaker" which is widely known in the western world. South Korean people are high on drinking this kind of mixed strong alcohol beverage, although most of them suffered comfortlessness after drinking it. Most of the people show pale faces when asked to drink Poktanju,but it seems they still "enjoy" it. Some sociologists pointed out "hot-headed temper" could be reason to explain such phenomenon. "Barli, barli," which means "quick" in Korean language, is the tag of South Korean people. "South Korean drinkers want quickly forget or shake off heavy job burden and pressure in the real world, that's why Poktanju culture is prevailing," they explained. Now, a group of South Korean lawmakers challenged the heavy-drinking culture by launching a movement to promote more moderate drinking among local people, one of the heaviest-drinking people of the world. An investigation showed on Sept. 13 that South Koreans consumedan average of 4.5 liters of distilled liquor such as whisky and the nation's most popular alcoholic beverage "Soju" in 2002, ranking fourth after Russia, Latvia and Romania. Ordinary size of a bottle of Soju is 360 milliliter contains alcoholicity of 21 degree, which is sold at an average price of 1000 South Korean won (0.97 US dollars). The report, authored by professor Chang Keun-ho of Hongik University in Seoul, also revealed more than half of all South Koreans, about 64.3 percent, drank an alcoholic beverage in 2003, a drastic increase from 48.3 percent in 1986. Even worse, 40.5 percent of the South Korean drinkers consumed one or more bottles of Soju and four bottles of beer in one session. The group of 43 tran-partisan South Korean lawmakers announced on Sept. 15 the launching of "Pok-so Club" - a club to sweep out the Poktanju culture in South Korea, two days after the report came to spotlight. Leading the group is Park Jin of the opposition Grand National Party, who, according to his aide, used to drink as many as 30 shots of Poktanju in one sitting. "Drinking Poktanju is a widespread culture among politicians asit is in many other corners of our society. But it is a national scourge that undermines the health of mind and body," Park said. "With the launch of the Pok-so club, parliamentarians are pledging to take the initiative in a movement against the binge drinking culture," Park further said. The South Korean National Statistic Office said in a report on Wednesday that cancer and liver ailment were receptively the first and sixth-leading cause of deaths of local people in 2004. However, public health concerns are not the only reason Poktanju and excessive drinking habits are condemned in South Korea. According to the report mentioned above, the social cost of alcohol consumption - from traffic accidents caused by drunk driving to suicides to domestic violence and others - was estimated at 4.9 trillion won (4.76 billion US dollars) in 2003. In that year, 1,100 people were killed and 55,200 wounded in 31,200 traffic accidents caused by drunk driving. The traffic accident cases in 2003 account for 13 percent of total, the reportshowed. In order to change the heavy-drinking culture, South Korean government endorsed Ministry of Finance and Economy (MOFE)'s plan last week of raising tax on highly distilled liquor from the current 72 percent to 90 percent. "Social and economic costs, including expenditures on health and medical services, have been increasing due to the excessive consumption of alcohol," a MOFE official said. "We expect the tax increase to reduce liquor consumption and expenses caused by drinking."
The above article is from China View.