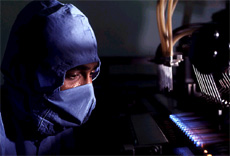 India's IT industry
India's economic growth has surprised even optimists. Nobody thought that it would exceed 7 percent. It did last year. In fact, the last quarter ended with a little over 8 percent. With the country's foreign exchange reserves crossing 100 billion US dollars, even optimism is turning into disbelief. All these have demolished a few myths. One, political coalitions cannot propel high growth. Well, this has been proved wrong. For some years now, critics and cynics have argued that a coalition government — especially of the kind that India has had with a Hindu nationalist party heading 20-plus partners of various shades of political thinking — is unlikely to keep alive the economic reforms process that began a little over a decade ago.
Whatever be their differences in political ideology, the partners agree that there must be greater growth in infrastructure (roads, telecom and power) and greater transparency in external trade and foreign investments. If there are disagreements, they are in privatization and labor reforms. But, even here, the mostly left-leaning parties are beginning to understand the futility of holding on to their stand. Another myth was that high growth was not possible without high-quality infrastructure. India has proved this wrong.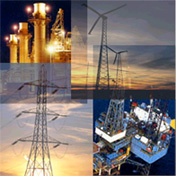 However, the nation of a billion-plus people has finally decided that infrastructure is, all said and done, essential. There is a boom in construction: roads, buildings, shopping malls, and so on. One now sees an overdrive in these areas. A third myth was that high growth could not be achieved without a high level of foreign direct investment. While China, for instance, got 50 billion US dollars in 2002, India a poor 6 billion US dollars. India has shown that its domestic-investment-driven economy can match China's overseas fund inflow model. Helping India here is its young population. According to the 2001 census, 54 percent of the population or 555 million people (men and women distributed almost equally here) are below 25 years of age.
The Goldman Sachs report says that while the largest economies of the U.S. and China are handicapped by an aging population, India faces no such obstacle. This undoubtedly projects a brighter tomorrow.
Already, there are unmistakable signs of wealth and prosperity in India. At least in urban centers, more so in the more affluent western and southern India.
Pushed and promoted by the boom in the IT sector and outsourced call center employment, young Indians are rethinking on completely radical lines.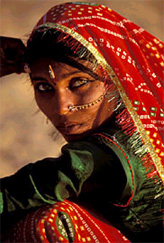 A dancer of the lowest caste Bopa and Kalbeliya Gypsies Courtesy Jean-Philippe Soule
The age-old barriers of language, caste and religion — which had kept India divided — are melting. The new mantra is consumerism, which is fast eroding the Nehruvian qualms about consumption and spending. The younger lot are no longer in a mood to just renounce worldly pleasures and save. There is also a marked change from the kind of spending: it is not so much on basics as grocery as it is on eating out and dressing fashionably.
If cafes are springing by their dozens in cities, mobile telephones have made a remarkable dent in communication. There are now nearly 30 million of them floating around. What is astounding is the kind of usage: fishermen and vegetable vendors — classes of the workforce that did not rely on wired communication — are among those who use a hand phone to promote business.
Admittedly, much of India's new riches touches only a fringe of the 700 million people living in the countryside. There are still 270 million men, women and children who go to bed hungry every night, while the government-operated foodgrain godowns are overflowing with rodents merrily feasting on grains. Distribution and corruption are the culprits here.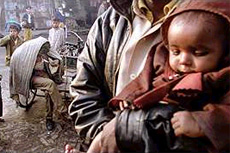 India's poor people Courtesy AP
For these starving masses and the essentially poor villagers, the US$100 billion in foreign reserves or the sleek cellular phone or the great cafe serving the choicest of beverage or the swanky car on the road makes no sense at all.
India's new government, which will hopefully be in place by this April, must try and sort this out immediately. Only then can a conducive social atmosphere — based on a more egalitarian economic structure — prevail. This, as most will agree, is imperative for India to reach the pinnacle of prosperity.