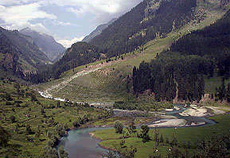 Kashmir Mountains
This New year began on a very promising note for South Asia. Two traditional rivals, Pakistan and India, have begun to make a sincere effort to stop warring. When the British left the subcontinent in 1947, they divided it into Pakistan and India. Although Kashmir acceded to India, Pakistan invaded the province, occupied part of it, and has since 1947-48 been trying to get the other half. Pakistan and India waged three wars over Kashmir, and came close to a nuclear conflict at least on a couple of occasions recently.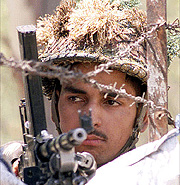 Pakistan has, in addition to this, been waging a proxy war in Kashmir since the closing years of the 1980s by training and arming Islamic militants, and sending them into India. Thousands of people have died in Kashmir terrorism. The world took note of this only after September 11, when the U.S. and its allies realized the harm that terror can cause to life and property. George Bush has been persuading Pakistani President Pervez Musharraf and Indian Prime Minister Atal Behari Vajpayee to work out a solution to the Kashmir imbroglio. Both tried and failed. However, recently at the meeting of South Asian Association for Regional Cooperation (SAARC), Musharraf and Vajpayee met and shook hands in what turned out to be a memorable episode. Which has had a remarkable cascading effect.
Islamabad and New Delhi will begin composite talks — which will include Kashmir — in February.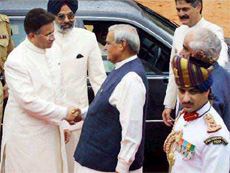 Musharraf meets with Vajpayee
As a follow-up to that, the two nations have restored diplomatic relations, air, rail and road links, and have begun toying with the idea of a having a common currency for SAARC (India, Pakistan, Bangladesh, Nepal, Bhutan and Sri Lanka), and this can be the Indian rupee. These developments come as a relief in a global scenario where terrorism has made even ordinary existence nightmarish (now most visitors to America will be photographed and fingerprinted). Even more welcome is the belief that peace between Pakistan and India would stabilize a region that the world and Americans in particular have been describing as nuclear flash-point. Other developments have followed the Pakistan-India pact. Bhutan flushed out rebels hostile to India, Myanmar has decided not to allow anti-India insurgents to operate from its territory. Musharraf himself has promised not to let terrorists use his soil for waging a war against India. Admittedly, he had given this assurance several times in the past. But, there seems to be greater expectation this time.
What adds to this sense of hope is people-to-people contacts. The media in Pakistan and India have highlighted the importance of such ties: little children travelled by bus from Pakistan to India to undergo sometimes complicated surgeries, and their families took back home poignant stories of a people eager to connect with their counterparts in Pakistan. Admittedly, there is a historic bond between Indians and Pakistanis; they lived as one country till 1947. (Koreans will understand this better than anybody else.) However, despite all this, Musharraf and Vajpayee can still face hostility. Vajpayee heads a party — Bharatiya Janata Party — whose agenda is well known: Hindutva or making India a completely non-secular, Hindu state. Musharraf recently survived two assassination attempts by militants averse to his peace moves. Both leaders know that religious and nationalist passions can flare again, and with India's general elections to parliament soon to take place, Vajpayee has to play his cards very carefully, though, opposition to his peace initiative may not come from the electorate itself. Most Indians are tired of Kashmir, and would want to get on with their lives and economic wellbeing. So, would most Pakistanis. If ordinary Indians and Pakistanis ardently wish for peace, so too others elsewhere on this earth.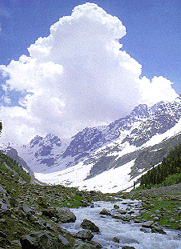 Kashmir Valley
With Islamabad and New Delhi refusing to abide by the Nuclear Non-Proliferation Treaty, largely because of the tension between them, the dangers have, till now, extended far beyond the subcontinent. Pakistan has been linked to nuclear programs in North Korea, Iran and Libya. The last two responded to global pressure by declaring their willingness to come in from the cold. Although Pakistan and India are not bracketed with North Korea, Iran and Libya, the world, at large, and Pakistanis and Indians themselves have now reasons to demand peace and friendly relations. One is reasonably certain that this demand will be met.