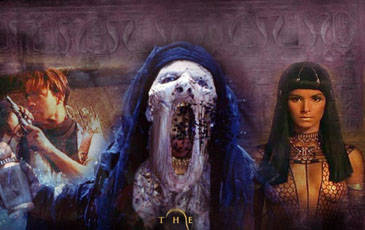 "The Mummy"
Hollywood films dubbed in Indian languages are doing brisk business, and their appeal extends to television as well. Yes Bank says that the Hollywood movie market in India stood at Rs 180 crores in 2004, with dubbed versions making up 40 percent of this. According to a survey conducted recently, three out of 20 films on the small screen — including regional channels — were dubbed Hollywood blockbusters.
Three dubbed Hollywood movies made it to the top 20 during the first seven months of this year. Star Gold and Sony's Max are a barometer of Hollywood appeal. For example, "The Mummy" has piped Shah Rukh Khan starrer "Main Hoon Na" to grab the top slot on Gold with a television viewership rating of 4.25, while "Spider-Man" is the biggest grosser on MAX with a rating of 3.81. "Dubbed films work on television because the viewer gets the best of both worlds," says Ajay Vidyasagar, vice-president (content and communication), Star TV, which started the trend about two years ago with dubbed Hollywood cinema on Star Gold (Hindi) and Vijay (Tamil). "These are big-ticket productions and we are offering them to viewers in the language they understand best," he adds. Star Gold, which telecasts Hollywood fare at prime time on Saturdays, says it has bagged the leader's slot. For MAX, which joined the "Hollywood-in-Hindi" war in mid-2004, the Sunday afternoon slot is immensely popular. "Since its launch, this slot has become one of the driver properties for MAX, delivering an average 1+ TVR and a consistent 12 percent+ reach every Sunday night prime time," claims Albert Almeida, executive vice-president and business head, MAX.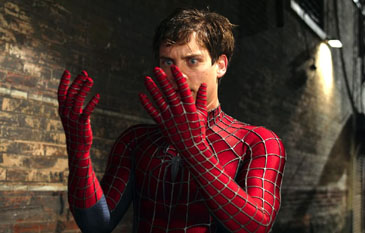 "Spider-Man"
Science fiction works wonderfully on television. Arnold Schwarzenegger's "Terminator" series, big action stuff "Rambo" and "Terror Peak" and creature
features "Godzilla," "Jurassic Park" are sure hits. "People get their regular dose of songs, dances, romance and family dramas in Indian cinema and on Indian television" explains Vikramjit Roy, head of publicity, Sony Pictures Releasing of India (earlier known as Columbia Tristar). "What this audience (that watches Hollywood fare) is looking for perhaps is edge-of-the-seat action, larger-than-life creatures and high quality special effects." In southern India, Hollywood action is an enormous draw. Vijay TV began experimenting with Jackie Chan in 2003. When it found a large number of takers, it expanded its oeuvre to include movies like "Titanic," "Jurassic Park," "King Kong," "Pearl Harbour" and "The Mummy." Another channel, Jaya TV, seeing Vijay's success, kicked off a dubbed slot last year. This year, the Tamil market leader, Sun, followed with such versions. "We have already shown some 40 dubbed films on Saturdays at 9:30 p.m.," says Muraliraman, vice-president, programming and operations, Jaya TV. "While the elite group watches HBO, for us dubbed movies are a way to connect with the masses in the language they are most comfortable with." In India, Hollywood has found a way to cross the hurdle of language. In a nation of many official languages, subtitles seldom work. Besides, a large cinema-going group is not literate. So, the only way to get the message across here is dubbing. This has been fairly successful. Yet, with a 1,000-odd homegrown productions every year, the Indian cinema industry is hardly perturbed by this Hollywood experimentation. Indian producers know that local audiences' loyalty, all said and done, lies with their own celluloid fare.