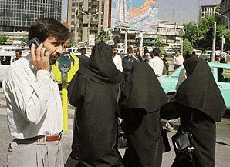 Madras (Chennai), India — A shriek interrupted the kiss. As the man gathered the woman in his arms, and his lips sought hers on the screen, a viewer's cellular telephone played spoil sport to this performance of passion. Some in the audience laughed. Some moaned. The others tried hard not to let their minds wander off that celluloid moment of sheer ecstasy. This about all sums up the mobile angst the world over. As has been the case with just about every other invention over the centuries, cellular technology has been viewed with both joy and sorrow, with excitement and irritation. Once, the steam engine appeared like a ghost to many, who ran away at the very sight of the "puffing monster." Candle-makers hated the electric bulb for an obvious reason. They did not want darkness to be dispelled by a glowing blob of glass. The mobile telephone has attracted a fair share of negativism as well. Some feel that it is a health hazard. Some call it a social menace. Although, the cellular telephone has been around since 1947 — initially as a car gadget — it is only recently that it has run into a storm. Can the radiation it emits harm a user? Can it cause brain tumour? Are children more vulnerable than adults?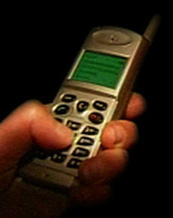 The mobile telephone emits electromagnetic radiation. However, this is "non-ionizing," which is not known — at least, as yet — to be harmful. Since, the longterm effects of non-ionizing radiation, as opposed to "ionizing radiation," have not been conclusively studied, a debate rages on. What gives cellular telephone critics a stronger handle is the fact that many of the studies on the use of mobile telephone have been conducted by instrument manufacturers themselves. There is a sneaking suspicion that they could be withholding vital information from the people, similar to the way some major tobacco companies manipulated facts to safeguard their business. Probes by others may have given a clean chit to this wireless technology, but the conclusions have had veiled warnings. The British Stewart inquiry recommended a few years ago that "tough controls should be implemented, including dissuading children from using the service too often." The U.S. Federal Communications Commission requires cellular telephones to meet radiation safety norms. Some of the big manufacturers are now trying to develop a single standard to measure the electromagnetic waves. However, the mobile telephone is fast becoming a social menace, as an elderly couple realized. Out to spend a quiet evening with each other in a Kerala (a South Indian State) restaurant, they found the hackneyed, loud conversation of a youth over the cellular telephone at the next table a terrible nuisance. Till, the old man got up, walked up to the offender and ticked him off in no uncertain terms.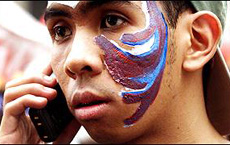 Mobile manners are just absent in India. Repeated requests to switch off cellular telephones during stage plays or cinema screenings make no impact even on a crowd that is educated and elitist. But what I consider a greater blot on etiquette is the use of this contraption in a crematorium. I hear people talking shop at burial grounds and burning ghats, unmindful of the grief and wailing all around. Such disrespect to the dead, such callousness to suffering are a terrible reflection on our society. Of course, nobody can even remotely disagree that the mobile telephone has been a great boon. Whether it be the fishermen of India's west coast or the small businesswomen in Bangladesh or Japan's teeming number of schoolgirls (not quite boys, and I wonder why), this little gadget, which is indeed getting tinier and more sophisticated by the day, has virtually changed the user's life. It has made his or her economic struggle that much more easy to grapple with, and for the kid in a Tokyo cafe or on a Hiroshima street or in the parks of Europe, the instrument helps connect with love, romance and fun. The cellular telephone has a hundred other uses, some of which are really beyond the wildest of one's imagination. A group of journalists at Cannes on the French Riviera might have spent the entire night in a small elevator — which stalled between two floors — had it not been for their mobiles. In Wellington, I remember being guided to a difficult address over this device, and without which I could have well taken hours to find the person I was looking for.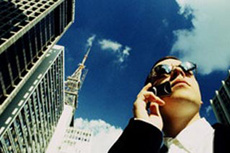 In Rome, in London, in Singapore, it is common to see men and women utilize the cellular telephone with apt appropriateness: as a time saver. They speak into it as they walk, as they ride an escalator, as they travel in a train. With the advantages seemingly outweighing the disadvantages, the number of mobile telephone users is growing. Globally, it is expected to touch 1.5 billion soon. Yet, all said and done, communication is fine, but when it becomes compulsive, even something as handy as the cellular telephone can be distracting and distasteful. And, who knows, a threat to our well-being.