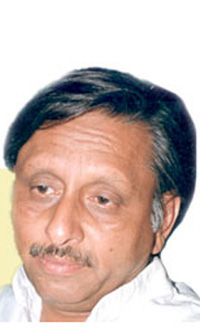 India's Petroleum Minister Mani Shankar Iyer
It is being called the Peace Pipe. The natural gas pipeline running from Iran to India through Pakistan may be a reality early 2006. India's Petroleum Minister Mani Shankar Iyer made this announcement during his recent visit to Islamabad.
The project can immensely benefit South Asia. Both politically and economically. Leaders in Iran, Pakistan and India have now realised this. The earlier fears in India of the pipeline being sabotage in Pakistan are now being dismissed as highly improbable. The reason is simple. It is felt in the corridors of power in New Delhi that if ever Pakistan wants to cut out gas supplies, India can do the same in its Western State of Gujarat. The onshore pipeline travels from Iran's South Pars (world's largest gas field), enters Pakistan, makes a detour into Gujarat, re-enters Pakistan before hitting India again, its final destination. And in today's global scenario where economics forms the basis for core political decisions, nobody in his right senses will kill the hen that lays golden eggs, to use a cliché. Iran has the world's largest gas reserves after Russia, and Teheran views India as a very important market. Pakistan, on the other hand, will receive a hefty annual transit fee. And India, an energy deficient market, needs the gas for its booming economy. Iran is OPEC's second largest oil producer and has 10 percent of the world's proven oil reserves. It also holds the globe's second largest natural-gas reserves. As a major energy producer, Iran will be an increasingly important player in Asia and in particular South Asia. Teheran is on the lookout for new markets, and India is certainly one among them. Iran hopes to build strong trade relations with India and gain New Delhi's political support. India having forged close relations with Israel, the U.S., the European Union and the states of Southeast and Northeast Asia could be useful to Iran, particularly now during its difficult phase with Washington, which is peeved over Teheran's nuclear programme. Pakistan will receive a windfall from the pipeline project. It will be a major source of income for Pakistan. Without investing much, Islamabad will reap about $500 million to $ 600 million in annual revenue. The project will also end up easing Pakistan's energy scarcity to an extent. Its economy is also growing mandating greater power needs. A third of the gas will be supplied to it and the rest to India. Politically, the project will be a major confidence building measure between New Delhi and Islamabad. "Pakistan can redefine its identity as a transit state in the region and can pave the way for peace and prosperity," says a BBC report. With a fast growing economy, India's demands for oil and gas are expected to double by 2020. Its oil imports are projected to rise from 70 percent at the moment to 85 percent by 2020. And India manages to produce only half of its natural gas requirements. Domestic gas production stands at 74 million cubic metres a day. The coming year will see the projected demand for gas rising to 188 million cubic metres a day. In 2025, it is expected to be 322 million cubic metres a day. To maintain a growth rate of 6 to 8 percent, India requires adequate cost effective energy from internal as well as external sources. Natural gas is one of the best options, as it is economic, efficient and environment-friendly. New Delhi also considers Iran to be a corridor to access Afghanistan and Central Asia's natural resources. It hopes to strengthen its ties with Tehran. The pipeline project is one sure way to do this. Finally, India feels that the pipeline, accompanied by the riches of revenue, will create a constituency within the Pakistan establishment that will root for normal relations with India, and rival the vested interests in the Pakistani army, which is known to promote anti-India militancy. A pipeline that promises peace, hopefully.