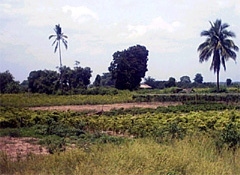 Nong Khai Countryside
As I look through the dirty window at the Isaan countryside rolling past, I have to pinch myself to make sure this is not a dream. Four days ago I was in Canada saying goodbye to family and friends, one-way ticket in hand back to my beloved Thailand.Now, more than 10,000 km, a 24-hour layover, countless time zones, and one international dateline later, I am sitting in a lower sleeping bunk on a very slow rapid train destined for Nong Khai. Although I am itching to get there (I haven't seen my partner for more than three months and by looking at my watch I see we are already several hours late) I am enjoying the long journey from Bangkok.Isaan and Nong Khai are not strangers to me. When we lived in Laos, I would always escape the melee and confusion of building a restaurant in a tiny mountainous town to come to Nong Khai every few weeks for two-days R and R. Nong Khai was a paradise to me. A place with paved roads, a language I could understand to a certain degree and wide flat expanses of landscape that made me feel free.My favourite time for walking was in the early evening when the air along the Mekong River boardwalk would chill just slightly and the sky would turn into delicate velvet. The cool evening withdrew people from their homes with a soft caress, a welcoming change from the glaring, intense light and smothering heat that kept them prisoners in the shade of their houses.The Mekong River has always fascinated me. It is like an animal, a living, breathing, moving creature. Its currents are its muscles; with the strength of a panther, it moves smoothly and stealthily like a python. In the evening the Mekong always seemed to come alive, changing its colour like a chameleon, camouflaging itself against the darkening sky until it swallowed the sun.As my thoughts return to the present, my eyes refocus on the scene on the other side of the glass, and I see we are leaving the city of Khon Kaen. Tall concrete buildings, trucks, and tuk-tuks, softly lit by the sun's early morning glow, are soon replaced by brown rice paddies, green fields, and tall, arching trees. The train porter shuffles down the aisle in slippered feet, stopping at each bunk to fold up the mattresses, removed the bedding, and pull down the seats, now that it's gone 7 a.m. and the rest of the travellers are awake.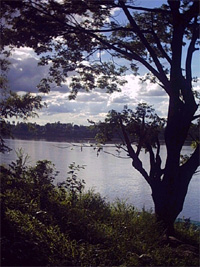 Looking to Laos
As he approaches my bunk, I slip away to let him do his work, and decide to view the countryside from the conjunction between this car and the next. Wrenching open the door and stepping out of the air-conditioned compartment, the heat strikes me as if I'd walked into a furnace, and the smell of dust and smoke is so strong I can taste it on my tongue. Everything seems so dry. The cracked earth, the dust, my mouth. After several minutes I return to the cold sanctuary of the car, and the air tingles my hot skin.I watch the sun climb higher, burning off the soft peachy haze that arose with the dawn, until its light becomes glaring white. The train finally picks up speed and we race past copses of trees, trees that have extended their limbs upwards and outwards like an umbrella, so that they form an irregularity in the landscape, giving form, shape and shade to an otherwise flat land. The arid geography is dotted with colour that stands out against the dry brown. Lime-green banana trees, pools of water covered with bright pink lilies, and empty dirt roads the color of ochre that extend out beyond the horizon to the smokey-blue sky.For almost half an hour I see no sign of life, except for an occasional water buffalo or a long-necked white egret standing silent with the lilies. Then we pass by a field full of tall corn and rows of yellow flowers. An older woman leads three white cows with large humps on their backs along a dirt path. An old man stands outside their home. A small wooden house built on stilts with a rusty corrugated roof, surrounded by large clay pots and ducks. Watching the train roll by, his hands on his hips, a red and white checkered sarong wrapped around his waist. Then as quickly as they appeared before me, they are gone.Several hours later the train pulls into Nong Khai station. Spotting a farang face in the car, the tuk-tuk drivers run to keep up, grinning and waving wildly. But then as we slow to a stop, I see my partner standing on the platform waiting for me with a smile, and butterflies begin fluttering in my belly. I smile back, happy to be finally in Nong Khai, but also happy to be home.