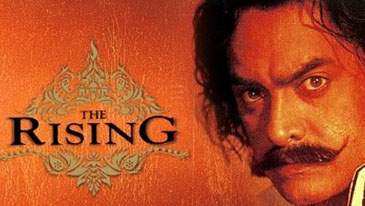 The Rising is the story of Indian soldier Mangal Pandey (Khan) who sparks the revolt against British rule.
Ketan Mehta's reported Rs 100 crore-movie, "Mangal Pandey: The Rising," releases worldwide, including India, on August 12, a few days after its premier at the currently on Locarno Film Festival.Starring the elusive Aamir Khan, who follows the principle of one movie at a time, "Mangal Pandey: The Rising" has been shot in Hindi and English. It took three years to make, and saw Khan emerge after a four-year hiatus following his Oscar-nominated "Lagaan."The film's story also kicks off a hiatus, a hiatus that saw Indians as willing slaves of the English East India Company in the 17th and 18th centuries. A soldier, wounded by his British officers after his refusal to shoot opium farmers protesting the Company's monopoly, meets a courtesan in a doctor's clinic. She chides him for selling his soul, and the soldier, Mangal Pandey, stirs to life and rebellion. History says that this was the
spark the ignited the 1857 Sepoy Mutiny or the War of Independence, as Indians prefer to call it. Significantly, not only does "The Rising" open three days before India celebrates its Independence Day on August 15, but also has Khan in the lead role of Mangal Pandey. Mehta feels that Khan himself is one of the few actors who stand by their convictions, and there could not have been a better artiste than him to play Mangal Pandey, the 19th century epic hero who has been largely ignored by Indian historians till now. A trifle unfair to Pandey, who in the words of Khan was the first recorded martyr in history. More importantly, the story of Pandey is seen as highly relevant today as India's billion-plus population stands in the confusing crossroads of commerce versus patriotism. While homegrown enterprises,
brands and even the arts struggle to survive against invading multinationals, their glittering goodies and alien culture, Mangal Pandey's sacrifice seems like a lesson. "For me, Mangal Pandey is a symbol of freedom. Mangal Pandey is the name of that person who wanted to attain freedom at any cost, the one who symbolizes true passion for freedom, who had the spirit to do something for his nation. He was the first spark of revolt against the British," Khan told a recent press conference. But there are others who differ here. Rudrangshu Mukherjee, who recently wrote a book, "Mangal Pandey: Brave Martyr or Accidental Hero," concluded that Pandey was no hero. Obviously, Indian history is full of such contradictions, and Mehta and writer, Farookh Dhondy, had to dig deep into records to find what they believed to be true. In fact, Mehta, who had helmed critically acclaimed movies such as "Bhavni Bhavai" and "Mirch Masala," had nursed this story of Mangal Pandey for 17 years before Bobby Bedi (of "The Bandit Queen" fame) agreed to fund "The Rising." With a cast that includes the British actor, Toby Stephens, and Indian actors Rani Mukherjee and Amisha Patel, "The Rising" can well make or mar Mehta and Khan. In India's fragile socio-political-religious mood, cinema has become a target of self-styled patriots and culture tsars who have taken on the role of moral police, often coming down heavily on those points of view they think are anti-India.