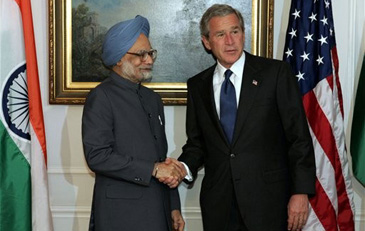 U.S. President George W. Bush (right) meets with India's Prime Minister Manmohan Singh on the sidelines of the United Nations General Assembly in New York, Sept 21, 2004.
Finally, it seems that India and the U.S. are on the same side. After years of suspicion during the Cold War years, when New Delhi veered towards Moscow, and Washington played the Beijing card, Indo-American relations are now set to follow a mature path and agenda. This process was delayed by the terror attack on the U.S. in 2001, after which Washington leaned towards Islamabad; President George Bush saw in Pakistan an ally to fight terrorism, but let us not forget that it was the country's strategic geographical location that helped General Pervez
Musharraf clinch this position. However, with the recent agreement signed by India and the U.S. during the recent visit to Washington by Prime Minister Manmohan Singh, New Delhi is happy that not only has Washington recognized New Delhi's concern about terror, but has also come close to accepting India, which has not signed international non-proliferation treaties, as a full nuclear power. This acceptance follows months of American officials insisting that "there is no higher priority" for Bush's second term in office than "expanding and broadening our relationship with India." Although Washington has refused, at least for the time being, to support New Delhi's claim for a permanent seat on an expanded United Nations Security Council, the U.S. has agreed that "as a responsible state with advanced nuclear technology"(a euphemism for the bomb) India should acquire the same benefits and advantages as other such states." This would open the way for what the joint Bush-Singh statement on July 18 calls "full civil nuclear energy co-operation" with India—such as fuel supplies and the transfer of technology. For India, the importance of this pact cannot be overemphasised. India's most pressing impediment as a fast-growing economy is power shortage. It needs immediately new generating plants and fuel to fire them. Nuclear energy, which at present accounts for only about 3 percent of the country's total generation, is, in many Indian eyes, an attractive alternative to coal and expensive, imported oil and gas. However, India's victory here extends beyond these practical considerations. It is a symbolic victory. For decades, it faced sanctions because of its nuclear weapons programme. Now, Bush is ready to help India change from a "rogue" nuclear power into a respectable "bomb-wielding citizen." In return, India has promised to adopt the same responsibilities as other nuclear powers, including opening its civilian nuclear facilities to inspection by the International Atomic Energy Agency and maintaining its moratorium on nuclear testing. Singh told a group of journalists in Washington: We had this dream that it was better to work toward a world free of nuclear weapons and we had this dream of universal nuclear disarmament ."We have been proved wrong and the result is we have seen in our neighborhood reckless proliferation in disregard of all the international obligations. But although we have nuclear assets, our programme is totally under civilian control. We are a democracy, there are enough checks and balances in our country and we have an impeccable record of not contributing in any way to nuclear proliferation."The point now is, will Musharraf and Islamabad be miffed at that fact that their most important ally is offering facilities to India that Pakistan does not enjoy. It is quite likely that in the coming weeks, Islamabad will ask Washington for the same privileges. The only redeeming feature as far as Pakistan is concerned is that Bush has not said a yes to India's Security Council bid. Yet, officials in New Delhi are jubilant, and they contend that the latest U.S. recognition implies India's emergence as a growing economic force.
Though, India is way behind China in terms of the size of economy (India's is 40 percent of China's), the former's rapid growth and young population mean that its significance can only grow. India's information technology and outsourcing industries are now forces to reckon with on the global market.
If an American CEO has to tell his shareholders a China story, he would now have to narrate an Indian strategy as well. And, well, deservedly so.