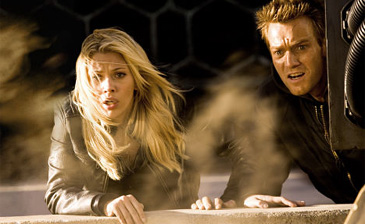 Scarlett Johansson (left) appears in Match Point.
Britain has always loved Woody Allen. But America not quite. However, the wheel seems to have turned. His latest film, Match Point, has been ripped apart by British critics, while their American counterparts have applauded it. Some of the movie magazines have gone to town praising Allen's latest celluloid offering. "Match Point" takes Allen out of his home turf into the U.K. In fact, this is Allen's first movie in Britain, and though he once again takes up his pet theme of morality and guilt – which is quite English and which is quite tragic – one cannot fail to notice the effort the American director makes to lighten his work, undoubtedly his darkest till date. Premiered Out of Competition at Cannes recently, "Match Point's" tennis allusion go hand-in-glove with the role of luck, and may be seen as rather similar to Allen's "Crimes and Misdemeanors."The film stars Jonathan Rhys Meyers as a tennis instructor, whose aggressive social ambitions and his equally adept-in-bed charm get him Emily Mortimer and her treasure trove. His climb up the social ladder appears all too easy with Emily and her socially connected and rich family happy with the new man in their midst.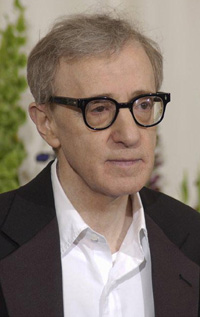 Film director Woody Allen
But Rhys Meyers is bored with his marriage, more so in bed, and he tells his girlfriend, Scarlett Johansson, that "sex has become mechanical for me."
Mortimer's obsession with the idea of getting pregnant soon becomes compulsive, driving Rhys Meyers deeper into a relationship that can merely spell doom. A morally ghastly climax and a dramatic twist underline a philosophical notion that Allen poses right in the beginning of his movie. His actors give the punch needed to a screenplay (written by Allen himself).Rhys Meyers, desperate for recognition for quite a while, performs with a certain genuine touch of finesse and commitment, while Johansson combines sexuality, self-doubt and emotional insistence in the right measure. Yet, "Match Point"— set in contemporary times — leaves one with a vague sense of dissatisfaction. The story of a man who gets rich and spoilt to end up committing a crime whose modus operandi appears totally unconvincing, and is in places a little hard to digest. Surely, Allen could have thought of another more believable method to solve the problem of three people caught in an emotional web. And, finally, the Rhys Meyers character seems too naïve and too good to act the way he does. What is more, Scotland Yard is made to look like a pack of bumbling men! Somehow, Allen succumbs to his pet perception that luck or fate plays a larger role in our lives than we care to believe. He takes this further in "Match Point," where he tries to tell us that justice is often a matter of
luck. Well, then, one would suppose that injustice happens more often. And, like the adulterous ophthalmologist in "Crimes and Misdemeanors," Rhys Meyers confronts a moral dilemma: must he destroy his comfortable existence for the woman he loves?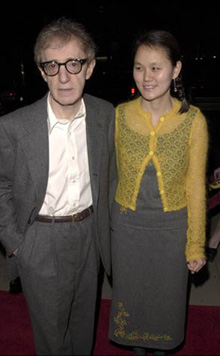 Woody Allen poses with his Korean-American wife Soon Yi Previn.
"Match Point" comes after a career of over 35 years from a man who commands deep respect in the industry as writer, director, actor and producer. His movies have often been honest dramas with a dash of the comic, and invariably entertaining. Allen, who was born on December 1 1935 in Brooklyn, New York, to Jewish parents. Even at age seven, he knew, or so we are told, that he would some day make films. It was around 1970 that he got his first chance to direct one. But "What's Up Tiger Lily?" was not even a movie in a sense.It was a Japanese work that Allen and his friends dubbed into English and changed its original story completely. But Allen did not want it to be released in theatres, and he even filed a lawsuit to stop the movie from being seen. But when it opened, the response was so overwhelming that Allen dropped the legal case. United Artists then signed Allen to a contract to write and do whatever he wanted to. With his next film, "Take the Money and Run," he finally got his first directing experience, and that was when he felt his career in cinema really began. Allen made a series of comedies and dramas "Interiors," "Manhattan," "Stardust Memories," "A Midsummer Night's Sex Comedy in the 1970s and the 1980s. His 986 "Hannah and her Sisters" won Academy Award praise. Over the past many years, Woody has continued to write and direct well-known movies as "Crimes and Misdemeanors," "Bullets over Broadway" (which garnered seven Oscar nominations in 1994), "Deconstructing Harry" and "Hollywood Ending."
The last opened the 2002 Cannes International Film Festival, and it marked the first ever time Allen was making a red carpet appearance at the French Riviera. This year's "Match Point" seems to have firmly established him at the world's top film festival.