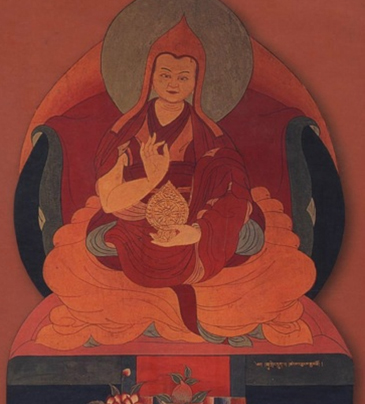 Tsangyang Gyatso, The Rebel Dalai Lama By Mr K. Dhondup
The publication of a new translation of the erotic poetry of the sixth Dalai Lama - who rejected monastic orders and indulged his passion for women and wine - has given new insight into this controversial figure of religious history. Tsangyang Gyatso, who became the sixth Dalai Lama in 1697, often went against the principles of the Gelug Sect of Tibetan Buddhism, of which he was the spiritual leader. He dressed as a layman and often took the name Norsang Wangpo at night, getting drunk and visiting brothels. However he was also a poet and wrote moving pieces about the pains and pleasures of the human heart, and a new English version of his works has been completed by British linguist Paul Williams. "This is a lad in his teens we're talking about, and he's very much behaving like a typical teenager," Mr Williams told BBC World Service's Reporting Religion programme. "He wasn't doing what he was told, he wasn't attending ceremonies he was supposed to be attending. But the real crisis came when he reached the age of 19 and he was required to take his final monastic vows - and he simply refused. "This was simply unheard of - but worse than that, he actually gave back the vows he'd already taken."
Playboy lifestyle
Sixth Dalai Lama
"Folk gossip about me. Sorry, yes, I'm to blame.
A lad's three tiptoe steps — Oh, I've reached the brothel." Excerpt of poem by Sixth Dalai Lama
Tsangyang's poems are addressed to the many women he had relations with - from courtesans to beer girls at the market. Often their subject is the conflict within him - that, while he is aware of his duties, his desires for "pleasure and comfort" are stronger. Having given back his vows, Tsangyang sought life as a layman and began living a playboy lifestyle. One description of him has him wearing blue silk robes and long hair. He took to living the life of a playboy, spending the day practicing archery with his friends behind the Potala Palace before visiting the towns of Lhasa and Shol in the evening.He would spend the nights drinking and singing love songs in taverns. While these were usually white, some were later painted yellow - and one popular belief has it that the yellow taverns were the consecrated places where Tsangyang met his lovers. As well as the poems, he also wrote a number of songs, many of which are still sung in Tibet. However, his behaviour was not only a political "disaster" but also threw up serious questions at the heart of Tibetan Buddhism, Mr Williams said. In particular, it threatened to undermine one of the central beliefs of the monks - that he really was the re-incarnation of the fifth Dalai Lama. While his predecessor had been a politically strong and highly intelligent leader - becoming the first Dalai Lama to assume full spiritual and secular control over the whole of Tibet - the Sixth Lama's actions were completely different and unexpected.
Modern impact
Tsangyang died at the age of 24 - disappearing in mysterious circumstances - and suspicions abound that he was murdered. But Mr Williams argued that his legacy lives on not only in his work, but in Tibet's modern political situation. Tsangyang's lifestyle meant there were many who believed they could not govern effectively in his name, creating a power vacuum in Tibet. This led to two successive invasions from different parts of Mongolia - after which the Chinese army entered the area to sort out the situation. "It is really from this time that China had been able to enforce their claim - which they still have - that Tibet is an integral part of China," Mr Williams added. "So the impact of the Sixth Dalai Lama could be said to still being felt by the modern Tibetans, in terms of the Chinese claim," he said.