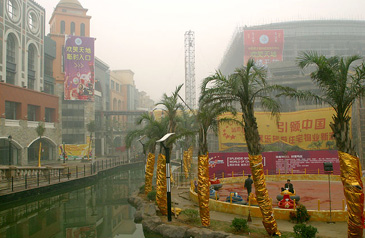 A partly completed section of the South China Mall in Dongguan. The developers traveled abroad for two years in search of the right model. Nelson Ching for The New York Times
DONGGUAN, China (May 25, 2005) — After construction workers finish plastering a replica of the Arc de Triomphe and buffing the imitation streets of Hollywood, Paris and Amsterdam, a giant new shopping theme park here will proclaim itself the world's largest shopping mall.The South China Mall - a jumble of Disneyland and Las Vegas, a shoppers' version of paradise and hell all wrapped in one - will be nearly three times the size of the massive Mall of America in Minnesota. It is part of yet another astonishing new consequence of the quarter-century economic boom here: the great malls of China.Not long ago, shopping in China consisted mostly of lining up to entreat surly clerks to accept cash in exchange for ugly merchandise that did not fit. But now, Chinese have started to embrace America's modern "shop till you drop" ethos and are in the midst of a buy-at-the-mall frenzy.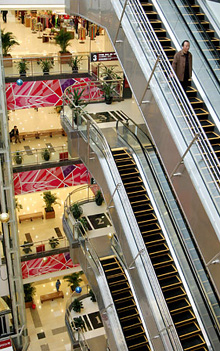 The Golden Resources Shopping Mall in BeijingNatalie Behring for NYT
Already, four shopping malls in China are larger than the Mall of America. Two, including the South China Mall, are bigger than the West Edmonton Mall in Alberta, which just surrendered its status as the world's largest to an enormous retail center in Beijing. And by 2010, China is expected to be home to at least 7 of the world's 10 largest malls.Chinese are swarming into malls, which usually have many levels that rise up rather than out in the sprawling two-level style typical in much of the United States. Chinese consumers arrive by bus and train, and growing numbers are driving there. On busy days, one mall in the southern city of Guangzhou attracts about 600,000 shoppers.For years, the Chinese missed out on the fruits of their labor, stitching shoes, purses or dresses that were exported around the world. Now, China's growing consumerism means that its people may be a step or two closer to buying the billion Cokes, Revlon lipsticks, Kodak cameras and the like that foreign companies have long dreamed they could sell. "Forget the idea that consumers in China don't have enough money to spend," said David Hand, a real estate and retailing expert at Jones Lang LaSalle in Beijing. "There are people with a lot of money here. And that's driving the development of these shopping malls."For sale are a wide range of consumer favorites - cellphones, DVD players, jeans, sofas and closets to assemble yourself. There is food from many regions of China and franchises with familiar names - KFC, McDonald's and IMAX theaters. Stores without Western pedigree sell Gucci and Louis Vuitton goods.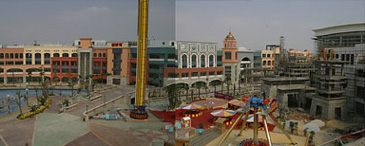 Views of the South China Mall. With more than seven million square feet of shopping space, it is expected to be, even if temporarily, the world's largest. New consumer income is fueling demand. Nelson Ching for The New York Times
While peasants and poor workers may only window-shop, they have joined a regular pilgrimage to the mall that has set builders and developers afire. The developers are spending billions of dollars to create these supersize shopping centers in the country's fastest-growing cities - betting that a nation of savers is on the verge of also becoming a nation of tireless shoppers. For the moment, the world's biggest mall is the six-million-square-foot Golden Resources Mall, which opened last October in northwestern Beijing. It has already sparked envy and competitive ambition among the world's big mall builders, who outwardly scoff at the Chinese ascent to mall-dom, even as they plot their own path to build on such scale in China.How big is six million square feet? That mall, which is expected to cost $1.3 billion when completed, spans the length of six football fields and easily exceeds the floor space of the Pentagon, which at 3.7 million square feet is the world's largest office building. It is a single, colossal five-story building - with rows and rows of shops stacked on top of more rows and rows of shops - so large that it is hard to navigate among the 1,000 stores and the thousands of shoppers.

Natalie Behring for The New York Times
The shopping-mall building spree, like much economic activity in China these days, is so aggressive that some economists and officials have started to worry that it may be another sign of an overheated economy, and that the country's building frenzy may be lurching toward a fall. So far, though, there is no end in sight - and no evidence that China's long boom is likely to suffer anything more than a modest slowdown. "These shopping centers are just huge," said Radha Chadha, who runs Chadha Strategy Consulting in Hong Kong, which tracks shopping malls and the sales of luxury goods in Asia. "China likes to do things big. They like to make an impact."Retail sales in China have jumped nearly 50 percent in the last four years, as measured by the nation's biggest retailers, government data says. And with rising incomes, Chinese are spending their money on shoes, bags, clothing and even theme-park-style rides. "We like this place a lot," said Ruth Tong, 27, an early visitor to the South China Mall here in Dongguan with her husband and 5-year-old son. "They have a lot of fun things to do. They have shopping and even rides. So we like it and yes, we'll come back again."The central government recently ordered state-controlled banks to tighten lending to huge shopping mall projects. But that has not yet tempered the plans of aggressive developers and local government officials for transforming vast tracts of land into huge shopping centers.After all, the demand is certainly growing. Income per person in China has reached the equivalent of about $1,100 a year, up 50 percent since 2000. China is still a land of disparity, though it has a growing middle class that has swelled to as many as 70 million. And as the country rapidly urbanizes and modernizes, open-air food markets and old department stores are being replaced by giant supermarkets and big-box retailers.Ikea and Carrefour, the French supermarket chain, are mobbed with customers. And China's increasingly affluent young people are adopting the American teenager's habit of hanging out at the mall.Big enclosed shopping malls, which came of age in America in the late 1970's and Europe in the late 80's, are sprouting up all over China. According to retail analysts, more than 400 large malls have been built in China in the last six years.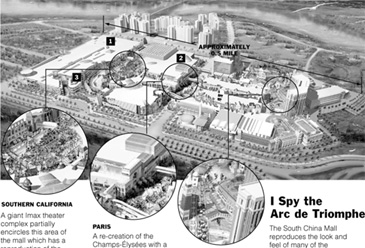 Natalie Behring for The New York Times
And at a time when the biggest malls under construction in the United States measure about a million square feet, developers here are creating malls that are six, seven and eight million square feet.The current titleholder, the Golden Resources Mall, where 20,000 employees work, is the creation of Huang Rulun, an entrepreneur who made a fortune selling real estate in coastal Fujian Province. Six years ago, Mr. Huang acquired a 440-acre tract of land outside Beijing to create a virtual satellite city, which will soon have 110 new apartment buildings, along with schools and offices planted like potted trees around his neon-lighted mall.Perhaps the most aggressive mall building is taking place in Guangdong Province in the south, the seat of China's flourishing Pearl River Delta region. In January, more than 400,000 people showed up in the principal city, Guangzhou, for the opening of the Grandview Mall, which also calls itself the world's largest mall, with three million square feet. It even says it has the tallest indoor fountain.Exactly who has the world's largest shopping mall appears to be in dispute. Some Chinese malls claim the largest floor size; others count leased space. Still others say that what counts is that there is only one roof. Indeed, the Triple Five Group, which owns the Mall of America (2.5 million square feet of leased shopping space) and the West Edmonton Mall in Canada (3.2 million square feet), has not conceded defeat."They are just shops, like a bazaar in the Middle East," Nader Ghermezian, one of the company's principals, said dismissively - and mistakenly - about the Golden Resources Mall, which is under one roof. "They shouldn't be considered. We are still the largest in the world."But that raises another question: Are the malls in this country too big? "It's not so easy to shop at these locations," Mr. Hand of Jones Lang LaSalle said. "Most shopping centers survive on repeat customers. To go to a shopping mall so big and so congested, it may be difficult to have repeat customers." The developers beg to differ."Shopping malls are a new concept in China, and we are trying to find our own way to do it," said Cai Xunshan, vice president of the Golden Resources Mall. "We don't think we can just copy the format from the U.S."In Dongguan, the developers of the South China Mall say they traveled around the world for two years in search of the right model. The result is a $400 million fantasy land: 150 acres of palm-tree-lined shopping plazas, theme parks, hotels, water fountains, pyramids, bridges and giant windmills. Trying to exceed even some of the over-the-top casino extravaganzas in Las Vegas, it has a 1.3-mile artificial river circling the complex, which includes districts modeled on the world's seven "famous water cities," and an 85-foot replica of the Arc de Triomphe."We have outstanding architecture from around the world," Tong Rui, vice chief executive at Sanyuan Yinhui Investment and Development, the mall's developer, said as he toured a section modeled on Paris. "You can't see this architecture anywhere else in shopping malls." Hu Guirong, the man behind the development, made his fortune selling noodles and biscuits in China. His aides say he built his mall in Dongguan, a fast-growing city whose population is estimated as high as eight million, with one of the highest car-to-household ratios in the country, because it is situated at a crossroads of two bustling South China metropolises, Shenzhen and Guangzhou. "We wanted to do something groundbreaking," Mr. Tong said, referring to his boss. "We wanted to leave our mark on history."But just to keep a seven-million-square-foot shopping center from looking deserted, some retailing specialists say, requires 50,000 to 70,000 visitors a day. Officials of the South China Mall say they will easily surpass those figures. But before the mall is fully open, the Triple Five Group is working to reclaim the world title, with three megamalls in the planning stages that will expand its operations from its base in North America into China.Two of them, the Mall of China and the Triple Five Wenzhou Mall, are each projected to be 10 million square feet."You'll see," Mr. Ghermezian of Triple Five said. "We are also expanding the Mall of America. There's going to be a Phase 2."
The above article is from The New York Times.