Grigory Mekler (with his back to the photographer), Kim Il Sung (facing Mekler), little Kim Jong Il and an unidentified woman.
Photo Courtesy Dolgozhitel
Grigory Mekler was a Soviet 'spin doctor' ordered to help North Korea's now-demised leader Kim il Sung climb to power in 1945. Now a 92-year-old pensioner, Mekler said in an interview that he had spent a year touring North Korea with Kim Il Sung, gleaning the leader mass popularity. In April 1945 army chiefs in the Russian Far East were ordered to find a suitable leader for a new Korean state, and Mekler, a propaganda expert, was one of those entrusted with the task. "Imagine what a responsibility it was. Basically the future of an entire nation was at stake," said Mekler. Marshal Meretskov, Commander of the Far East Front, asked Mekler whether he had heard of a man called Kim Il Sung.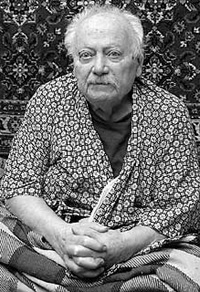 Grigory Mekler
Photo Courtesy Dolgozhitel
In fact Mekler had met Kim Il Sung in 1944, when the Korean was training at a Soviet army camp for Chinese and Korean guerillas near Khabarovsk in the Russian Far East. The Soviet officer found out that Kim, who then commanded a Korean battalion, had borrowed his name from the previous commander. Kim's predecessor, highly respected by Korean guerrillas, was killed in action. "I want you to work on this person," said Meretskov, referring to Kim. "At the moment not many people know him. Travel to every corner of North Korea with him. It will be useful for both of you." Kim Il Sung, who gained the rank of major in the Soviet army, returned to Korea in 1945 with the occupying forces, and Mekler and other Soviet advisers spent a year touring with him, even helping to write his speeches. "When he was taking his first steps towards power, he didn't do anything without taking our advice," recollected the Soviet colonel. Initially Kim Il Sung experienced some setbacks. "Sometimes after his speeches at demonstrations there was silence," said Mekler. "But later people started clapping."Stalin approved of the choice of Kim Il Sung, believes Mekler, and the Korean was "sincerely in love with Stalin." Kim Il Sung was invited to Moscow and was taken to a shop for distinguished guests, where they could take any item for free, even a motor car.
Kim Il-Sung poses with his wife Kim Jong-Sook and son Kim Jong Il.
Asked what he chose, Kim Il Sung answered, "A car for Kim Jong Il (his son)," and showed Mekler a small toy truck. The Korean leader declared that, "North Korea and the USSR are brothers for all time. Stalin and I forever," recalled Mekler. Mekler also met the current North Korean leader Kim Jong Il as a three-year-old child, and keeps photographs of himself with Kim Il Sung's family. Before Mekler returned to Moscow, Kim Il Sung asked for a final word of advice. "I answered with the famous English phrase 'Look before you leap,'" recalled the Russian. Korea was a Japanese colony from 1910 until 1945, when the USSR and the United States occupied the north and south of the peninsula. Neither superpower was prepared to withdraw and give way to an independent Korea, and in 1948 two separate states, the Republic of Korea and the People's Democratic Republic of Korea, were formed. Kim Il Sung created the North Korean Communist Party in 1945 and was elected premier of the republic in 1948.
The above article is from Valdivostok News.
Profile of Kim Il-Sung (1912-94)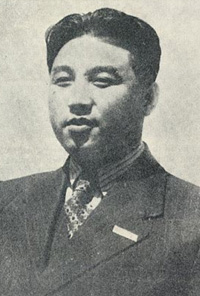 North Korean leader Kim Il Sung
Born into a peasant family on April 15, 1912, in Mangyondae, Korea, Kim Il Sung was still a child when his parents left Japan-occupied Korea for Manchuria. There Kim attended Chinese schools. In 1932, he became the leader of a small group of Korean partisans, which he led in various raids against Japanese outposts in Korea. In 1941, Kim fled Manchuria for the Soviet Far East. He next received military training in the Soviet Union. In 1945, Kim returned to his homeland as a major in the Soviet army.The Soviets put him in charge of the formation of a provisional system of government in Soviet-occupied Korea. In 1948, he became the first premier of the Democratic People's Republic of Korea. Strongly favoring national unification by military means, Kim's regime waged a guerrilla war against the South, and with strong Soviet support built up a large military. In 1950 Kim managed to get Stalin's permission for an invasion of the South, which he launched on June 25. But it was only thanks to a massive Chinese intervention that Kim's regime survived the U.S.-led counteroffensive in fall 1950. In 1953, Kim and his Soviet and Chinese guardians chose to settle for half the country, but Kim never accepted the division of his country and until the end of his life continued efforts to overthrow the South Korean republic and kill its rulers.
Chinese Marshal Peng Dehuai talks with Kim Il Sung (right) during the Korean War (1950-53).Photo Courtesy Dolgozhitel
After 1953, Kim created an austere, militarized and highly regimented North Korean society that worshipped him as a deified leader. While officially extolling self-reliance, North Korea in reality relied heavily on Soviet and Chinese economic and military support. Kim's North Korea pursued many independent initiatives toward developing nations, often with the objective to undermine positions of the West. Since the 1970s, North Korea has been a major arms supplier to countries such as Libya, Iran and Syria. In 1993, Kim's defense policy became a great concern for Washington when intelligence analysis estimated that North Korea was less than two years away from being able to strike South Korea and Japan with nuclear missiles. The ensuing crisis was eased in June 1994 when former U.S. President Carter persuaded Kim to freeze his program in return for an easing of international sanctions and talks with the United States about ending North Korea's international isolation. Kim died on the eve of these talks at age 82 on July 8, 1994, in Pyongyang, North Korea. (
CNN
)
Kim Il Sung's Anti-Japanese Fighting
Kim Il-Sung (right) poses with Yugoslav Communist leader Josip Broz Tito (1892-1980) in Pyongyang.
April 15, 1912 — Kim Il Sung was born in N Korea, the eldest of three sons by a village couple named Kim Hyonh Jik and Kang Pan Sok.
May 10, 1929 — Kim Il Sung was jailed for political activism while attending Yuwen Middle School in Jirin, Manchuria. Earlier he joined the South Manchurian Communist Youth Association. 1930 — Kim Il Sung was released from jail and joined a Korean Independence Army unit led by Yang Se Bong. About a year later, Kim left Yang Se Bong and formed his own unit made of 18 men. April 1933 — A Chinese guerrilla unit led by Wu Yi Cheng wiped out a 30-men Korean guerrilla group of Yi Kwang. This incident caused a major upheaval among the Korean partisans. Many Koreans in the Chinese-led partisans defected to the Japanese and fought the Chinese or joined Korean guerrilla units of Kim Il Sung and Chu Chin (the 2nd Army of the United Army) operating in the Jiandao region of Manchuria where Koreans made up nearly 80 percent of the population. Oct. 4, 1936 — Seoul: Choson Ilbo published a news article on Kim Il Sung's raid of a small village of Shiliudaogou (Manchuria). Kim and about 40 "red bandits" confiscated live stocks and rice from a farmer called Park Hun Young. Japanese newspapers depicted Kim Il Sung as a bandit preying upon poor Korean farmers.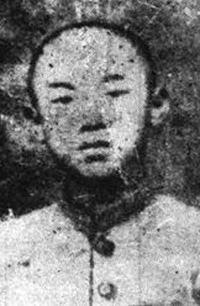 Kim Il Sung as a middle school boy. He became independence fighter at the age of 16 during Japanese cononial rule(1910-45) of Korea.
Feb. 26, 1937 — Kim Il Sung defeated the Japanese police in Changbaik province near Mt. Paiktu. In a classic guerrilla warfare, Kim baited the Japanese with a small force of 50 men. The Japanese fell for the bait and walked into a trap set by 350 partisans . Kim's forces killed 13 officers and captured 17. Cao Guoan's Chinese partisan unit of 150 men aided Kim Il Sung in this and other battles in the area. June 4, 1937 — Kapsan: Kim Il Sun's partisans (6th Division, 2nd Army of the 1st Route Army) aided by Park Tal's Kapsan Operation Committee raided Pochonbo near Kapsan. Some 200 partisans occupied the town and destroyed Japanese installations. A few hours later, the Hyesan garrison sent a detachment of police to investigate. The Japanese were ambushed by the waiting guerrillas and seven Japanese policemen were killed. The guerrillas gathered up weapons, uniforms and other goodies and faded away into their mountain lairs. Park Tal delivered some 80 recruits from Kapsan to Kim Il Sung. This raid was referred to as the 'Hyesanjin Incident' by the Japanese. June 6, 1937 — Kim's partisans aided by Choe Hyon's unit raided a Japanese outpost near Mt. Paikdu and scored another victory. Next day, some 200 Japanese Ken-Pei (military police) in yellow uniforms arrived in trucks and started a massive manhunt. Koreans suspected of aiding Kim Ilsung were arrested. Captured partisans were subjected to inhuman tortures which few could withstand. Dec. 1937 — Han Ho, commander, 1st Division, 1st Army, Kim San Ho, and Park Sun Il (Division Commander, 5th Army) were some of the many partisan leaders killed during this month. Jan. 1938 — China: The Chinese New Fourth Army was formed under the Red commander, Yeh Ting, to fight the Japanese in occupied territories. The Red Army expanded rapidly northward to Manchuria. April 26, 1938 — Kim Il Sung raided Liudaogou, Manchuria. Aug. 6, 1938 — Yi Hak Man, Commander, 7th Army, was killed. Kan Tong, Kim Hak Sil (female), Ma Tong Hui, Yi Kye San (female), Kim Se Hyong (Deputy Commander, 1st Army) and many other partisans were killed on this day. May 1939 — Kim Il Sung raided several villages near Kapsan. Kim Il Sung was concerned with increasing defections in his ranks. His once trusted comrades - Kim Pong Jun, Yim U Song, Han In Hwa and Kim Chae Bum - surrendered and led Japanese police units to Kim's camps. Feb. 23, 1940 — Yang Jinggyu, commander-in-chief of the Northeast Anti-Japanese United Army (photo: Yang's body in display) was killed by a group of Korean traitors led by Kim Sok Won, Col. Kaneyama Shakugen for Japanese (photo: in dark glasses). Cheng Ping, Yang's trusted lieutenant, led the Japanese to Yang's hideout. Yang was wounded and surrounded by his enemy - but refused to surrender and fought to the end. The Japanese showed their respect to this gallant warrior and gave a samurai burial with Japanese honor guards. NB: Today, there is a museum and a town named after Yang in Manchuria. Kim Sok Won reported to Gen. Nozoe Shotoku (photo: Npzoe, Yu Chenzhi and Col. Fukube Kunio.) Gen. Nozoe commanded a special Japanese army unit hunting down partisans in Manchuria. His unit was made of mostly Korean and Chinese traitors. Gen. Nozoe had 30 million yen to buy turncoats. Kim Sok Won led a special detachment composed of Korean traitors - "Special Kim Detachment" of the Japanese Imperial Army. Kim Sok Won received the Order of Merit for bravery for killing fellow Koreans. Emperor Hirohito awarded the metal himself. (NB: In 1945, Col. Kim is embraced by US and Rhee.On June 2, 1948, Col. Kim proudly led 2,500 Korean vets of the Japanese Army through the streets of Seoul wearing Japanese uniforms and singing Japanese songs. In 1948, Rhee put Kim Sok Won in charge of the S Korean border units. In 1950, Rhee wanted to make Kim the commander of the S Korean Army, but the US officials overrode Rhee. The Americans had no taste for Kim's Japanese banzai tactics and his close association with Rhee. March 25, 1940 — Kim Il Sung scored his biggest victory at Daimalugou. His forces of 250 men virtually wiped out a Japanese Special Police unit commanded by Lt. Maeda Takeshi. Lt. Maeda and 70 of his men were killed. Kim took 17 prisoners and a large quantity of war materiel. April 6, 1940 — Gen. Nozoe's forces captured five wounded partisans and one of them, Kim Hye Sun, claimed to be Kim Il Sung's wife. Kim Hye Sun was used to lure Kim Il Sung into a Japanese trap - in vain. She was killed by the Japanese. July 1, 1940 — Kim Il Sung's guerrilla army reached its peak strength of 300 men. He had a hard-core of commanders loyal to him - Choe Hyon, Choe Chun Guk, Kim Tong Gyu and An Kil. NB: Choe Hyon held many high positions in N Korea and died in bed in 1982 . Choe Chun Guk was killed in action in 1950. Kim Tong Kyu held high positions until his purge in 1977. An Kil died in bed in 1947. July 12, 1940 — Kim Chae Bom and Kim Kwang Hak, both Company Commanders, 2nd Army, were captured and executed. Aug. 1940 — Kim Il Sung's guerrillas were losing people left and right. Sept. 27, 1940 — Park Tuk Bum, a close comrade of Kim Il Sung, Chief-of-Staff, 3rd Army, was arrested and executed. Jan. 30, 1941 — Manchuria: A major disaster befell upon the partisans. Chon Kwang (alias O Song Yun), political commissar of the 1st Route Army - the ranking Korean partisan, surrendered to the Japanese and disclosed secret hideouts of several guerrilla commanders. This eventually led to the end of the 1st Route Army and increased anti-Korean sentiment among the Chinese partisans. Chon Kwang was well-known for his attempt to kill Gen. Tanaka and for the founding of the Fatherland Restoration Association, an underground guerrilla support network in Korea and Manchuria. Most of the partisan leaders - including Kim Kwang Hak, Kim Chae Bom, and the senior Korean commander Chu Chin - were betrayed by their own people and killed off. The Japanese displayed severed heads of dead partisans (photo: heads are strung up on a laundry pole) in order to intimidate the populace into submission. March 10, 1941 — Kim Il Sung was about the only surviving partisan leader of the Anti-Japanese United Army still active in Manchuria. Kim and what remains of the Korean Revolutionary Army vacated their bases and fled to Siberia. Kim was no longer any threat to the Japanese police, but his legend lived on more colorful than ever. People were trying to turn him into a superhuman - sort of like a modern-day Hong Gil Dong (the legendary Korean folk hero). The Northeast Anti-Japanese United Army had some 30,000 partisans at its peak in mid-1930's. It was made of three route armies. Each route army was made of several armies which was made of 1 to 3 divisions each. A division had 200 to 600 men. Kim Il Sung was commander of the 6th Division, 2nd Army, 1st Route Army of the Northeast Anti-Japanese United Army. Chu Chin was commander of the 2nd Army when he was killed by a Korean traitor. Choe Hyon was commander of the 4th Division of the same Army. The 7th Army of the 2nd Route Army was commanded by Yi Hak Man and Choe Yong Gun (later to become Defense Minister of N Korea). Kim Chaek was political commissar of the 3rd Army of the 3rd Route Army. All but Yi Hak Nam escaped to Siberia and join the Soviet Army 88th Guerrilla Unit. March 15, 1941 — The Soviets detained Kim Il Sung and his band of guerrillas of about 25 men and subjected them to lengthy interrogations. They were forced into the Red Army. Later some of them fought the Germans in Stalingrad and beyond until the end o f WW2. Kim Il Sung and his partisans were pressed into the 88th Special Independent Guerrilla Brigade of the Soviet Army. The main task of this unit was to gather military intelligence in Manchuria. The 88th was located in a wooded area of Vyachkra near khabarovsk (Siberia). Kim Il Sung commanded the 1st Battalion (about 200 Chinese, Koreans and Russians) of the 88th Brigade. The Brigade had about 60 Korean partisans from Manchuria - including Yi Don Wha, Kang Gun (Commander of the 4th Battalion), Kim Chaik, Choe Yong Gun, and An Kil.
(from left to right — An Kil, Kim Il Sung and Choe Hyon
March 19, 1941 — Gen. Nozoe declared the end of his war against the anti-Japanese guerrillas in Manchuria and disbanded his unit. Gen. Nozoe had eliminated some 15,000 Chinese and Korean guerrillas from 1932 to 1941. Feb. 16, 1942 — Siberia: Kim Chong Suk, 2nd wife of Kim Il Sung, gives birth to their first son, Kim Jong Il. She joined Kim Il Sung's army in 1935 at the age of 16. She worked as a cook, seamstress, spy, food gatherer, fighter and close comrade of Kim Il Sung. She was captured by the Japanese in 1937 but was released a year later. She died in bed in September 1949. Aug. 3, 1942 — Ho Yong Sik, Chief-of-Staff, 3rd Army, chief of the Korean resistance in Manchuria, was killed. Kim Chaek was sent back to Manchuria and reorganized the shattered resistance network. Jan. 4, 1943 — The Soviets were sending Soviet-trained guerrillas to Manchuria. Most of these were partisans who had fled to Siberia early in 1940. Their missions ended in one disaster after another. The Soviets had three training camps in Siberia - (1) Okeanskaya Field School near Vladivostok, (2) Voroshilov Camp near Nikolsk, and (3) the 88th Special Independent Guerrilla Brigade of the Soviet Army in a wooded area near Khabarovsk. The Soviets planned to use these units as vanguards of their planned attack on Manchuria and Korea. Aug. 12. 1943 — Park Kil Song, a native of Kapsan and a major in the Soviet Army, entered Manchuria from Siberia leading a detachment of Soviet-trained partisans. Park was arrested soon after and spilled on the Soviet training programs in Siberia. Han Hung Son and Kim Chun Sop, both Soviet captains, were also arrested and executed. Sept. 19, 1945 — Kim Il Sung and his second wife Kim Chong Suk returned to Korea from Siberia. Kim and his guerrillas numbering about 40 (and their families) arrived at Wonsan, compliment of the Soviet warship Pukachev. The US intelligence file on Kim Il Sung states - "Faced with the threat of extinction by the Japanese, a few hundred under the leadership of Kim Il Sung, long time Communist, made their way North and into the Soviet Maritime Province. After verifying their political and military backgrounds, the Soviets established these people in a training camp at YASHKI Station, in the general area of KHABAROVSK. Here and later at RARARASH, near the junction of the USSR-Korea and Manchurian frontiers these Koreans were trained in espionage, radio communications, sabotage and general military subjects. From 1941-45, these people were utilized by the Soviets as agents in MANCHURIA. In the spring of 1945, in addition to normal political training, they were briefed on KOREA and Korean politics." Oct. 14, 1945 — Kim Il Sung was given a hero's welcome at the Pyongyang Municipal Stadium.
(
KimSoft
)