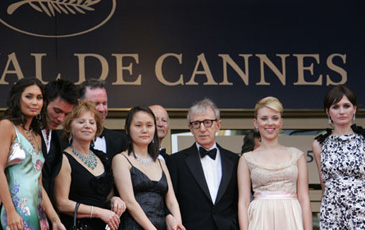 US film director Woody Allen (center) with his staff and friends at the 58th Cannes International Film Festival for the screening of his film "Match Point."
CANNES, France (May 13, 2005) — This year, the Cannes International Film Festival's new Artistic Director, Thierry Fremaux, has decided to return to the old formula, which his predecessor, Gilles Jacob, followed for many years. The Festival began on
May 11, 2005.After Jacob handed over the selection to Fremaux in 2001, the new man courted controversy. In 2003, he chose Vincent Gallo's "Brown Bunny," a rank bad movie that turned pornographic during its last 20 minutes. Last year, he got in Michael Moore's political "Fahrenheit 9/11" in place of a Cannes favourite, Mike Leigh, whose "Vera Drake" created waves at the later-in-the-year Venice Film Festival. It clinched the top Golden Lion award there. But Fremaux's choice for this year's competition seems to indicate that he has had enough of the new path he tried travelling for four years. The Cannes' selections this time have the familiar names.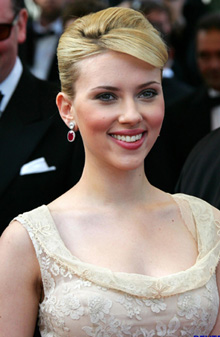 Scarlet Johanson appears at 58th Cannes International Film Festival
Photo Courtesy Reuters
Gus Van Sant is back with "Last Days" based on the life of Curt Cobain. Wim Wenders returns with "Don't Come Knocking" starring Sam Shepard. Lars van Trier will be seen again with "Mandalay" starring Bryce Dallas Howard. And we also have the old favourites, Hou Hsiao-hsien with "The Best of Our Times" and Amos Gitai with "Free Zone." The movies of the last three directors were rejected by Cannes in 2004, but shown in Venice. However, the competition between Cannes and Venice (with Berlin coming into the ring sometimes) is not new. In fact, Cannes was born out of this competition. It was political and artistic controversy that led to the establishment of Cannes; the French were mad at the bias towards Fascist films at Venice, and Cannes was soon born. The intrigue and battle continues among Venice, Cannes and Berlin: there is a great chance of a movie being rejected at one festival only to be only lifted and lauded at another. Several years ago, Jacob dismissed the darling dissident Chinese auteur, Zhang Yimou, for toeing the government line. His "Keep Cool" was rejected, and Yimou turned to Venice, which welcomed him. At Cannes, the controversy does not end with the selection. The juries can equally fox you. Last year's jury — presided over by Quentin Tarantino and which included outspoken actresses, Tilda Swinton and Emmanuelle Beart — gave Cannes' top award, Golden Palm, to Michael Moore's political documentary, "Fahrenheit 9/11." I felt that there were far better entries than Moore's campaign piece.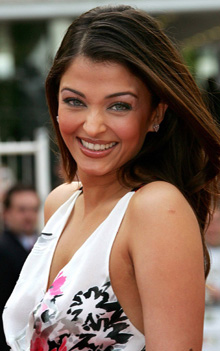 Indian actress Aishwarya Rai at 58th Cannes International Film Festival
Photo Courtesy Reuters
Sometimes, the fight over the Palm can get vocal even with seemingly cool people. When the Danish film-maker, Lars von Trier, got an award for technical excellence and a Jury Prize for "Europa," he was saracastic. "I will pass it on to my technician. I came for gold, not for bronze." And, once Spike Lee cried: "We were robbed." All this can at times take a toll on the jury. Many attribute the premature death of director and Cannes jury president, Roberto Rossellini, in 1977, a few days after the festival, to a stress-related heart attack. It was allegedly brought on by the controversy over the movie awarded the Golden Palm that year, "Padre Padrone," which edged out Ettore Scola's "A Special Day," produced by Carlo Ponti and starring his wife, Sophia Loren. Despite all this, Cannes remains my favourite festival. This year, one hopes to see some more of the tried and tested auteurs: Michael Haneke with "Cache" starring Juliette Binoche; Jim Jarmursch with "Broken Flowers," a comedy with Bill Murray; David Cronenberg with "A History of Violence" and;
Atom Egoyan with "Where The Truth Lies."Among the newer names are Tommy Lee Jones' modern Western "The Three Burials of Melquiades Estrada," and Dominik Moll's "Lemming," which opens the Festival. Also in competition is Robert Rodriguez's violent but brilliant "Sin City." Looks
like a lot of excitement is in store for a viewer.